Traveling can be full of surprises and challenges, but with the right travel hacks, you can make your journeys smoother, more affordable, and more enjoyable. In this article, we explore a collection of some of the best travel hacks that will help you navigate the world of travel more easily.
I've been fortunate enough to have traveled to 30 + countries over the years and have lived in 3 of them. During this time I've come across numerous great travel hacks, and have also picked up some things that have worked for me along the way.
Here, I'm sharing 101 of the best travel hacks that stand out for me, in the hope that you'll be able to use them to make the most of your next trip and make your adventures more efficient and cost-effective.
101 Best Travel Hacks
From packing smart to finding the best flight deals, these travel hacks are designed to enhance your travel experiences and help you create lasting memories. Whether you're a seasoned globetrotter or a novice explorer, there should be something for you.
I've started off with some simple advice and then moved into the real travel hacks. So, let's get traveling!
Make Sure Your Passport is Valid
Without a valid passport, you're not going anywhere! It should therefore go without saying that you need to make sure your passport is still valid before you book your trip to international destinations.
You should also be aware that some countries have a passport validity requirement that mandates travelers to have at least six months of validity remaining on their passport beyond the date of entry. It's therefore crucial to check the specific entry requirements of your destination country to avoid any issues or entry denials.
Check if You Need a Visa
Depending on where you're from, some countries will require you to hold a visa to visit them. You should therefore check the visa requirements of your destination to prevent travel disruptions, entry denials, and potential legal issues.
If you travel a lot to a specific location, you also need to make sure that you don't exceed the number of days you're allowed to stay there. For many countries, this is 90 days out of 180 days on a tourist visa. If you've already exceeded this you'll likely be turned away on arrival.
Make Sure You're Up to Date on Your Vaccinations
Each country has its own travel vaccination requirements. It's important that you know what these are for your destination and make sure you're up-to-date on the relevant shots before you travel.
Always Buy Travel Insurance
Perhaps the greatest, but often most overlooked travel hack of all. Buy travel insurance. When you buy travel insurance, you protect yourself from financial losses due to flight cancellations, trip disruptions, medical emergencies, and unexpected inconveniences. It gives you peace of mind and ensures you're prepared for unforeseen circumstances.
Read the Reviews
Reading the reviews before going anywhere is vital. After all, you don't want to end up in awful accommodation. This can ruin your trip, believe me. The good news is that if you read the reviews you can get a good idea of how a place is before you go there.
Reviews provide insights from other travelers who have stayed in the hotel rooms, been on the tours, and eaten in the restaurants at your destination. They can offer information on the quality, cleanliness, safety, and overall experience, which is valuable in avoiding disappointments or potential issues, and helps you make an informed decision. Additionally, reviews often include helpful tips and recommendations that you wouldn't have otherwise picked up.
Just make sure you keep a lookout for any fake reviews or bots. You can usually spot these because they don't have a verified profile or have only ever left one review.
Use a Credit Card That Racks Up Points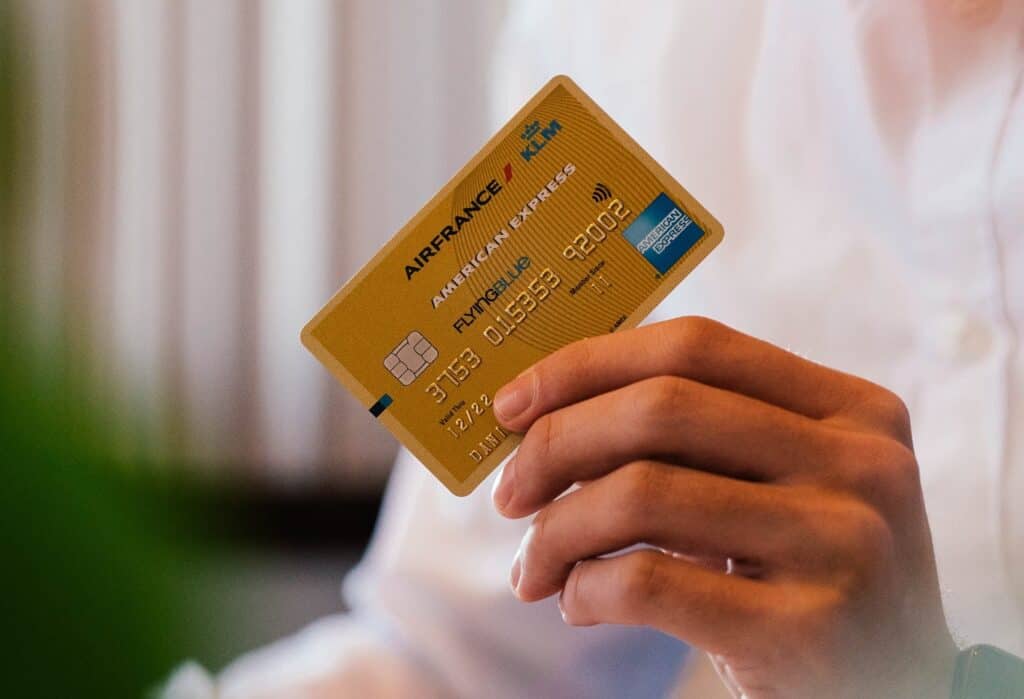 Before you even think about traveling abroad you should try to allocate as much of your spending to a credit card that racks up points that you can redeem on flights or travel. The AmEx Gold card is good for this. It can save you a ton of money on your trip before it has even started.
Take Advantage of Credit Card Sign-Up Bonuses
Credit cards often offer you an incentive for signing up for them. This usually comes in the form of a sign-up bonus of cashback or air miles. Keep an eye out for the best offers on credit cards. You can earn thousands of points and air miles just by signing up and spending as you would normally.
Look Out for Air Miles and Points Sales
In addition to sign-up bonuses, credit card companies frequently run promotions where you can buy points or air miles. And, while it's generally better to accumulate them for free through using travel rewards credit cards, it can make sense to buy points at certain times. Especially, if you need a few more points for that free flight!
Black Friday and Cyber Monday tend to offer the best deals, although there are still some good offers throughout the year.
Get a Good Travel Credit Card
While racking up air miles is great before you go abroad, you might want slightly different benefits once you're away. Look for credit cards or debit cards that don't charge you foreign transaction fees or cash withdrawal fees. Such travel credit cards can help you save money while you're away.
Don't be afraid to have more than one credit card if you can, they can be used for different things. You can have one to accumulate points while you're at home and another one to do your spending on abroad. Just make sure that you pay them all off in time to avoid any interest payments.
Check Airline Loyalty Rewards
If you prefer to fly with a specific airline, they may offer certain benefits that are worth taking advantage of. For example, United Airlines offers its own credit cards, the UnitedMileagePlus cards, that grant you 60,000 points plus free baggage and early boarding.
Sign Up for Airline Loyalty Programs
Signing up for various airline loyalty programs maximizes your potential for earning points and rewards across different carriers. This is particularly beneficial if you travel regularly with certain airlines and you can set up a frequent flyer account.
Diversifying your loyalty memberships also increases your chances of receiving exclusive offers and bonuses. You can benefit from diverse perks, including seat upgrades, access to the airport lounge, priority boarding, and even free flights. You never know when you might want to cash in those points.
Be Flexible With Your Travel Dates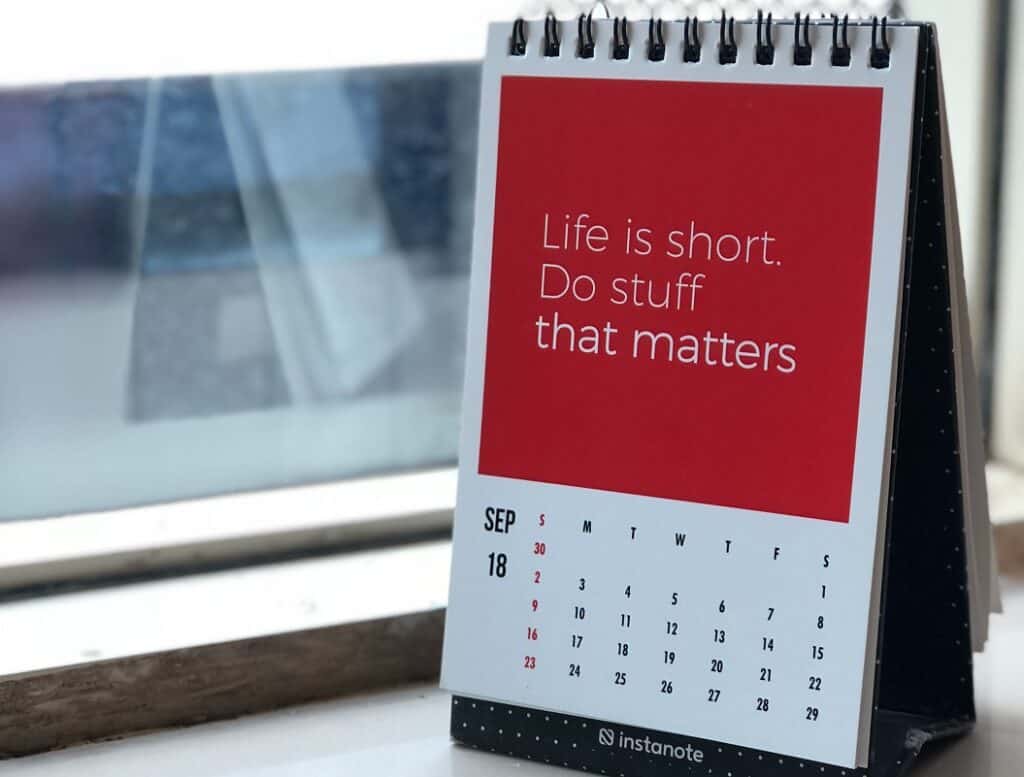 If you're able to do so, be flexible with your travel dates. You can sometimes save huge amounts of money on flights by flying a day later or a day earlier than you may have planned.
Be Flexible on Your Destination
If you just want to get away and don't mind where you go, be flexible on your destination. When I want to go away for a few days with friends, we often look for the cheapest destinations from our nearest airport. This works great if you live in Europe and fancy a weekend away in one of the many exciting European cities.
Travel During Shoulder Season
Travel during shoulder season for better deals and more comfortable weather.
Shoulder season refers to the period between the peak tourist season and the off-peak season in a particular travel destination. For example, shoulder season in Spain typically occurs in the spring (April to early June) and autumn (September to October).
During shoulder season, you can often find more favorable travel conditions, including milder weather, fewer crowds, and potentially lower prices for accommodations and attractions.
Fly At Off-Peak Times
If you want to save money and have your pick of the seats on the airplane, fly at off-peak times. Flying at off-peak times reduces ticket costs, minimizes airport crowds, and leads to a more relaxed and cost-effective travel experience. Mid-week flights, redeye flights, and flights with a layover all apply here.
Fly Early To Avoid Delayed or Cancelled Flights
While this isn't a foolproof method, if you want to avoid flight delays and cancellations fly first thing in the morning. Early morning flights are less likely to be delayed or canceled, and they tend to be cheaper too. So, if you can cope with getting up early it can be well worth it.
Don't Fly Early if Sleep is Important
If sleep is important to you, try to avoid taking a flight first thing in the morning. Getting up at 03:00 AM to catch a flight can affect your sleep cycle and leave you feeling jaded for the next couple of days. If you can afford it try and get a flight during the day, or in the evening, so that you can wake up at your normal time and don't have a stressful night's sleep worrying about missing your flight.
Travel at Night
An often overlooked travel hack is to travel at night. For international travel flying at night is great. You can sleep on the plane and wake up at your destination. This makes the journey feel shorter and you save money on accommodation.
It's useful if you have kids too. Children are much more likely to fall asleep at night, meaning that you can enjoy a more peaceful journey.
Use a VPN To Search For Flights
Searching for flights from the same browser and internet connection lets the airline know that you're looking for flights on specific dates and allows them to hike the prices up. 
By using a VPN to search for flights you mask your location and IP address, so you'll get one up on the airlines! This travel enhances your ability to access lower fares while securing your personal information. And, if you don't have a VPN, just use Google incognito mode!
Check out some of the other reasons why you should use a VPN for traveling.
Use Skyscanner
Skyscanner is one of the best travel websites. It allows you to search for flights across multiple airlines and compares deals to help you find the best price and save valuable time. It also provides flexible date options, and its features make it a reliable tool for efficient and cost-effective travel planning. It's a site that I use extensively.
My favorite Skyscanner tip, and the way I find cheap flights, is to select my local airport in the "From" box and then select "Explore everywhere" for my destination. Then, rather than selecting a specific departure date and return date, I select the whole month. That way you can see the cheapest flights on any given day of the month to different countries around the world. This is great if you don't mind where you go and enjoy exploring new places.
Set Up Price Alerts on Flights
If you've decided on your dates and find flights you like, but aren't quite ready to book, you can set up a price alert to be notified if the cost of your potential airfare changes. That way if the price drops you can dive in and take advantage!
Subscribe to Flight Finder Services
Some services such as Going (previously Scott's Cheap Flights) and Jack's Flight Club offer a subscription-based service that helps you find and seize remarkable flight deals and discounts. Subscribers receive regular email notifications containing detailed information about the deals, including destinations, airlines, travel dates, and booking instructions.
The services scour the internet for low-cost fares, error fares, and promotions, and the subscription fee can often justified by the significant savings you make on one flight booking.
Keep an Eye Out for Mistake Airfares
Yes, mistake airfares do happen! They occur when an airline or agency mistakenly lists the wrong price for the flight, selling it for much less than it's worth. This can occur through human error, computer error, or even currency conversion glitches. Just make sure you're ready to snag a great deal when it does happen! The best way to keep on top of this is through flight price alerts and websites such as The Flight Deal which also publishes deals on X (formerly Twitter) @TheFlightDeal.
While some airline tickets can be canceled or refunded, many airlines will honor them anyway. Just make sure this is the case before you book the rest of your trip.
Follow Flight Deals on X (Twitter)
Follow The Points Guy, The Flight Deal, and more on X to get the latest and greatest deals on air miles, points, and flights.
Know the Best Places To Sit on the Plane
Did you know that some seats on the plane are better than others, even in economy? Websites like SeatGuru provide seat maps to help you decide where to sit on the plane. So, if you want to find a seat with a bit of extra leg room it's worth a look!
Get a Priority Pass
Priority Pass provides access to over 1,400 airport lounges around the world. This travel perk lets you escape crowded terminal areas, enjoy complimentary refreshments, and access free Wi-Fi and business facilities. Both AmEx and Chase offer credit cards with Priority Pass and it's worth it for the lounge access and free food and drinks alone.
Download Your Airline's App
To make things easier you should download the airline's app at home before you fly. From here you can check-in and select your seats, and access your boarding pass. This is much easier than having to print it out, although it's always useful to have a spare, printed copy too.
Download Any Media You Need Before Traveling
Want to spend your holiday catching up on your favorite TV shows? Download any media you need before traveling so that you have it ready to watch on your device as soon as you're on the road. This way you can avoid any expensive data charges and don't have to watch the same old movies on your flight.
Download Offline Versions of Google Maps
If you don't want to use your data whilst you're abroad, or if you're heading to a remote area without an internet connection, download Google Maps that you need. That way you'll still be able to navigate if you can't get online.
Download the Google Translate App
If you're traveling to a foreign country where you don't speak the language, the Google Translate app can be a lifesaver. It can translate by voice, translate written text on photos (think menus), and translate any text you input. This makes it much easier to communicate with the locals and can really enhance your experience.
Get An International Drivers License
For international trips, and if you're planning to drive while you're abroad, you may need an international driver's license depending upon your destination.
If you're from the US you can check if you need an international driver's license here.
If you're from the UK you can check if you need an international driver's license here.
Scan Your Important Documents Before You Go
If you scan your important documents before you go, such as your passport and travel insurance, you can save a copy to your phone or email and send it to close family or friends. That way you have a backup even if you lose all of your belongings. You can also print it out if you need to.
Take a Copy of Important Documents With You
Take a photocopy of your passport, boarding passes, travel insurance, visa, prescriptions, and any other necessary certifications before your trip. Leave one copy somewhere safe at home and take another copy with you.
By taking a physical copy of your important documents, it ensures that you have a backup in case of loss or theft. This minimizes potential disruptions and expedites document replacement when needed.
Book the Right Accommodation
Knowing where to find accommodation and where to stay is a key part of ensuring an enjoyable holiday. There are numerous websites you can use, and I personally like Booking.com.
Before you book anything, check the reviews and location. You want to make sure that other people have enjoyed their stay there and that it is located in the area you want to stay. For example, if you want a quieter area it's better to stay outside the center, away from the tourist hotspots. However, if you're looking for a beach holiday you ideally want to be within walking distance of the beach.
Consider House Sitting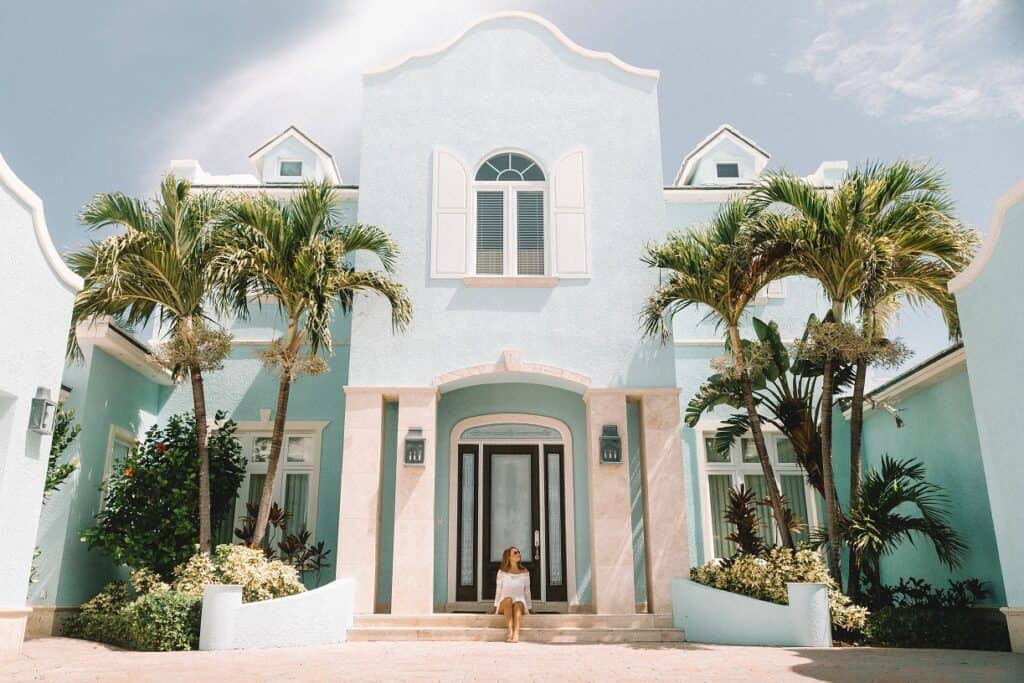 How do you like the sound of free travel? While completely free travel is hard to come by, you can considerably cut down on costs by house-sitting. House sitting is one of the best travel jobs and provides you with free accommodation, eliminating one of the most significant travel expenses. You also get access to a kitchen, where you can cook your meals and save on dining out!
Don't Be Afraid To Stay in Hostels
Hostels sometimes get a bad reputation, but I've stayed in some great hostels over the years. They provide affordable accommodation and cater to different needs. You can stay at budget hostels, party hostels, eco-friendly hostels, and hostels for digital nomads to name a few. And, while they may not be suitable for everyone, hostels offer a great way to save money, meet fellow travelers, and make new friends.
Don't Cut Costs Over Convenience
Do you know the phrase "time is money"? This is highly applicable here. If you want a beach holiday and have a choice between a hotel 200 meters from the beach and another one which is 2 kilometers from the beach but $10 a night cheaper, go for the one nearer the beach. The time you'll save walking there, or the taxi fare, will more than makeup for that extra $10.
However, there is a caveat here. If you're traveling as a larger group, an extra $10 per person can mount up. So, if the hotel further away is just as nice and you're happy taking transport to the beach each day it can be a worthwhile saving.
Book Accommodation in Advance
While you can snag some great last-minute travel deals, it's usually better to book accommodation in advance – especially if you're traveling in peak season or to a popular destination. Other people read the reviews too, so it's no coincidence that the best hotels fill up early.
However, there is an exception to this if you're traveling for an undetermined amount of time and don't have fixed plans. When I've been traveling I've often left booking accommodation to a few days before because I didn't know where I was going to go next, although this tends to work better with hostels rather than hotels.
Book Transport in Advance
The last thing you want to do is arrive somewhere and find that you can't get a transfer from the airport or all the train tickets are booked. If you've already planned your itinerary, book your transport in advance and you won't have to worry about missing anything.
Be Aware of Your Transport Options
You don't have to travel by plane all of the time. Sometimes you can catch a train or take a bus and it can be more cost-effective. On a more local scale, try and get an idea of how much taxis should cost so that you don't get overcharged while you're there.
Share Your Itinerary With Someone You Trust
I've already mentioned sharing important documents with someone you trust, but it can also be worth sharing your itinerary. That way someone at home will know where you'll be and will be able to contact you in case of an emergency.
Tell Your Bank You're Going Abroad
Telling your bank you're going abroad can help prevent issues with your credit or debit cards getting flagged for fraud. If your bank doesn't know that you're going abroad and suddenly sees a foreign transaction it can treat it as suspicious.
By informing your bank or credit card company of your travel plans before you go it helps avoid unnecessary card declines due to suspected unusual transactions and safeguards your accounts from potential fraud alerts.
Bonus tip: If you forget to inform your bank, it can be worth using your card at the airport before you depart. Requesting your balance or simply buying a bottle of water is usually enough and shows that you're likely to be traveling.
Make a Default Packing List
Creating a default packing list streamlines your travel preparations, reduces stress, and saves time before each trip. With a personalized checklist, you can pack confidently and efficiently knowing that you won't forget essential items. Plus, you only have to create it once and you can use it again and again.
Get Identifiable, Colorful Luggage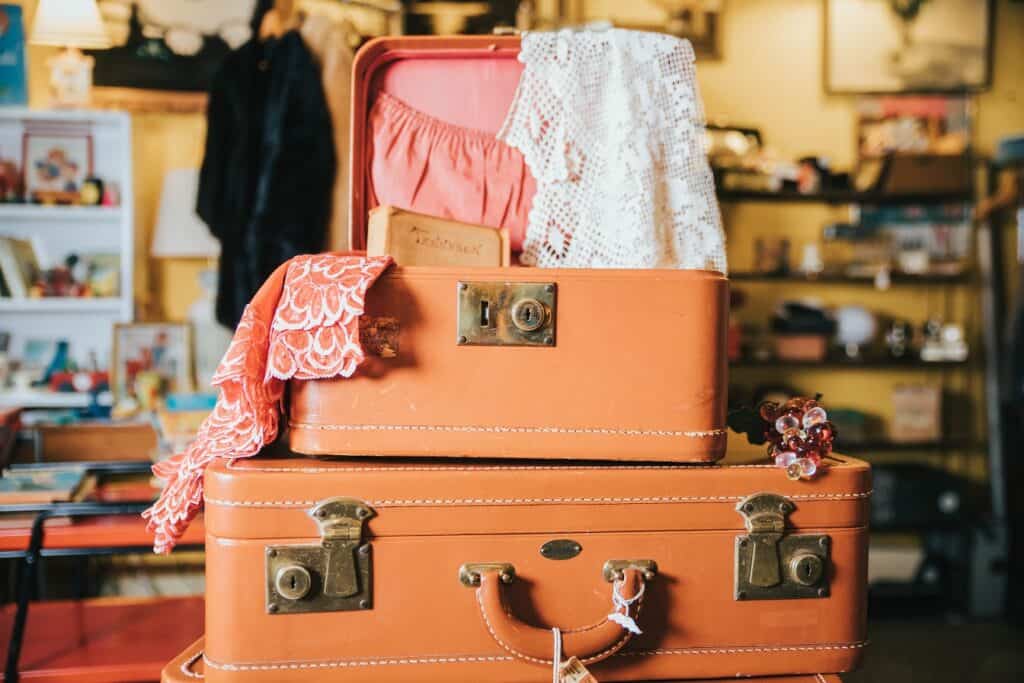 When buying your luggage try and get something identifiable. A lot of suitcases and bags look the same and it can be easy for you and other people to get confused at airport luggage collection. Having something bright always helps, and even if you don't want to get that yellow suitcase you can always get one with a unique pattern around the outside.
Alternatively, you can tie some brightly colored string to your luggage or put some colorful tape on it to make it stand out.
Choose the Right Size Luggage for Your Trip
On the one hand, you don't want to have to cram your clothes into a small suitcase, but on the other hand, you don't want a few items rattling around in a huge suitcase! You should therefore select your luggage accordingly.
For some trips you'll need to pack a lot of things and will need a bigger suitcase, for other trips it could just be a few items and you can get away with a small bag. Why carry heavy luggage around when you can fit your belongings in a much smaller bag?
Pack Two or More Large Plastic Bags
I always pack at least two large plastic bags in my luggage. One for dirty laundry and the other for shoes. Having a bag for dirt laundry is probably one of my favorite travel hacks. It helps you keep your other clothes clean, and when you get home unpacking literally involves emptying clothes into the linen bin.
Keep Your Luggage Fresh
We all know that if we're traveling for a while our luggage can start to smell a bit stuffy. Keep things fresh by throwing a lavender bag into your bag or suitcase. You'll thank me if you're taking hiking shoes!
Use Luggage Tags
Not everyone likes to leave their details on their luggage but I think it's well worth it, especially if someone accidentally takes it or if it goes missing. Luggage tags are designed for this very purpose and show who the luggage belongs to.
A simple luggage tag can include your name, your mobile number with its international prefix (e.g. +1 or +44), your e-mail address, and your home country. You can include your full address if you wish but this is down to your personal preference. Provided the airport, or the person who accidentally took your bag, has a way to contact you you should be fine.
Bonus Tip: It's also worth putting a spare luggage tag inside your suitcase or bag with the same details. That way if the one on the outside falls off people can still identify your luggage. If you don't have a spare luggage tag you can simply print the same details out on a piece of paper and place it inside each of your bags.
Buy a Set of Luggage Scales
Nearly all airlines enforce a weight limit on your luggage. If you go over this you can be charged extra or fined. To avoid such charges you can invest in a set of luggage scales so you know exactly how much your luggage weighs. You can even get ones that are small enough to fit in your carry-on bag!
Roll Your Clothes
Maximize packing space by rolling your clothes instead of folding them. Rolling your clothes not only saves space, it reduces wrinkles and keeps your suitcase organized for efficient packing and easy access. This travel hack maximizes your luggage capacity and minimizes the time you spend on packing and unpacking, bonus!
Use Packing Cubes
If you want to take this one step further, use packing cubes. Packing cubes organize your luggage into sections, making items easy to find. They also help prevent over-packing and keep your suitcase tidy, simplifying the packing process.
Use Vacuum Bags
Still want to save space? Consider using vacuum bags to compress your clothes. You'll be amazed at how much space you save!
Pack a Water Purifier
If you're heading somewhere without clean, potable water, pack a water purifier or filter. It can help safeguard your health by preventing waterborne illnesses, reduces the need for single-use plastic bottles, and saves you money on buying bottled water.
Pack a Universal Adapter
Pack a universal adapter when traveling abroad to ensure your electronic devices can be used and charged anywhere in the world. It prevents the inconvenience of not being able to plug in your devices due to different socket types, which can be a real pain if you're traveling to multiple countries. I'd certainly rather carry one plug adapter than several.
Pack a Portable Charger
Portable chargers, or power banks, allow you to keep your devices powered on the go, even when you can't use a plug socket. This helps ensure that you won't run out of battery during your journey, which can be vital if you have important documents saved on your phone.
Pack an Essentials Kit
Pack an essentials kit for any long flights or in case you need anything while you're in transit that you can't get from your main luggage. This could include earplugs, an eye mask, any toiletries or medication you need, chargers, and a change of clothes. It's always nice to be able to brush your teeth before settling down to sleep on an overnight flight.
Pack Snacks
Buying food at the airport is nearly always more expensive than buying it from your local supermarket. So, if you know you're going to be hungry pack some snacks! Your wallet and stomach will thank me later.
Take Mini Toiletries
Mini toiletries save space and meet liquid restrictions at the airport. The last thing you want is to have to throw away any expensive cosmetics before the start of your trip.
Bonus tip: Keep hotel shampoo samples and shower gel if you don't use them. They are ideal for this and they're free!
Pack Light
Have you ever noticed how traveling with less baggage simplifies your journey, making it more enjoyable and efficient? Packing light saves you from carrying unnecessary weight, reduces travel stress, and allows for easier mobility and flexibility.
You'll find that with a lighter load, you have more energy to explore and make the most of your adventures. Plus, you can always buy any non-essential items whilst you are abroad.
Only Take Carry On Luggage
If you truly want to pack light, only take carry on luggage.
Taking only a carry-on bag saves time at airports and eliminates baggage fees, making travel hassle-free. It also reduces the risk of lost luggage, ensuring you have your essentials with you. No more nervous waiting at baggage claim! You can hit the ground running and get on your way without waiting for checked bags.
Track Your Luggage
If you opt for checked-in bags, chuck an Apple AirTag or similar tracker into each suitcase. Using an Apple AirTag ensures you can easily locate your luggage, reducing stress and saving time. It not only provides peace of mind but also helps prevent loss or theft.
Take a Pen With You
You never know when you might need a pen. Actually, I do know when you might need one when you're traveling, it's to fill out the customs forms on the plane or to write down directions when you arrive. Always take a pen with you.
Bring a Quality Neck Pillow
Want to try and get some sleep on the plane? Bring a quality neck pillow. They are an ideal place to rest your head on a long flight or any other long-haul journey.
Invest in Noise-Canceling Headphones
If you enjoy watching a movie, listening to audiobooks, or playing music on the plane, you should invest in a pair of noise-canceling headphones. They block out the sound of the other passengers (including noisy babies!) and allow you to focus on what you enjoy without disturbance. They can even help you get some sleep if you don't want to listen to anything!
Bring Wipes or Sanitizer Spray
Bringing wipes or sanitizer spray provides a quick and convenient way to disinfect your hands when soap and water are not readily available, which can often be the case when you're traveling.
It also allows you to clean surfaces, such as tray tables and armrests on planes, which can harbor germs, maintaining hygiene and reducing the risk of illness.
Take a Reusable Water Bottle
Take a reusable water bottle with you so that you can fill it up once you're past airport security. It's always good to have one to carry around while you're traveling too.
Carry a Travel Bag
Carry a small travel bag that you can keep close to your body and has a zip. This will deter pickpockets and provide a space for you to store any travel-related items you need when you're out and about.
It's also worth taking an empty beach bag that you can use for towels etc. if you're going to the beach.
Buy Certain Items Before You Go
If there are any items that you'll need for your trip that are likely to be more expensive abroad, buy them before you go. For example, you're probably better off buying ski wear at home in the off-season rather than trying to buy it at a mountain resort.
Don't Take Too Many Valuables
This one can be included in both travel hacks and travel safety tips.
If you can, you should avoid taking too many valuables when traveling. This reduces the risk of theft, loss, or damage. Don't make yourself a target by wearing expensive jewelry and openly carrying expensive items.
Additionally, carrying fewer valuables enhances mobility and reduces the chances of forgetting or misplacing items. I've lost count of how many pairs of sunglasses I've lost over the years!
Get Some Foreign Currency Before You Travel
Try to get some of the local currency before you travel and don't exchange money at the airport, fees are higher there. You can check the exchange rates at different locations to find the best deal.
By getting some foreign currency before you go, you ensure that you have money on hand for immediate expenses upon arrival, such as transportation or meals. This prevents the hassle of searching for a currency exchange and ensures you can manage your spending without relying solely on credit cards or ATMs.
Have an Emergency Budget
Always have a little more than you think you'll need. Whatever you've budgeted for your trip add 10-20% to cover any unexpected circumstances or purchases. Keep some extra cash hidden somewhere that you can use if needed.
Take a Picture of Where You Parked Your Car
If you drive your car to the airport and leave it in the long-stay car park, take a picture of where you left it. The last thing you want to do is come back from holiday and not be able to find your car among the thousands of others parked there. This happens, believe me!
Likewise, if you hire a car abroad it's likely that you won't be familiar with the area. Take a picture of where you leave your car or mark it on Google Maps so that you can easily come back and find it later.
Volunteer for a Later Flight if Your Plans Are Flexible
Sometimes planes can be overbooked and the airline will offer compensation if you volunteer to take a later flight. If you have flexible travel plans this can be a great travel hack to offset the cost of your airfare and even make a profit!
If you decide to volunteer, you can wait to see if they up their compensation offer before you agree to it. Sometimes the amount offered can run into the thousands.
Don't Be Afraid to Ask for an Upgrade
It never hurts to politely ask for an upgrade either on the plane or at your hotel. Most of the time the answer will be no, but if you don't ask you'll never get upgraded to business class, first class, or that luxury suite.
Leave Enough Time for Your Connecting Flight
Aim to allow at least 90 minutes for your layover if you have a connecting flight. This should help to account for any delays or security issues you encounter.
Plan for Delays
Always account for delays when you're traveling. If you need to get a connecting flight allow a couple of extra hours just in case your first flight is delayed. You should also do the same for trains, although the delays and amount of time you need to allow tends to be shorter.
Wear Layers While Traveling
Have you ever been on a plane or public transport and suddenly felt really hot or cold? That's why you should wear layers. If you've got a thick jumper on and nothing else, you can't exactly take it off to cool down! It's better to wear layers so you can take off or put on clothes as and when needed. It also saves space in your luggage!
Buy Compressions Socks
Suffer from swollen ankles when sitting in one place for a long time? Buy some compression socks. Wearing compression socks enhances blood circulation, reduces swelling, and alleviates leg discomfort during long periods of sitting or standing, particularly during travel and long flights. These socks provide valuable support and can help prevent conditions like deep vein thrombosis and varicose veins.
Suck a Sweet When Taking Off/Landing
Do your ears ever pop or get painful when you're on a plane? Chewing or sucking on candy promotes swallowing, which can help equalize the air pressure in your ears. This reduces discomfort and the "popping" sensation caused by changes in cabin pressure, making your flight more comfortable and less painful for your ears.
Keep Children Entertained
If you have children keep them entertained by downloading some of their favorite shows before you go that they can watch while you're traveling. A busy bag is also a good option for younger children. Anything to keep them occupied!
Buy a Local SIM card
If you plan on going abroad for a while or using the internet extensively whilst you're away, buy a local sim card. Buying a local SIM card grants you affordable data and reliable connectivity without expensive roaming charges. So, you can access Google Maps, stay in touch, and share your experiences without worrying about a huge bill when you get home.
Use Messaging Apps for International Calls
Use messaging apps like WhatsApp, Viber, and Facebook Messenger to make international calls. Provided you do it on Wi-Fi it's free and you'll avoid any call charges.
Turn on Location Services
Turning on location services on your phone enhances navigation, aids in finding local attractions, and helps other people find you while you're traveling. It ensures you're never lost in an unfamiliar place. However, you'll need to have access to the internet to make the most of it, so you'll either need to use Wi-Fi, make use of a foreign sim, or make sure you have a good roaming deal. Generally, it's better to have data roaming off.
Turn off Data Roaming
Turning off data roaming when traveling abroad is essential to avoid exorbitant data charges and a big phone bill when you get home. I once got stung with this when my phone started updating apps in the background without me realizing it!
By disabling data roaming, you control your data usage, preventing unexpected bills and ensuring a worry-free international journey.
Take Screenshots of Anything You Need
If you're not using data or are worried about being able to access the internet or your apps, take screenshots of anything you need. This can include your boarding pass, a screenshot of Google Maps where your accommodation is located, or anything else you can think of.
Several times I've been at the airport abroad and suddenly lost internet, and having a screenshot of my boarding pass has saved me a lot of stress.
Learn About Your Destination
Learning about your destination before traveling abroad is essential for safety, cultural sensitivity, and enhanced experiences. It can equip you with valuable information about local customs, laws, potential risks, and all the must-see attractions, which allows you to make the most of your time there.
Learn a Bit of the Local Language
Having just championed Google Translate, you might be wondering why I've included this. Put simply, there is no substitute for being able to speak a bit of the local language. The locals will really appreciate it and it can help you get around. Plus, when you come back you can impress your friends at home with your newfound foreign language skills.
Withdraw Cash in The Local Currency
Once you're abroad, try to only withdraw cash in the local currency, and not your native currency, as this typically results in a more favorable exchange rate. When you choose to receive the local currency, you often get a better rate and avoid double conversion fees, which means you receive more money for your exchange.
Get Car Rental Insurance
If you're renting a car, make sure that your insurance covers car rental or get dedicated car rental insurance. This can save you a fortune if you have any unfortunate incidents while driving.
You should also take photos of your rental car when you pick it up. This can act as evidence to prove that you haven't done any damage to your car when you return it. Unfortunately, there are a lot of travel scams out there and some unscrupulous rental companies can try and claim that you damaged the car when you didn't.
Seek Out Trusted, Reliable Tour Groups
If you're traveling alone, seek out trusted, reliable tour groups. They represent a safe way to travel and can be great for meeting people and making friends with fellow travel companions. I traveled the US with Trek America some years ago and it was one of the best holidays I've had.
Use a Travel Agent When You Need to
There is no doubt that planning and organizing a trip yourself gives you a lot of freedom. However, sometimes it's nicer just to let someone else do it. Travel agents know their stuff and they can often get you exclusive travel discounts or get you on tours that you otherwise wouldn't have access to.
Pick Good Travel Partners
I think the old saying "it's the people that make a place" is true. This applies equally when you go on holiday or go traveling. If you enjoy the company of the people you're with, you're much more likely to have a good time. Try to travel with people with similar interests to you, and don't be afraid to go off on your own for the day if there is something that you specifically want to do.
Stay Hydrated
You should always aim to stay hydrated, but this is especially true when traveling. When you go on holiday you often spend most of your time outside. Be it by the pool, on the beach, or exploring your surroundings, you'll probably spend a lot more time in the sun than you're used to. It's therefore important to drink plenty of water to avoid dehydration and any problems associated with this.
Don't Forget the Sunscreen
Don't forget the sunscreen! Trust me, I've been there and it wasn't pleasant. If you're going anywhere hot and sunny, or even skiing in the mountains, sunscreen is essential to stop yourself from getting burnt. Once you've felt that pain once you won't want to feel it again!
Beat the Jet Lag
When you arrive at your destination and you're in a new time zone, try and get sunlight as soon as possible. This helps to reset your circadian rhythm. The next step is to try and stay awake all day and only sleep at night. If you can do this and avoid the temptation to nap, you'll be rewarded with a great head start on beating the jet lag.
Check Out Local Walking Tours
Local walking tours are a great way to explore your destination and are often free. Of course, you will be expected to tip, but this can be as little or as much as you like. I've taken several free walking tours and I like to do it at the start of the trip. You get your own free tour guide and get to know more about the area for some itinerary inspiration.
Eat Well At Breakfast
If you're staying at a hotel with breakfast included, make sure you take advantage of this! Eating well at breakfast sets you up for the rest of the day and you may not even have to worry about a big lunch or dinner. It can be a great way of saving money and if you're feeling cheeky you can always sneak out some extra croissants or sandwiches.
Do Your Laundry Abroad
If you want to travel light it can be worth doing your laundry abroad. You can save money on the cost of an extra checked bag and won't be weighed down by a mountain of clothes. This tends to work best if you're traveling to warmer locations. For example, I wouldn't advise it if you're going skiing!
Buy a Second Suitcase Abroad
If you're planning on bringing back a lot of souvenirs, or are traveling abroad for a shopping binge, you may want a second suitcase. Rather than paying to fly out with an empty suitcase, it can make sense to buy a second suitcase while you're abroad. You'll save money on luggage fees and can come back with what is effectively a new, free suitcase.
Store Your Luggage Somewhere Safe
Before you check in to your accommodation, or at the end of your trip, you might need somewhere to store your luggage. If you've ever been in a situation where you've checked out of your hotel but still have a full day of sightseeing ahead of you, you'll know what I mean.
In these situations you can normally ask the hotel to keep your luggage in a room, in which case you should make sure it is locked and that you can easily identify your bags when you come back.
However, in some cases, the hotel may not have this facility or you could have rented an Airbnb or apartment and had to leave early. In these instances, you can take advantage of services such as Bounce which provide locations where you can safely store your luggage while you explore for the day.
Book a Day Off Work for After You Get Back
Booking an extra day off work for after your vacation reduces post-travel stress and eases the transition back to work. It provides time to unpack, catch up on rest, and address any unexpected issues when you get home. This helps ensure a smoother reentry into your daily routine, making the post-vacation adjustment less overwhelming.
Enjoy Every Moment
Saved the best for last. Perhaps one of the most important travel hacks of all, make the most of it and take travel photos! It's not every day we have the chance to get away and enjoy new experiences. You should therefore relish every moment of traveling because it's a unique opportunity to explore, learn, and create lasting memories.
Track Hacks 101
I hope you enjoyed that list of travel hacks, did I miss any out? Let us know in the comments if you've got any travel hacks that you think should be on this list.
There's certainly a lot to think about when you go traveling, but if you plan well and take advantage of some of these travel hacks, you'll be in a good position to enjoy your future trips to the max.
And, with that, I wish you safe travels and happy exploring. All the best for your next trip!
Latest posts by James Prior
(see all)