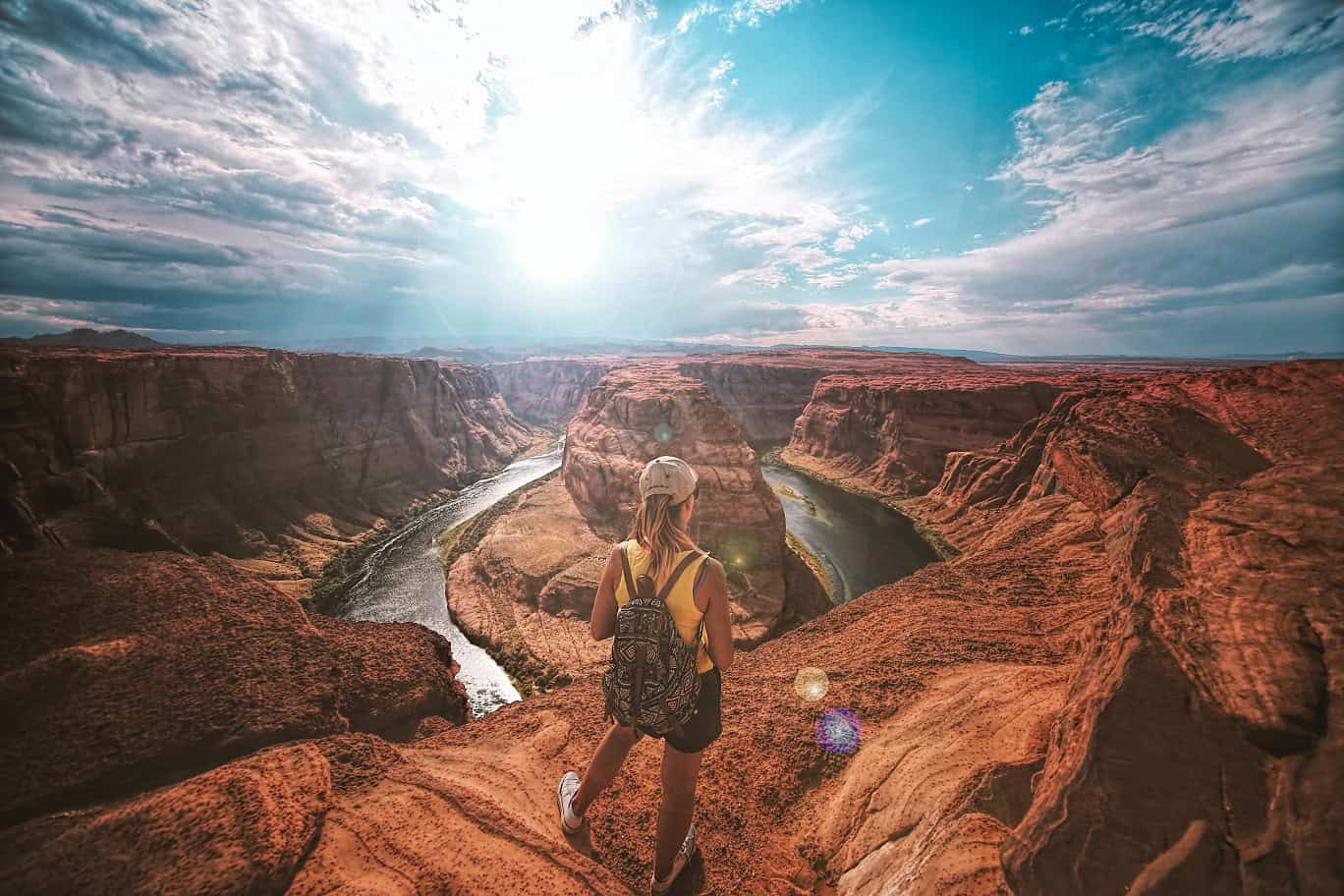 Traveling is not just about moving from one place to another; it's an exploration of the world and yourself. It opens doors to new cultures, perspectives, and experiences, and forms memories and valuable lessons that last a lifetime. In the following collection of best travel quotes, we'll delve into the inspiring words of explorers, adventurers, and writers who remind us of the magic that lies beyond our comfort zones.
So, let's embark on this literary expedition and leave you with an unquenchable thirst for exploration!
These travel quotes will ignite your wanderlust and inspire you to pack your bags and set forth on a new adventure. They capture the essence of travel—the exhilarating journey of self-discovery and the discovery of the world.
The Best Travel Quotes
Get inspired by these 85 quotes about traveling:
"A journey is best measured in friends, rather than miles." – Tim Cahill
"A mind that is stretched by a new experience can never go back to its old dimensions." – Oliver Wendell Holmes
"Adventure is worthwhile." – Aesop
"Better to see something once than hear about it a thousand times." – Asian Proverb
"Broad, wholesome, charitable views of men and things cannot be acquired by vegetating in one little corner of the earth all of one's lifetime." – Mark Twain
"Collect moments, not things." – Anonymous
"Doing what you like is freedom, liking what you do is happiness." ― Sudha Murty
"Don't be that person who is too busy when you are young and then too tired when you are old." – Anonymous
"Don't call it a dream. Call it a plan." – Anonymous
"Don't let fear get in the way of the life you are meant to live." – Anonymous
"Every man can transform the world from one of monotony and drabness to one of excitement and adventure." – Irving Wallace
"For my part, I travel not to go anywhere, but to go. I travel for travel's sake. The great affair is to move." – Robert Louis Stevenson
"Go where you feel most alive." – Anonymous
"Happiness is planning a trip with the ones that you love." – Anonymous
"Have stories to tell not stuff to show." – Anonymous
"I am not the same, having seen the moon shine on the other side of the world." – Mary Anne Radmacher
"If you reject the food, ignore the customs, fear the religion and avoid the people, you might better stay at home." – James Michener
"I haven't been everywhere, but it's on my list." – Susan Sontag
"In the end, we only regret the chances we didn't take" –  Lewis Carroll
"I travel a lot; I hate having my life disrupted by routine." – Caskie Stinnett
"I travel because I become uncomfortable being too comfortable."
"I travel because it makes me realize how much I haven't seen, how much I'm not going to see, and how much I still need to see." – Carew Papritz
"I want to make memories all over the world" – Anonymous
"If we were meant to stay in one place, we'd have roots instead of feet." ― Rachel Wolchin
"Investment in travel is an investment in yourself." – Matthew Karsten
"It's not what you look at that matters. It's what you see." – Henry David Thoreau
"Jobs fill your pockets, adventures fill your soul." ― Jaime Lyn Beatty
"Leave nothing but footprints, take nothing but photos, kill nothing but time." ― Aliyyah Eniath
"Let's get lost." – Anonymous
"Life is either a daring adventure or nothing." – Helen Keller
"Life is short and the world is wide, the sooner you start exploring it, the better." – Simon Raven
"Life begins at the end of your comfort zone." – Neale Donald Walsch
"Life is either a daring adventure or nothing." – Helen Keller
"Live life with no excuses, travel with no regret." – Oscar Wilde
"Man cannot discover new oceans unless he has the courage to lose sight of the shore." – Andre Gide
"My goal is to run out of pages in my passport." – Anonymous
"No place is ever as bad as they tell you it's going to be." – Chuck Thompson
"Not all those who wander are lost." – J.R.R. Tolkien
"Of all the books in the world, the best stories are found between the pages of a passport." – Anonymous
"Oh the places you'll go." – Dr. Seuss
"Once a year, go someplace you've never been before." – Anonymous
"Once in a while it really hits people that they don't have to experience the world in the way they have been told to." – Alan Keightley
"One's destination is never a place, but a new way of seeing things." – Henry Miller
"Our battered suitcases were piled on the sidewalk again; we had longer ways to go. But no matter, the road is life." – Jack Kerouac
"Our happiest moments as tourists always seem to come when we stumble upon one thing while in pursuit of something else." — Lawrence Block
"People don't take trips, trips take people." – John Steinbeck
"Remember that happiness is a way of travel – not a destination." – Roy M. Goodman
"Some beautiful paths can't be discovered without getting lost." ― Erol Ozan
"Stop worrying about the potholes in the road and enjoy the trip." – Babs Hoffman
"Stuff your eyes with wonder, live as if you'd drop dead in ten seconds. See the world. It's more fantastic than any dream made or paid for in factories." – Ray Bradbury
"Take only memories, leave only footprints." – Chief Seattle
"The biggest adventure you can take is to live the life of your dreams" – Oprah Winfrey.
"The gladdest moment in human life, methinks, is a departure into unknown lands." – Sir Richard Burton
"The goal is to die with memories not dreams." – Anonymous
"The journey of a thousand miles begins with a single step." – Lao Tzu
"The life you have led doesn't need to be the only life you have." – Anna Quindlen
"The more I traveled the more I realized that fear makes strangers of people who should be friends." – Shirley MacLaine
"The use of traveling is to regulate imagination with reality, and instead of thinking of how things may be, see them as they are." – Samuel Johnson
"The world is a book, and those who do not travel read only one page." – Saint Augustine
"There is no moment of delight in any pilgrimage like the beginning of it." – Charles Dudley Warner
"To awaken alone in a strange town is one of the pleasantest sensations in the world." – Freya Stark
"To my mind, the greatest reward and luxury of travel is to be able to experience everyday things as if for the first time, to be in a position in which almost nothing is so familiar it is taken for granted." – Bill Bryson
"To travel is to discover that everyone is wrong about other countries." – Aldous Huxley
"To travel is to live." – Hans Christian Andersen
"Travel and change of place impart new vigor to the mind." – Seneca
"Travel far enough, you meet yourself." – David Mitchell
"Travel is an investment in yourself." – Anonymous
"Travel is never a matter of money, but of courage." — Paulo Coelho
"Travel is the only thing you buy that makes you richer." – Anonymous
"Travel isn't always pretty. It isn't always comfortable. Sometimes it hurts, it even breaks your heart. But that's okay. The journey changes you; it should change you. It leaves marks on your memory, on your consciousness, on your heart, and on your body. You take something with you. Hopefully, you leave something good behind." – Anthony Bourdain
"Travel makes a wise man better but a fool worse." – Thomas Fuller
"Travel makes one modest. You see what a tiny place you occupy in the world." – Gustave Flaubert
"Traveling – it leaves you speechless, then turns you into a storyteller." – Ibn Battuta
"Traveling tends to magnify all human emotions." — Peter Hoeg
"Two roads diverged in a wood and I – I took the one less traveled by." – Robert Frost
"We don't need objects; we need adventures." – Anonymous
"We travel, some of us forever, to seek other places, other lives, other souls." – Anais Nin
"We travel for romance, we travel for architecture, and we travel to be lost." – Ray Bradbury
"We travel not to escape life, but for life not to escape us." – Anonymous
"When preparing to travel, lay out all your clothes and all your money. Then take half the clothes and twice the money." – Susan Heller
"When overseas you learn more about your own country, than you do the place you're visiting." – Clint Borgen
"Wherever you go becomes a part of you somehow." – Anita Desai
"With age, comes wisdom. With travel, comes understanding." – Sandra Lake
"Work, save, travel, repeat." – Anonymous
"You don't have to be rich to travel well." – Eugene Fodor
Latest posts by James Prior
(see all)