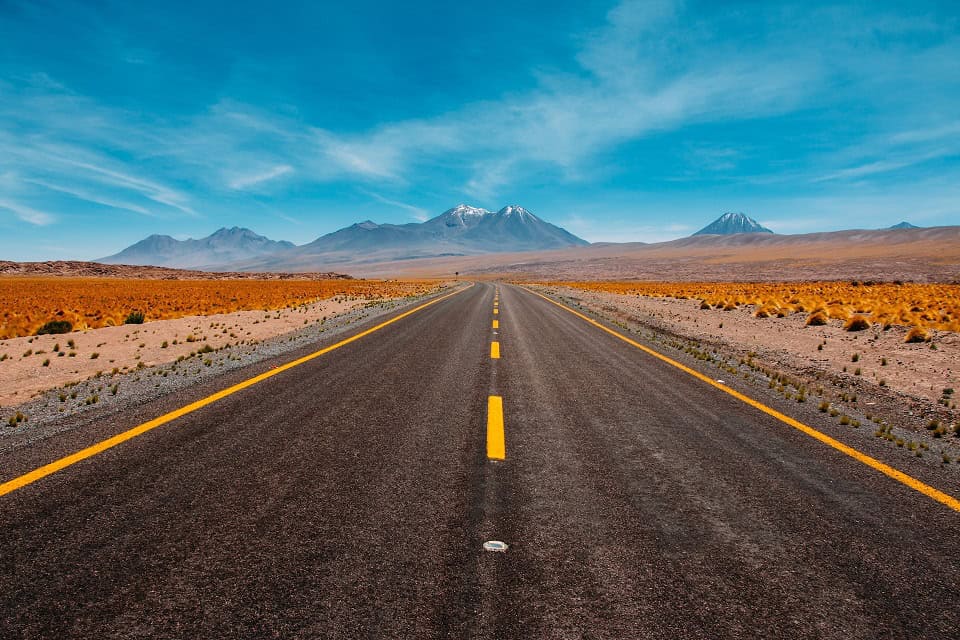 Why is it that streets are called streets and roads are called roads? We use them both to walk or travel along, so what's the difference? Believe it or not, there is a historical reason for this distinction, which still applies today. In this article, we take a look at the difference between a road and a street to get a better understanding of why it's a road vs street and vice versa.
So, next time you're walking along wondering if you're on a road or a street, let this be your guide!
What is a Road?
A road is a route that connects two points or places and allows for the movement of people, vehicles, and goods from one place to another. It is typically a paved or specially prepared surface that vehicles can use.
Traditionally, a road was given the name "road" because it connected two points. This was usually towns or villages that were close to each other. Over time as many of these settlements expanded, they joined up to form larger towns or cities. This is why you often find "roads" running through towns and cities today e.g. London Road, even though they no longer fit the original definition of a road.
As such, a road is a fundamental component of transportation infrastructure and plays a crucial role in connecting communities, cities, and regions. Roads can be found in various settings, including rural areas, passing through the countryside or a forest, suburban neighborhoods, and urban centers.
One of the most famous roads in the world is Route 66 in the United States, also known as the "Mother Road". Route 66 is arguably the most iconic road in American history. It was officially designated as U.S. Highway 66 and served as a major east-west highway connecting Chicago, Illinois, in the Midwest to Santa Monica, California, on the west coast.
Nowadays, Route 66 has been largely replaced by the modern Interstate Highway System in the United States. However, it remains a symbol of American travel and adventure, and several sections of the original Route 66 have been designated as "Historic Route 66" and are promoted as tourist attractions. Many travelers still make journeys along the road to experience a sense of nostalgia and relive the classic road trip experience.
What is a Street?
A street is a public road that runs through a built-up urban or suburban area, typically lined with buildings and structures on either side. Streets are essential components of a city or town's transportation infrastructure, serving as thoroughfares for vehicular and pedestrian traffic. They play a crucial role in providing access to different destinations within an urban environment, such as residences, businesses, schools, parks, and other public spaces.
You don't tend to find streets in rural areas.
What's the Difference Between a Road and a Street
The main difference between a road and a street is that a road is a broader term encompassing any pathway or route that connects two points, irrespective of whether it is in rural, suburban, or urban areas. Whereas a street specifically refers to a public way within an urban or suburban setting, typically lined with buildings on either side.
Roads can vary widely in size, design, and purpose and accommodate various modes of transportation. They provide essential connections and form the backbone of transportation networks.
Streets are designed with infrastructure like sidewalks, traffic lights, and crosswalks to cater to both vehicular and pedestrian traffic and play a vital role in providing access to residences, businesses, and public spaces within urban environments.
Types of Roads
Highway/Motorway – A large public road designed for high-speed, long-distance travel, connecting major towns and cities. "Highway" is used in the U.S. while "motorway" is used in the UK.
Road – A general term for any pathway or route that connects two points, regardless of location or urban context.
Street – A public road within an urban or suburban area, typically lined with buildings on both sides.
Way – A small side street or path branching off a main road.
Avenue – A road with trees or buildings on both sides, often running perpendicular to streets.
Boulevard – A wide city street with greenery on both sides and a median in the middle.
Lane – A narrow road, typically found in rural areas.
Drive – A winding road whose route is shaped by natural features like lakes or mountains.
Terrace – A road running along the top of a slope.
Place – A road with no throughway, often ending in a dead-end.
Court – A road with no throughway, terminating in a loop or cul-de-sac.
Cul-de-sac – A dead-end street or road with a single entrance and no through traffic, typically ending in a circular or U-shaped turnaround.
Plaza or Square – An open public space surrounded by businesses or streets.
Road Vs Street?
The terms "road" and "street" are often used interchangeably in everyday language and it's not unusual to hear people informally use the word "road" as a synonym for street. However, if you want to be accurate when it comes to defining a road vs street, just remember that a street can be found in an urban or suburban area and is usually lined with buildings on both sides. This may also apply to a road, but a road's main function is to act as a route that connects two points. So, it can connect two urban areas, rather than just being part of a singular urban area.