With so many options out there it can be hard to decide upon the right TEFL (Teaching English as a Foreign Language) course for you. However, if you want a TEFL qualification that goes beyond the basics and opens up more job opportunities, one of these level 5 TEFL course could be just what you've been looking for.
Read on to find out why you should do a TEFL level 5 course and discover the best level 5 TEFL courses.
What is a level 5 TEFL course?
A level 5 TEFL course is a TEFL course that has been externally reviewed and subsequently approved to be an Ofqual level 5 qualification according to Ofqual's qualifications framework. According to this framework, the level of study required for a TEFL level 5 course is effectively the same level of study required for an undergraduate degree!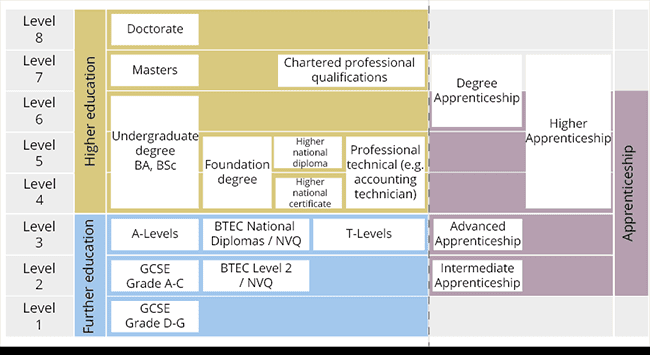 You can see a full list of qualifications and their corresponding levels on the UK government website.
Who are Ofqual and why do they get to decide a TEFL course's level?
Ofqual (The Office of Qualifications and Examinations Regulation) is the UK government department responsible for regulating qualifications in England. They regulate both vocational and academic qualifications and TEFL courses fall under this. You can find out more about who Ofqual are here.
Furthermore, 'Ofqual regulated' is synonymous with the term 'TEFL accredited'. It's always important to find an accredited TEFL course as these will be recognized by employers when you go for your first TEFL job.
Is level 5 TEFL equivalent to a degree?
Level 5 TEFL qualifications are on an equivalent level to a foundation degree, which equates to two years of study at university. This is one level down from a Bachelor's degree on the qualifications framework, which requires three years of study at university.
This is is contrast to a level 3 TEFL qualification which is on the same level as A-Levels in the UK. A-Levels are exams which students take at 18 years old prior to entering university.
TEFL levels range between 0-7 so it is important to have an understanding of what each represents when deciding upon your TEFL course.
Is a level 5 TEFL worth it?
A level 5 TEFL course is 100% worth it. Such courses are checked and approved at Ofqual level 5 by an Ofqual regulated examination board. This means that the course contents are of a high standard and you'll receive good training rom a reputable TEFL course provider. In fact, some of the best online TEFL courses are level 5.
Receiving a level 5 TEFL certificate should put you in a great position to secure a TEFL job. Furthermore, although the TEFL certification cost for a level 5 course is more expensive than some other TEFL certificates, it should help you get a higher salary.
Should you take a level 5 TEFL course?
Having a basic TEFL certification will be enough to get you a number of TEFL jobs. However, if you want to get work in a competitive teaching market or go after higher level English teaching positions, a level 5 TEFL course will hold you in good stead.
You can expect a level 5 TEFL course to have 168 hours plus of training. It does take a bit longer to complete than a level 3 TEFL course, but it will give you a deeper knowledge of teaching practices as a result. It also forms a great alternative to the CELTA and Trinity CertTESOL courses, which are level 5 courses in their own right. However, CELTA and Trinity CertTESOL are a lot more expensive, so this all depends upon your budget. 
So, where can you find the best level 5 TEFL courses online and how much do they cost? To help make things easier we've selected six of the best courses here to help you save time.
The best level 5 TEFL courses online
If you want to do a high quality, online TEFL course, you should look for one with TEFL level 5. A level 5 TEFL qualification will equip you with all of the teaching skills you need to teach English online or abroad. Here are 6 of the best:
International TEFL Academy
170 hours in length.
Completed over 11 weeks, part-time.
The course is broken down into 150 hours of online, interactive coursework. There are 20 students in a class plus a 20-hour practicum of ESL student/teaching observation. In other words, 20 hours of live teaching practice! This can be done online or at one of their practicum locations.
In the course you will learn about principles of teaching, classroom management, teaching grammar, reading, writing, listening, speaking and pronunciation, error correction, lesson planning, teaching group classes at different student levels (beginner, intermediate and advanced), conversational English, private tutoring and teaching Business English.
All of their Online TEFL Instructors possess at least a Master's Degree or Ph.D. and have years of English language teaching experience.
Price: $1,399.
ITTT International TEFL and TESOL Training
220-Hour Master Package Course
220 hours in length.
Complete the course at your own pace.
The course is broken down into three parts. A 120-hour TEFL course. A 50-hour course in Business English (CTBE). And finally a 50-hour course in Teaching English to Young Learners (CTEYL).
Customize your course and choose whether or not to include a tutor and teaching practicum (we highly encourage you to do this).
Post-course job guidance is included, which will help you find a TEFL job.
Price: Between $349 and $449 depending upon the package.
The TEFL Academy
The TEFL Academy offer two courses at TEFL level 5:
168 hours in length.
World's only TEFL course officially recognised and approved by government bodies in both the UK and USA.
You get 6 months access to the course but it can be completed in 4-6 weeks if you study fulltime.
10 exam assessed units. These include modules on lesson planning and use of materials and resources in the classroom, teaching vocabulary, pronunciation and grammar as well as teaching the four key skills of listening, reading, speaking and writing.
The 168 hour course includes an additional, free 30-hour course on top. You can choose from Teaching Young Learners, Teaching Business English or Teaching Online & 1:1.
Price: $500.
All of the benefits of the Online Level 5 TEFL Course above PLUS:
As part of your 168 hours of TEFL training you will get 148 hours online learning and 20 hours in the classroom for face-to-face tuition.
In the classroom you will get real life, peer-to-peer teaching practice with a separate 20-hour teaching practice certificate awarded upon completion. Many employers ask for teaching experience so this is a great addition to your qualification.
Study in a TEFL centre near you or pick the location of your choice.
Price: $840.
i-to-i TEFL
180-hour, level 5 TEFL course.
24/7 access to the course materials.
10 modules including; lesson planning, classroom management, teaching vocabulary, pronunciation and grammar, as well as teaching the four key skills of listening, reading, speaking and writing.
Includes free access to the specialist course Teaching Young Learners.
Support and expert advice from DELTA qualified tutors.
Guaranteed pass or your money back.
Price: $759.
All of the benefits of the 180 Hour TEFL Certificate plus:
300 hours in length.
Additional modules of Teaching Business and Teaching Online
Price: $1,129.
Premier TEFL
180 hours in length.
100% online.
6 months course access, which takes 6-10 weeks to complete.
10 modules including learners needs and teaching methodologies, lesson planning and use of materials, how to teach grammar, vocabulary, reading, listening, speaking, writing, pronunciation and phonology, plus teaching English to adults and teaching English to young learners.
Live tutor support drop-in sessions from experienced DELTA qualified tutors.
Price: Є499.
The TEFL Institute of Ireland
180 hours in length.
100% online giving you complete flexibility.
6 months course access, takes 8-12 weeks to complete.
New course developed based on research from Learnovate and Trinity College Dublin.
The course is broken down into 3 parts and 3 assessments and covers the following topics; teaching reading, writing, speaking and listening, classroom management, grammar and pronunciation, lesson planning and effective delivery, plus teaching English to both young learners and adults.
Price: Є585.
What next?
All of these courses are great options. They will make your TEFL CV stand out against people who have only taken a 120-hour level 3 TEFL course and will allow you to apply for a wider range of positions in different locations. Once you're TEFL certified opportunities will open up and you should find yourself teaching in no time!
Whatever you decide, don't forget to take your time and budget into account and make sure to pick the course that is right for you.
If you find these courses too expensive you can always check out these cheap TEFL courses online.
Alternatively, and if you're still looking around, keep an eye on our regularly updated list of TEFL course special offers and discounts. Who knows, you may find a bargain TEFL level 5 course on offer!
Latest posts by James Prior
(see all)