In today's globalized, brave new world there are a number of great jobs for digital nomads to choose from. The advent and subsequent explosion of remote working has opened up a whole host of new opportunities for you to get paid while you travel.
Whilst teaching English remains a fantastic choice for a digital nomad, you no longer have to rely upon it as your sole income when on the road. There's now a plethora of other equally viable options available if you want to diversify.
Now more than ever, people are giving up their traditional 9-5 jobs in order to pursue remote work and live a life of greater freedom. Rather than having to spend hours commuting to a stuffy office building, all digital nomads have to do is find a decent internet connection and open up their laptop. The best part is that this can be done from anywhere in the world!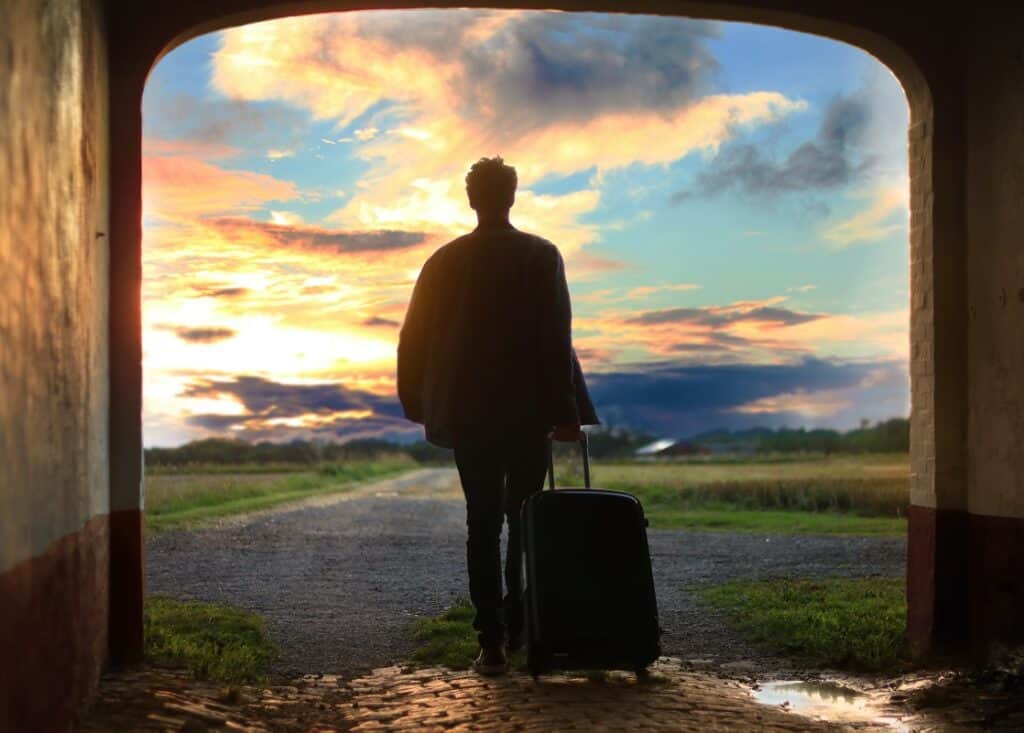 What jobs for digital nomads can you do?
If you're good with social media you can become a social media manager or virtual assistant. Got technical skills? You can work remotely as a programmer or developer, or even build your own teacher website. If you're creative you can find work online as a graphic designer. Or if you know SEO you can offer your services to help people grow their website traffic. You may even decide that you want to start a blog! And if you don't have any of these skills? Don't worry! Many of these skills can be learned while you travel and there are plenty of other options.
Being a digital nomad isn't a conventional way of working. You might not have a fixed contract and could often find yourself working in the gig economy. As a result of this, many digital nomads you meet along the way will likely have more than one job. For example, it's not uncommon that someone who teaches English abroad could also be a freelance writer whilst working on their own website or blog. After all, this is how I got started!
The good news is that by doing something different each day you shouldn't get bored. You can also take time off whenever you want, bonus! Once you've experienced this life, the thought of going back to the office can be tough. However, if you're going to take the plunge and become a digital nomad you still need to make sure that you can get enough work.
So, if you're ready to quit the rat race, here are some of the best digital nomad jobs to help you get started.
The 9 best jobs for digital nomads
Online English teacher (TEFL)
Teaching English as a Foreign Language (TEFL) has long been the bastion of the teaching nomad. Even before the term digital nomad was coined, English teachers would live abroad in different countries and teach English as they travelled. However, TEFL has evolved over time. Now with the growth of the internet, you don't even need to be abroad to teach students there. Things have truly gone digital.
The popularity of online language learning has exploded over the last few years and this isn't just limited to English. You could get work as any other type of online language teacher – there are plenty of people who want to learn other languages such as Spanish and Chinese.
We focus on teaching English here not only because this is what this site is about, but also because it is the largest language learner market in the world. It's thought that there are over 1.5 billion people currently learning English worldwide. So, there are plenty of opportunities to teach English.
Therefore, in terms of life as a digital nomad, teaching English online is one of the best location independent jobs. Provided there is a good internet connection you can do it from just about anywhere. You just need to make sure that you have the right equipment to teach English online in the first place!
How to become an online English teacher
To get started you'll need a certificate in TEFL. In order to obtain this you'll need to take a TEFL course. There are hundreds of TEFL courses out there to choose from and it's important that you do your research to find the best TEFL course for you.
If you're ready to take your TEFL course online right now and want a quick shortcut, you can check out these 5 cheap TEFL courses online that are TEFL accredited.
Once you've got TEFL certified, there are numerous online English teaching jobs out there and you could also go freelance. Even if you sign a contract with one of the bigger companies, you still have control over your schedule. This provides great flexibility and allows you to tailor your English teaching hours around your leisure time or other jobs you do. This is one of several reasons why TEFL is perfect for digital nomads.
It's really up to you if you decide to treat it as a full-time job or a way to earn a bit of extra cash to top-up your travel fund. You can make up to $100/hour if you offer your own services and build up a good online presence. One of the best ways to do this is by starting an online English teaching business.
Translator
If you've got a good grasp of English and can speak another language, becoming a translator could be a great option.
Translators convert one language to another and are essential for many businesses, organizations, and individuals. They provide a bridge between people who don't share a common language, allowing different cultures to communicate effectively in today's globalized world.
In order to become a translator, you must have an excellent command of the languages you are working with as well as knowledge of the culture behind them. This will enable you to render accurate translations that convey more than just literal meaning.
Although the role of a translator is more commonly associated with text-based work, you can work with both the written and spoken word. This could involve translating documents such as legal contracts, essays, or medical records into another language. You may even interpret and transcribe conversations.
While some translators specialize in certain fields such as medical or legal translation, others may focus on literary works like books and poems or website copy.
Blogger
If you can make it pay, being a blogger is one of the best digital nomad jobs you can do. A blog can be about anything ranging from technology, food, health, politics, finance, sport, music, crypto, education and travel. You just need to find your niche and you can start writing from anywhere in the world.
How to start your blog
Find a niche – Pick a topic you are passionate about or have expertise in. You need to be able to deliver value to your readers in order to stand out from the millions of other blogs out there. If you find something unique that hasn't really been covered elsewhere, even better!
Purchase a domain name – Once you have a topic, you need a name. Try to think of something catchy and memorable, and if you can purchase the .com go for it. A great place to buy domain names is namecheap.com.
Choose your blog theme – Most bloggers get started by purchasing or downloading a blog theme for use on WordPress. A theme is essentially a template for how your site and blog will look. Unless you want to pay developers to create something entirely bespoke, getting a blog theme is the way to go. These can either be free or paid, and you can pick one up here.
Buy your hosting – Now you need to choose a host for your blog. This is important, because without hosting nobody would ever be able to find your site! Bluehost is a fantastic company for hosting WordPress websites and blogs and you can often get special deals there.
What's next?
Once you've done all of the steps above you should be ready to go. You can start creating your blog and writing content. However, you won't find any success unless you have visitors coming to your blog, in other words traffic. In order to get traffic, you need to promote your blog. This means sharing your content and blog articles on social media, interacting with your readers, guest blogging on established blogs and getting backlinks to your site. A backlink is a link from another website to your website/blog. This acts like a referral or recommendation from the other website. The quantity and quality of backlinks you receive will affect your ranking on Google.
As you can see there are a few stages to blogging and it can take time for a blog to grow. Patience is therefore required and you shouldn't expect to make a ton of money overnight.
So how do you make money from blogging?
By running ads on your blog – Most blogs with a decent amount of traffic will run AdSense or MediaVine. In order to run MediaVine you need at least 50,000 sessions per month but the rewards are big if you can get there.
Affiliate marketing – This is where you advertise products or services of another business on your blog. For each customer or visitor who arrived from your site and makes a purchase you'll be rewarded with a commission. There are thousands of affiliate marketing programmes out there, and they are very popular in the TEFL niche!
Create your own digital products – You can create your own course and sell it via your blog.
Offer your services – A blog can represent a great advertising channel of your own skills. Doors could open up to coaching work, freelance writing and promotional activities for other websites. This could even involve getting paid to travel and reviewing your experiences as you go.
The sky is the limit when it comes to blogging and some bloggers can earn $100,000s per year.
If you like the idea of blogging, you may also be interested in vlogging. This involves creating and sharing video content online, and you can cover any topic you can think of. You can monetize it much in the same way you do a blog. So, if you prefer the idea of creating video over writing blog posts it could be worth exploring.
You can learn more about blogging vs vlogging here.
It can take time to build your blogging or vlogging audience, so you may still want to consider some of these other great jobs for digital nomads in the meantime.
Writer
If you're already creating your own blog, being a writer could be a natural progression. However, you don't need to be a blogger in order to be a successful writer.
There are a variety of roles you could fulfil. These could take the form of a copywriter, creative writer or technical writer – all of which are viable digital nomad jobs. Here is a quick overview of each:
Copywriter – Copywriters write for the purpose of marketing and advertising. This could take the form of writing social media posts, sales copy or scripts for commercials. In order to be a successful copywriter you need to write engaging, persuasive content and have a solid understanding of SEO (search engine optimization). Your whole purpose is to sell, so you need to make sure that what you write gets picked up and stands out.
Creative Writer – Creative writers can write blog articles, books or general web copy. If you're already writing your own blog, why not get paid to write other blog articles?
Technical writer – Technical writers write for the purpose of sharing information and explaining how a product or process works. In order to get into technical writing, you need to have a good understanding of your topic and be able to explain things in the clearest, most simple way possible so that it is easy for the average person to understand. This can come in the form of manuals, online support pages and product descriptions.
How to find writing jobs?
If you're already managing your own blog this is a great start. If people read your blog and like the way you write they may offer you freelance writing gigs for their own company. Don't fret if this doesn't happen, because there are a multitude of companies out there looking for freelance writers. In many cases this will take the form of submitting an article and getting paid per word or complete article. Pay will depend upon how much work you do and the quality of your content. If you're good you can earn up to $1,000 per article.
You could also offer your services as a freelance writer or apply for jobs on platforms such as SolidGigs and Freelance Writers Den.
Regardless of what route you pursue, most writing jobs are location independent. They can therefore form a great string to your bow in your life as a digital nomad.
SEO Specialist
Another skill you might pick up if you start your own blog is SEO (Search Engine Optimization). SEO is the process of optimizing a website, and keywords used on it, in order to drive more traffic to that site.
The SEO specialist's responsibility is to improve website rankings on the major search engines such as Google and Bing. The work is purely online-based and us such is ideal for the digital nomad.
Work could involve keyword analysis, internal linking, generating link building opportunities (backlinking) and identifying and eliminating any onsite errors.
How do you become an SEO specialist?
What makes work as an SEO specialist so appealing is that almost anybody can learn it. Although, SEO can be complex it's a skill which follows a specific set processes. Once you pick these up you're away, and there is an abundance of material online that you can learn from. The University of California even offers a free course on SEO fundamentals.
Once you've learned the fundamentals you can practice on your own website/blog or begin offering your services. Popular freelancing platforms such as Freelancer.com and Upwork.  Once you've built up your profile with some reviews, you'll be able to charge a decent hourly rate. You can also approach companies directly to see if they need help with their SEO.
Programmer/website developer
In order to get work as a programmer or website developer, you need to know how to code.
If you already possess this skill then you're in luck. Being a programmer is an excellent job for a digital nomad. Not only is it well paid, you can also work on a variety of interesting projects such as creating software or app development. If this isn't your bag, then there are thousands of jobs out there for building, maintaining and updating websites.
If you don't know how to code it's not the end of the world. There are several great courses which can help you learn how to code. However, it can take some time to become a proficient coder. You should allow for a few months of study time to start picking up a new coding language if you're a beginner.
Where can you work?
Given the nature of the work, you should be able to do it from anywhere in the world provided you have the right software and equipment. To illustrate this, a number of large companies now operate with their technical teams 'offshore' in another country. The fact that this model is working means that more positions will open up for programmers to work remotely in the future. So, you might find you could even combine a full-time job with being a digital nomad! If this isn't for you, you'll still be able to find plenty of freelance gigs for programmers. Once again check out platforms such as Freelancer.com and Upwork where you can both bid on projects and offer your services.
The rate of pay you'll be able to achieve depends upon your experience and skills, but if you're at the top of your game you could easily earn upwards of six figures.
Virtual Assistant
One of the jobs with the lowest barriers of entry for a digital nomad is a virtual assistant, or VA for short. As the name suggests this involves being someone's assistant, virtually. Because it's 100% virtual it's one of the best jobs a digital nomad can take on. As a virtual assistant you could help with writing emails, arranging travel and events, posting to social media or any other administrative or creative task that might be allocated to you.
Consequently, being a VA is a very common role for digital nomads as it covers such a breadth of responsibilities. The fact that it can be done freelance, part-time or full-time means that it also sits nicely alongside other popular digital nomad jobs such as online English teaching and will allow you to fill your schedule.
Pay for virtual assistants typically ranges between $10-$30 an hour, again depending upon experience. You'll regularly find people looking for a VA on Upwork and you can also reach out to content creators or niche website owners as they will often need a VA.
Social Media Manager
Another job described perfectly by its name; the responsibility of the social media manager is to manage their client's social media. This involves implementing content strategies on social media platforms and managing engagement and interactions with the client's customers or followers. This could be on Facebook, Instagram, TikTok, Twitter or any other popular social media platform you can think of.
Tasks could include analysing engagement, identifying trends, planning campaigns, scheduling and making posts on behalf of the client, administering groups and even creating content.
If you're a digital nomad it's an enticing job. It can be done entirely online and there are a number of companies out there looking for social media managers on a rolling monthly basis. This means that you won't get tied down if you decide you want some time off to enjoy that nomad lifestyle.
What you can earn as a social media manager really depends upon your responsibilities and how much time you have to put in. If you're managing the entire social media of a single client you could expect to charge up to $2,500 per month, and of course there's nothing stopping you taking more clients!
Designer
One for the creatives, working as a designer can be a decent option as a job for digital nomad if you have an aptitude for design. This could be in the guise of either a web designer or graphic designer. New companies will always need websites and logo designs, whilst existing companies will need website design updates and promotional materials, so you should never be out of work.
If you're a digital nomad, one of the great things about being a designer is that in some cases you don't even need your laptop. A lot of great design can be done on a sketchpad or a tablet, so you can literally take your work to the beach.
When you work as a designer, your portfolio is all important. This allows you to showcase your previous work to potential clients and encourage them to do business with you. It's therefore worth having your own website where you can host your portfolio.
A lot of design work is done freelance, so if you want to find work it's worth setting yourself up on platforms such as Fiverr and 99 Designs. You should do this as soon as possible if you're planning on funding your digital nomad existence through design, as it can take time to build up your portfolio on a new platform.
Once you have established yourself and clients have seen what you can do, you'll often get repeat work and can become more selective with who you work with. You'll also be able to start charging more!
As a rough guide, new designers can expect to earn $20 per hour. Whist if you've got a well-established portfolio and your services are in demand, you could be asking for anything up to $400 per hour.
Where can you find jobs for digital nomads?
We've already mentioned a number of great sites to find work as a digital nomad, but if you want a recap here are some of the best ones to check out:
Freelancer
Working Nomads
FlexJobs
There are also some great groups on Facebook where people sometimes post digital nomad jobs, such as:
Should you take a job as a digital nomad?
The idea of being a digital nomad is synonymous with the idea of freedom, so if this is something you like the sound of you should jump right in! There are a whole host of digital nomad jobs out there to choose from, and as remote working becomes more viable and more popular, this list will continue to grow.
Even if you don't currently possess any of the skills in this list, many of them can be learned quickly and there are some great courses out there to get started. So, no excuses!
However, it's worth mentioning that the digital nomad life isn't always plain sailing. As a digital nomad, you won't necessarily have the protection of a full-time contract. Your finances can therefore vary from month-to-month. You can also be at the mercy of the power going out or losing internet connection at any time – any online English teacher can attest to this. This lack of stability isn't for everyone, and there's a chance you may find it lonely working by yourself in a foreign country. Having said that, the best thing to do might just be to get abroad and give it a go. After all, you can always come back if it's not for you.
What if you can't get aboard yet?
The good news is that you don't need to go abroad to try out the digital nomad life. You can get started by taking a digital nomad job at home first to see if it's for you. Additionally, you can see how you cope working by yourself. If this is something that you find difficult, most major cities have co-working spaces. This allows you to plan ahead to mitigate any problems associated with this.
Furthermore, if you can also acquire the necessary workload to support yourself on your travels whilst you're at home, when the time comes to go abroad you can take the plunge with confidence and you'll know what to expect. Then if all goes to plan, before long you'll become a fully-fledged digital nomad!
If you're a digital nomad and see something that you think we should include in this list, please let us know in the comments!