English is the world's language. Up to a quarter of the global population speak it and it helps drive the internet and the global economy. But how many people learn English worldwide? We take a look at this and some other interesting English language statistics in this article.
English language statistics
The English language is the most widely spoken language in the world. Wherever you go, there is a high chance that you'll hear people speaking English. If this sounds like a lot of people speak English, you'd be right. Let's take a look at the numbers.
How many English speakers are there worldwide?
According to the English Effect, a report issued by the British Council, 1.75 billion people spoke English to a useful level worldwide in 2013.
Now in 2022, it is projected that there are over 2 billion English speakers across the globe. This includes those who speak English as a second language (ESL). That's over a quarter of the world's population!
The overall total is made up by approximately 400 million native English speakers, with non-native speakers making up the rest. Combined, they make English the world's most widely spoken language.
Statista puts the number at 1.5 billion people who speak English worldwide, either natively or as a second language.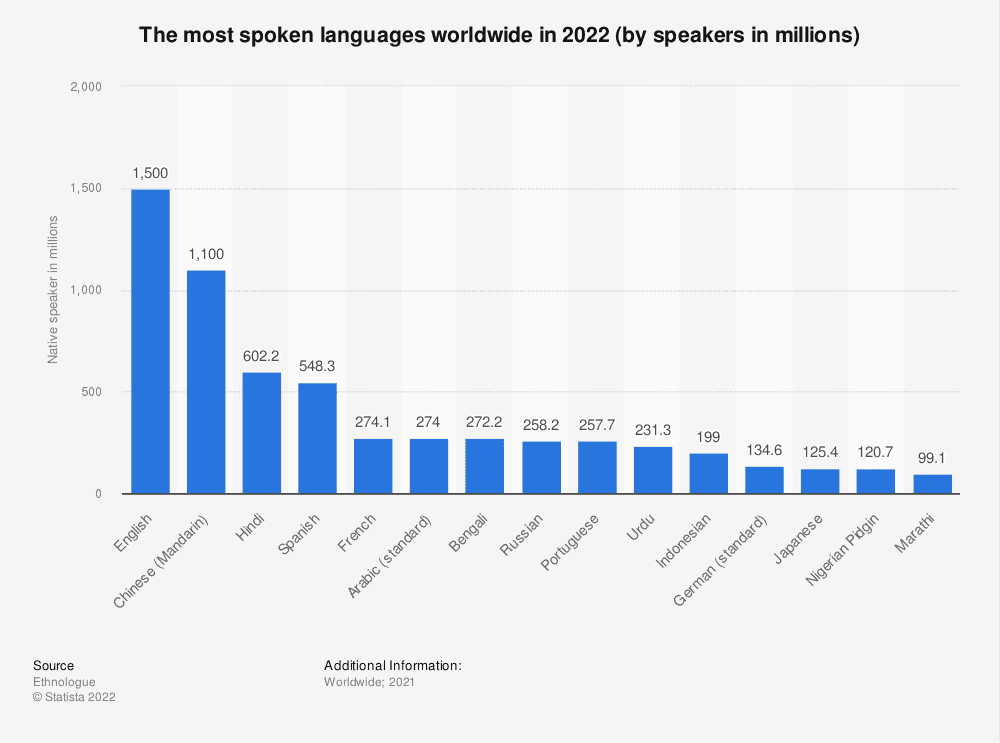 However, this figure likely doesn't include a significant number of English language learners as it is hard to define an exact figure. Language learning numbers are often materially underestimated due to its high offline component.
Where is English spoken?
English is the official language in 59 countries and 27 non-sovereign entities around the world. It is spoken in 88 countries and is also the language of the United Nations and European Union.
The United States counts more than 230 million native English speakers, with over 283 million English speakers living there in total. The United Kingdom has approximately 60 million native English speakers. These are the two largest native English speaking countries by population.
Canada comes in third place with 20 million native English speakers, and Australia takes the 4th spot with roughly 17 million English speakers. Notable mentions also go to the Republic of Ireland, South Africa and New Zealand!
There are also very large English speaking populations in the following countries:
India: 125 million people speak English
Pakistan: 108 million people speak English
Nigeria: 79 million people speak English
The Philippines: 64 million people speak English
English is an official language in all of these four countries, but it doesn't mean that all of their residents speak it. This is especially true of India and Pakistan where English isn't the primary language. In fact, many people from these countries don't speak English at all, while others would be classified as English language learners. They make up some of the larger, global ESL market.
Berlitz has a good guide to English speaking countries that shows the percentage of the population that speaks English. World Atlas also shows the number of English speakers by country.
ESL market statistics
The global English language learning market is huge and forecast to be worth $69.62 billion by 2029 according to a report issued by Meticulous Market Research. There is a massive global demand to learn English, as it is the lingua franca of both business and the internet. As of October 2022, 61% of content language for websites was in English.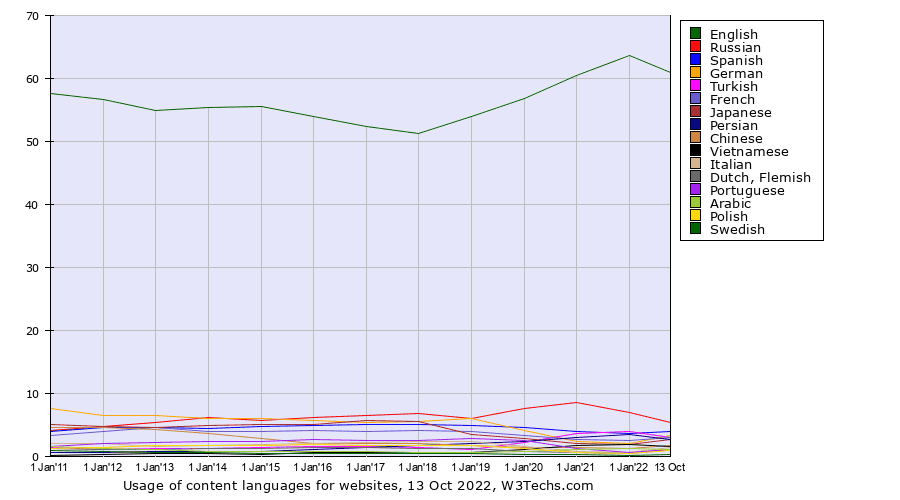 Learning English therefore clearly has many advantages and it can help people progress in their career and personal lives. Plus, with advances in technology and a big increase in online learning after COVID-19, it is easier than ever before for people to access English language learning. There are many online learning platforms and multiple English language learning apps that help people to start learning English. Consequently, the digital English language learning market alone is expected to grow by $ 14.37 billion during 2022-2026.
How many people learn English worldwide?
John Knagg of the British Council estimated that there are up to 1.5 billion English learners worldwide. This may seem like a lot, but 142 countries include English as a mandatory element of their national education policy. It's therefore no surprise that there are over 750 million worldwide who people speak English as a foreign language (EFL). English as a second language accounts for roughly 375 million English language learners according to the British Council.
It's important not to confuse EFL and ESL when looking at the statistics, as they are two distinct groups. EFL students can be found in non-native English speaking countries and tend to learn English for business or academic purposes. ESL students live in a native English speaking country and will use English on a daily basis.
You can learn more about the difference between EFL and ESL here.
English language learners statistics
In 2019 in the United States, English language learners (ELLs) made up 10.4% of the K-12 student population.
According to the European Commission's foreign language learning statistics, in 2019, 96 % of pupils in upper secondary general education in the EU were learning English as a foreign language.
When it comes to learning English as a foreign language by country, Statista reports that in 2020 the UK recorded the highest amount of students with over 100,000 people learning English as a foreign language in the UK that year.
There are thought to be 400 million English language learners in China.
Pre COVID, it was estimated that 250,000 native English speakers worked at more than 40,000 English language schools and institutes around the world to satisfy global demand for English language learning.
As the world continues to open back up these opportunities will arise again. After all, the demand for English has only increased. It could therefore be a great time to get a TEFL certification and put yourself ahead of the pack!
Latest posts by James Prior
(see all)