Looking for the ultimate resources for your virtual classroom? With so many tools for teaching online, it can be easy to get confused.
From organizing lesson plans to creating interactive class content, you can find an array of websites and apps offering online tools to help you manage your classes. In this guide, we'll cover 11 of the best online teaching tools that you can use to start improving your teaching experience today.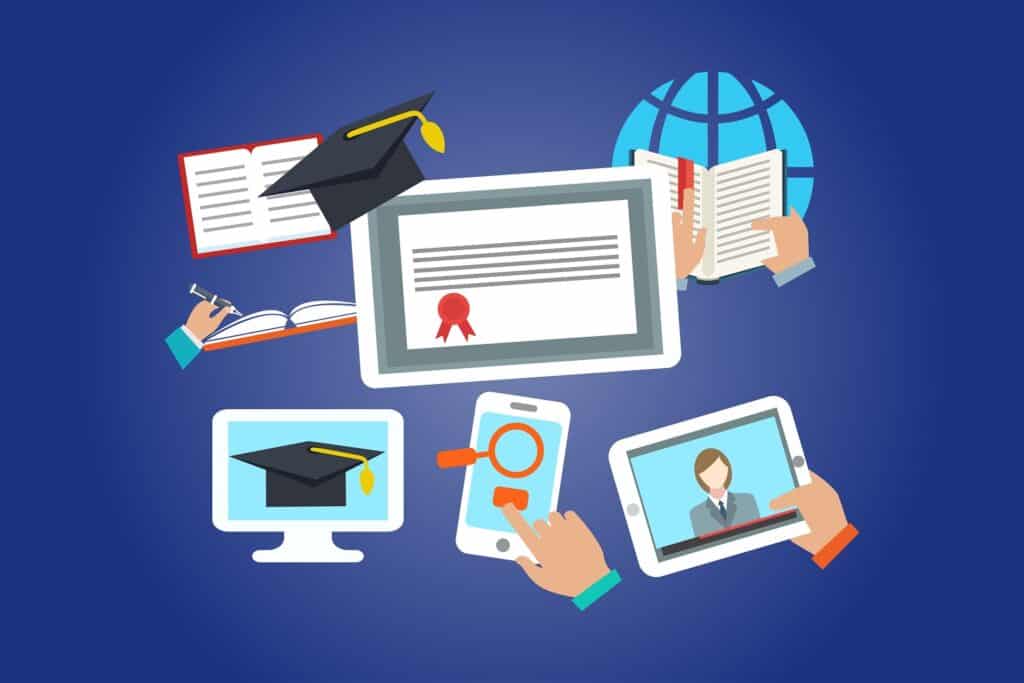 Are you dreaming of making your life as a teacher easier? We all know how busy teaching can be and quite frankly any bit of help we can get to save time or improve our lessons is always welcome! This is where online teaching tools really come into their own.
But why should you use them and which ones are right for your online teaching needs?
To keep things simple, this guide breaks down the best online teaching tools into these categories:
Helpful tools for content creation
The best virtual classroom hosting sites
Top tools for online student engagement
Useful tools for online homework and assessments
The best resources for productivity and organization
Ready to discover the best tools for teaching online? Use this as your guide to the most helpful online teaching tools.
What are the best online teaching tools?
Here are our picks for the best online teaching tools:
Helpful Tools for Content Creation
Teaching online has many pros, but one downside is that you can rely heavily on technology to convey your lesson content. Needless to say, the outcome for students is much better when the content is fun, creative, and interesting. This is especially true for distance learning.
The following websites and apps help you create better content to use in your lessons, without spending hours on end doing it.
Best for enabling the creation of highly visual, content driven online lessons.

Instead of flipping through the dull slides of a traditional Powerpoint presentation, Prezi Video immerses the teachers in their class curriculum as they explain what's on screen around them. Teachers can use fun images like jelly beans, shapes, movement, graphics, text, and more.
Prezi Video combines the best of both worlds of the teacher's personality with a visual presentation. It helps captivate the students with a blend of creative content and the teacher's presence.
The lessons delivered with these videos are incredibly engaging for students as they'll be exposed to a number of ways to understand and remember the content. They hear and see the teacher speaking, they see images about the lesson, and their focus is kept by the stunning transitions. This makes it a great tool for both teachers and students alike.
Price: from $3 to $16 a month
How to Use Prezi Video:
Choose a template
Fill in your content and edit it to suit your style
Add fun transitions or movements
Convert your Powerpoints to Prezi Video as well
Best for producing visual aids for your class.

Canva is a great tool for making digital posters, infographics, charts, presentations, and edited images to use in your lessons. Adding an exciting or interesting visual element to your class can make all the difference to your students. After all, just speaking or following plain text in lessons may simply not be enough for some students.
By making lesson appealing content with Canva, your students will pay more attention and absorb more material.
Plus, you can get really creative with all of Canva's template options. Make Venn diagraphs, certificates, collages, and more to use in your lesson.
Canva can also come in handy if you want to send your students a flyer about a topic or a poster about an upcoming event, without being a professional in photoshop. The drag-and-drop style of editing makes content creation a breeze.
Although you can pay for a Canva Pro membership, the free account gives you access to plenty of fun designs and features.
Price: Free to $12 a month
How to Use Canva:
Choose the project type you want to create
Pick out a template that fits your needs
Replace the information and text with your own
The Best Virtual Classrooms
The show can't go on without a platform to hold your class! The virtual classroom you choose can make all the difference in user experience for the teacher as well as the student. Not all online teaching tools for hosting your classes are created equally, with some offering much more than others.
When choosing the best platform to host your online class, consider which features you find important, such as the ability to add a presentation, images, access video conferencing, and more. We consider all of these websites to be great options for teachers to use as their remote learning classrooms.
Best interactive virtual classroom.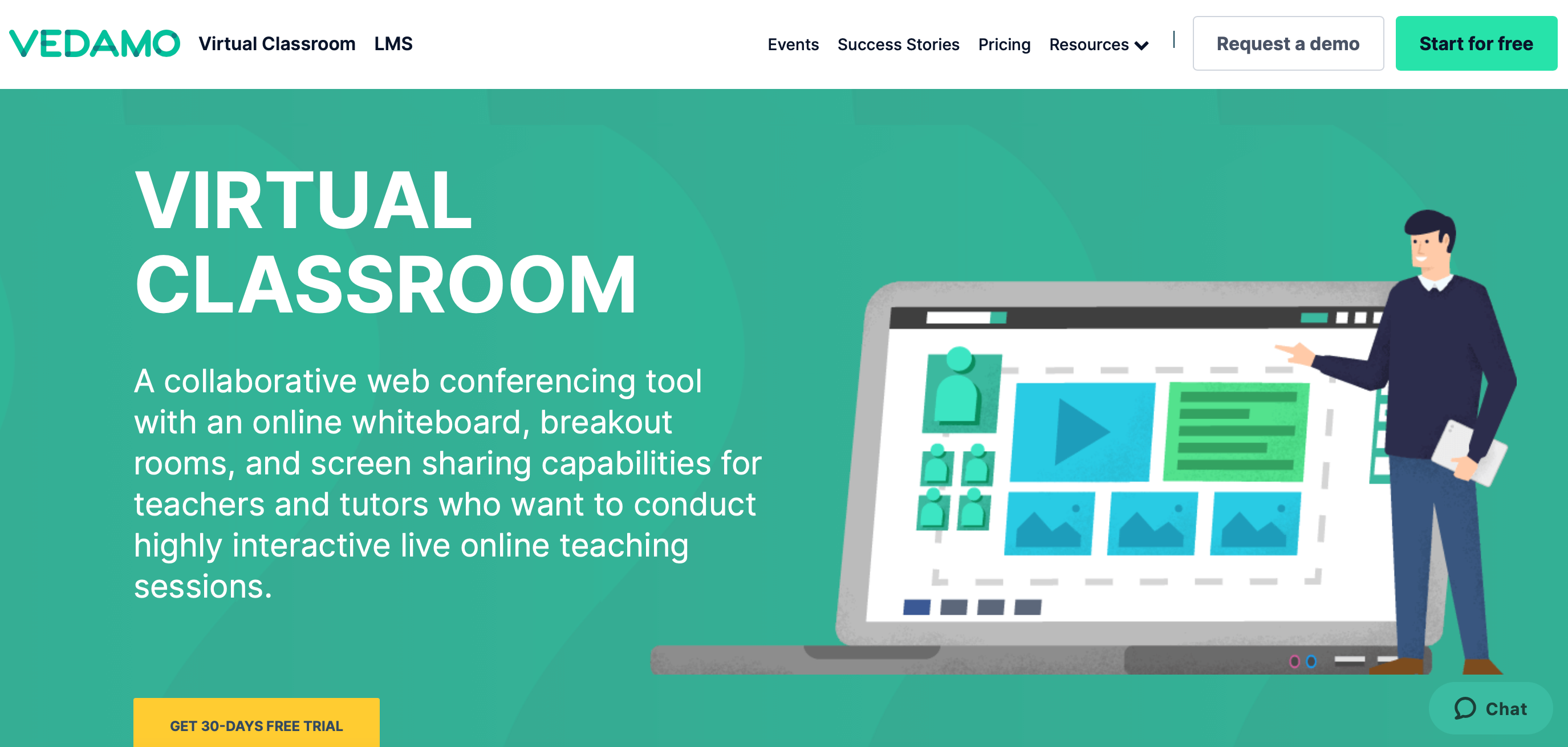 Students and teachers alike will love having classes on Vedamo. Teachers specifically will appreciate the educator-centric nature of the website, with its advanced Learning Management System and customizable classroom styles. Students will have fun during lessons while using the interactive classroom features.
The Vedamo platform allows teachers to add real-time whiteboards to their classes, start video conferencing, play multimedia, and enable screen sharing. Vedamo also has the option for "breakout rooms" for smaller group assignments.
Vedamo is a wonderful online classroom that requires very minimal technical skills. In fact, you don't even need to download any software. Just create your class structure and start teaching!
Price: $25 a month
How to Use Vedamo:
Create and upload your class materials and save them to your account
Begin your live class with up to 50 students
Use the interactive features to make the class interesting
Best virtual classroom for organization and collaboration with students and parents.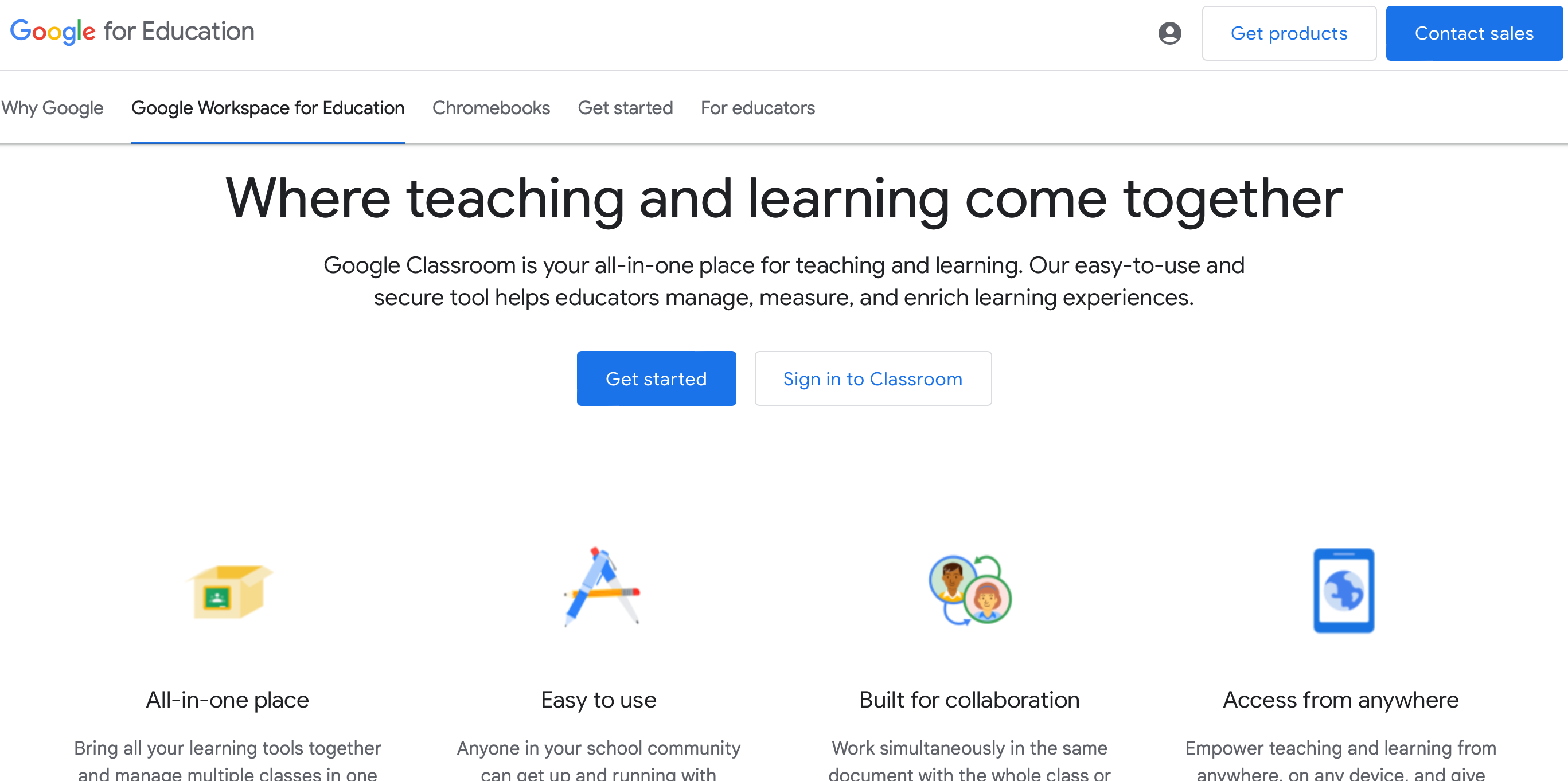 Google does tech right. When it comes to educational tech, Google Classroom is one of the best choices out there. It acts as a collaboration tool for students and an organizational oasis for teachers. You can sort your classes, grading sheets, and course content within Google Classroom.
The beauty of Google is that it seamlessly links your other Google suite of services together. You'll always have easy access to your Google Calendar, Google Drive, Google Slides, and more. The classroom is quite versatile, allowing you to use content from a variety of sources like YouTube videos, slideshows, and writing activities, to name a few.
After class, you can use Google Classroom to give quizzes, grade them, and save the results. You can also use the Stream page to communicate with students and parents through social media-style posts.
Price: free to $5 a month
How to Use Google Classroom:
Create the class you'll be teaching
Make the content
Invite your students and host the class
assign quizzes and assessments after class
Top Online Teaching Tools for Student Engagement
The trouble with teaching online is that sometimes students (especially younger ones) can get distracted or are otherwise disengaged from lessons. It can also be tough to make sure your students are following along with you, and for tactile learners to get the most out of online classes.
Using tools for student engagement is quite helpful to remedy these problems. Take a look at these two resources for getting students more involved in lessons.
Best for keeping students engaged in class.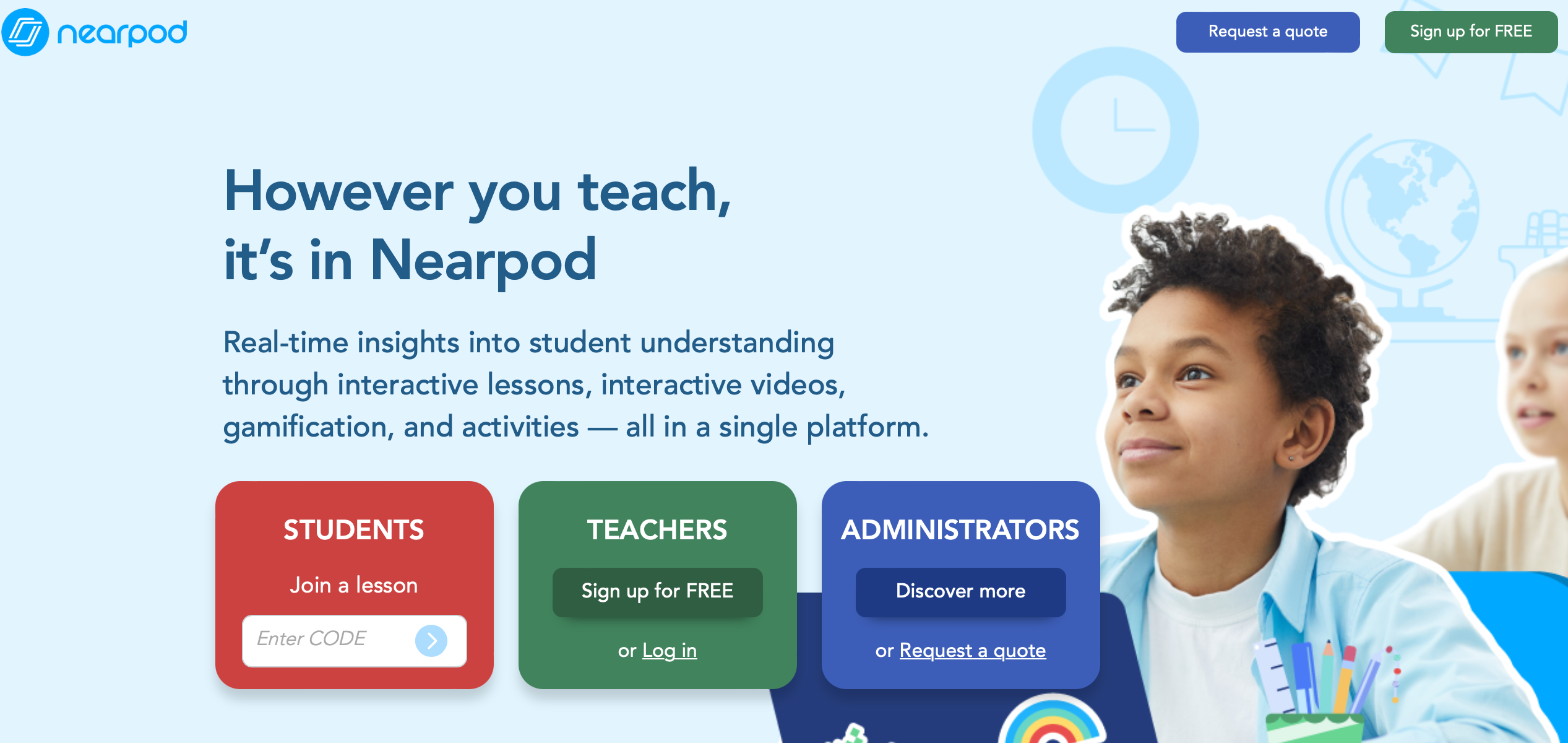 Nearpod makes online learning engaging for students through games, pop quizzes, and drawing. With Nearpod, you'll be able to choose from premade slideshows and lessons, or create and upload your own.
Use the Draw It feature to let students demonstrate what they've learned, or otherwise participate in class by, you guessed it, drawing and showing their work. Young learners will also enjoy the drag-and-drop activity in place of a hands-on game.
Teachers can also incorporate live questions during videos or presentations. This keeps students ready to take part in class and lets you gather real-time learning results.
Are you an ESL teacher? One more awesome way that Nearpod keeps learners engaged is by providing software that translates your slideshows for them.
Price: $10 a month
How to Use Nearpod:
Use their software to make your class content or upload your own
Teach directly on Nearpod or open it in Zoom or another platform
Let students enjoy the class with endless fun activities
Best for encouraging student interaction and enhancing existing online lessons.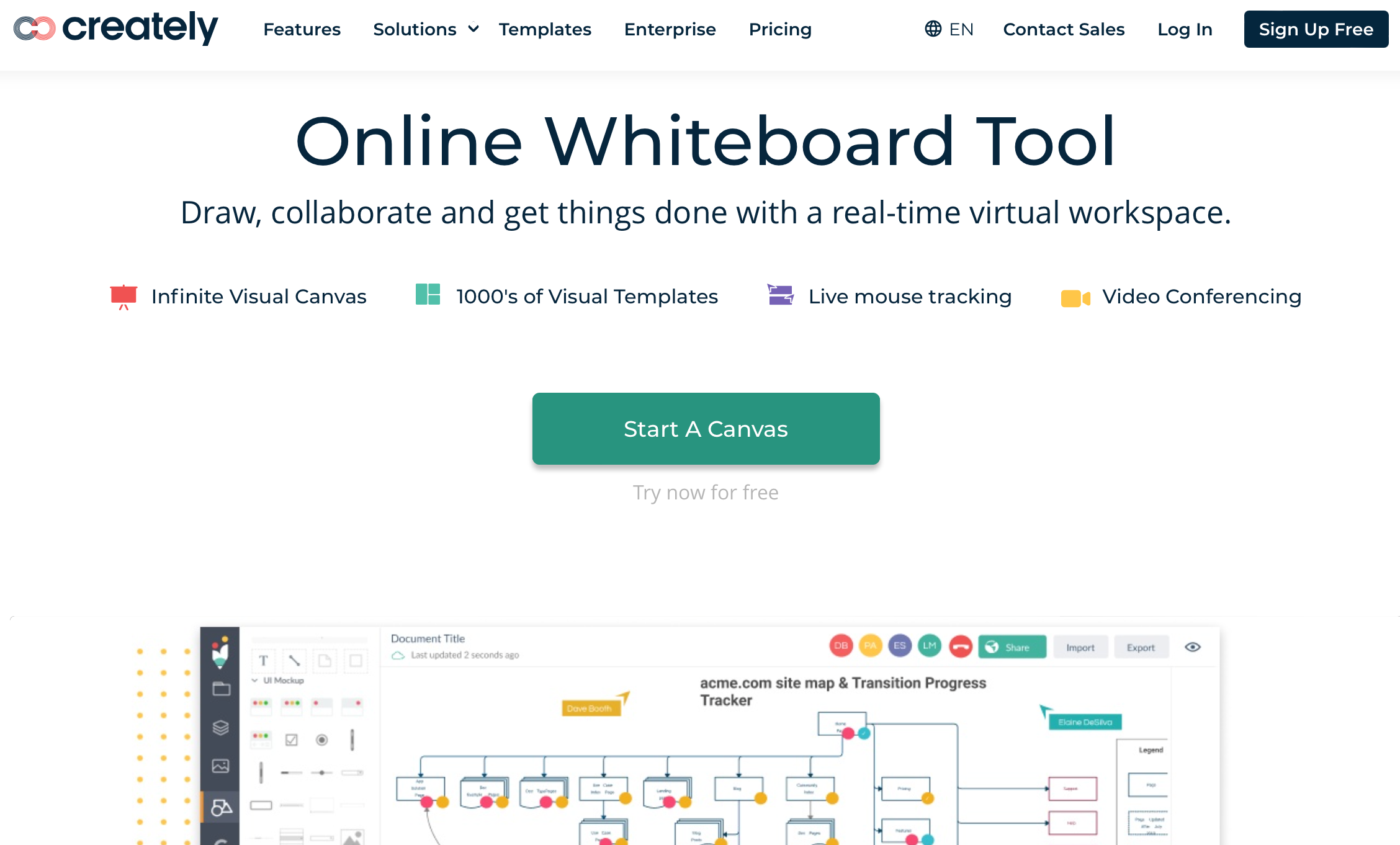 While many online teaching platforms come with built-in drawing or whiteboard capabilities, you may be teaching via video call or on a site that has limited student interaction. If this is the case, the Online Whiteboard by Creately will be your hero!
You can add the whiteboard to your online lessons with prepared text or images, or add them in throughout your class to enhance the lesson. You can even prompt students to draw or add their own thoughts and text to the whiteboard. The Creately Whiteboard fosters a community of collaboration.
Groupwork can be difficult to manage online, but the ability for students and teachers to make real-time edits to the board simulates a real-life whiteboard. From making mind maps to showing charts, students will surely pay more attention with the Creately Whiteboard.
Price: $4 a month
How to Use Creately Online Whiteboard:
Make your whiteboard setups to enhance your class content
Open the whiteboard in another teaching host or sent invitations to collaborate on the whiteboard
Use the whiteboard during class with your students
Useful Tools for Online Assessments and Homework
Another struggle of online teaching is that it can be challenging to gauge a student's understanding through the screen. Utilizing assessments, quizzes, homework, or other tasks are therefore important to keep track of your students' progression.
These programs make quizzes, assignments and after-class communication much simpler for teachers to organize and students to use.
Best for creating quiz based games.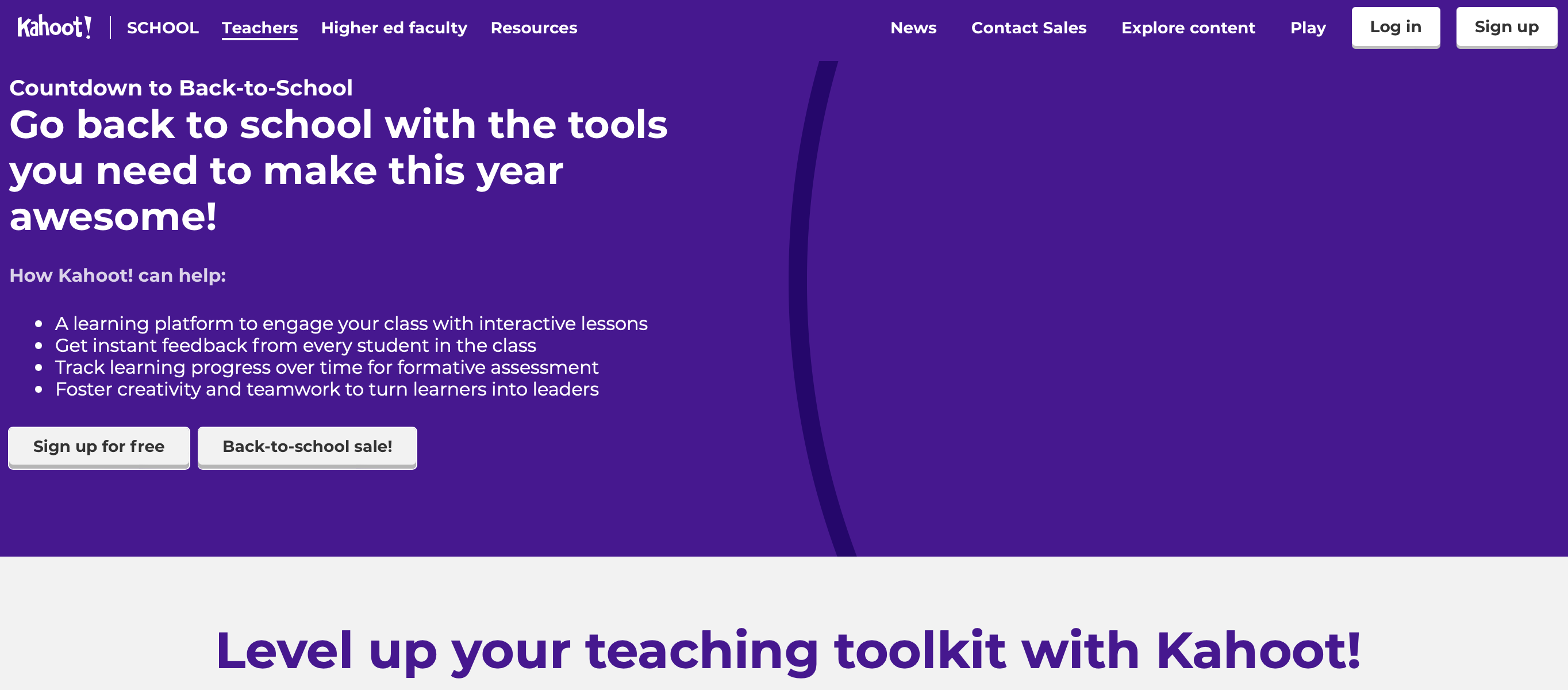 Kahoot is one of the top online tools used to create quizzes disguised as games. With Kahoot, you can be sure your students will be eager to keep practicing content even after class. The game-based quizzes are an effective way for kids to learn and teachers to teach.
With over 40 million games ready for you to use with your students online, Kahoot is, needless to say, an incredible resource. You can also make your own quizzes with cute themes, characters, and transitions using your class's unique content. Insert videos or your own images into the quizzes for maximum personalized content.
Another interesting way to use Kahoot in your classes is to let students create their own quizzes to share!
Price: free to $10 a month
How to Use Kahoot:
Choose a template or start from scratch
Insert your questions and the answers where prompted
Add videos and pictures to make it engaging
Share the link to your students
Best for online assessments and checking student understanding.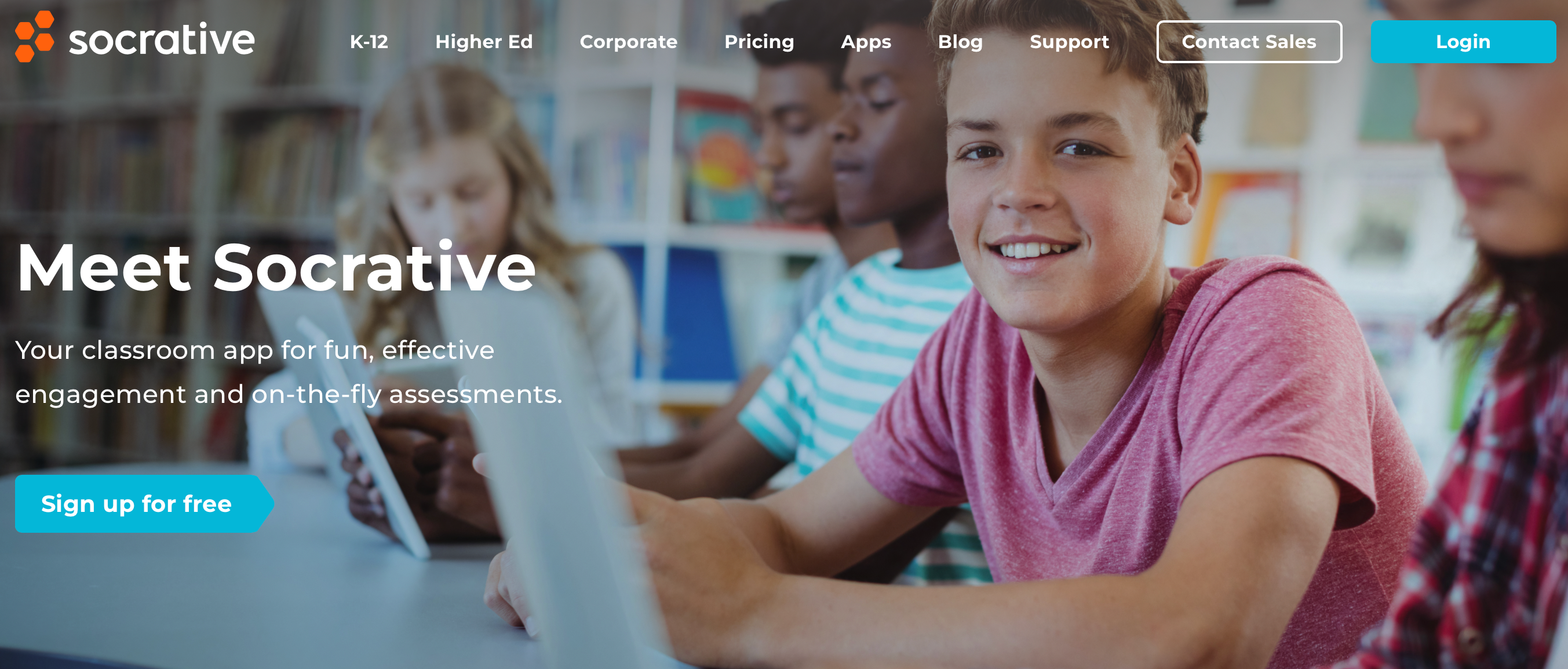 Use Socrative during or after class to monitor students and track their understanding. This program offers several different ways of assessing students such as quizzes, true or false questionnaires, multiple-choice questions, polls, and more.
Socrative lets teachers plan out the quizzes to assign as homework, or even create a question to ask spontaneously during class should need be. This can be very helpful during an online lesson to check if students understand the concept.
Since Socrative assignments are graded instantly with the answers you fed the software, you'll save a ton of time grading.
Price: $89 a year
How to Use Secretive:
Make tests or polls to match your curriculum
Ask your students to download Socrative for free
Send them the questions during or after class
Best for lesson review quizzes.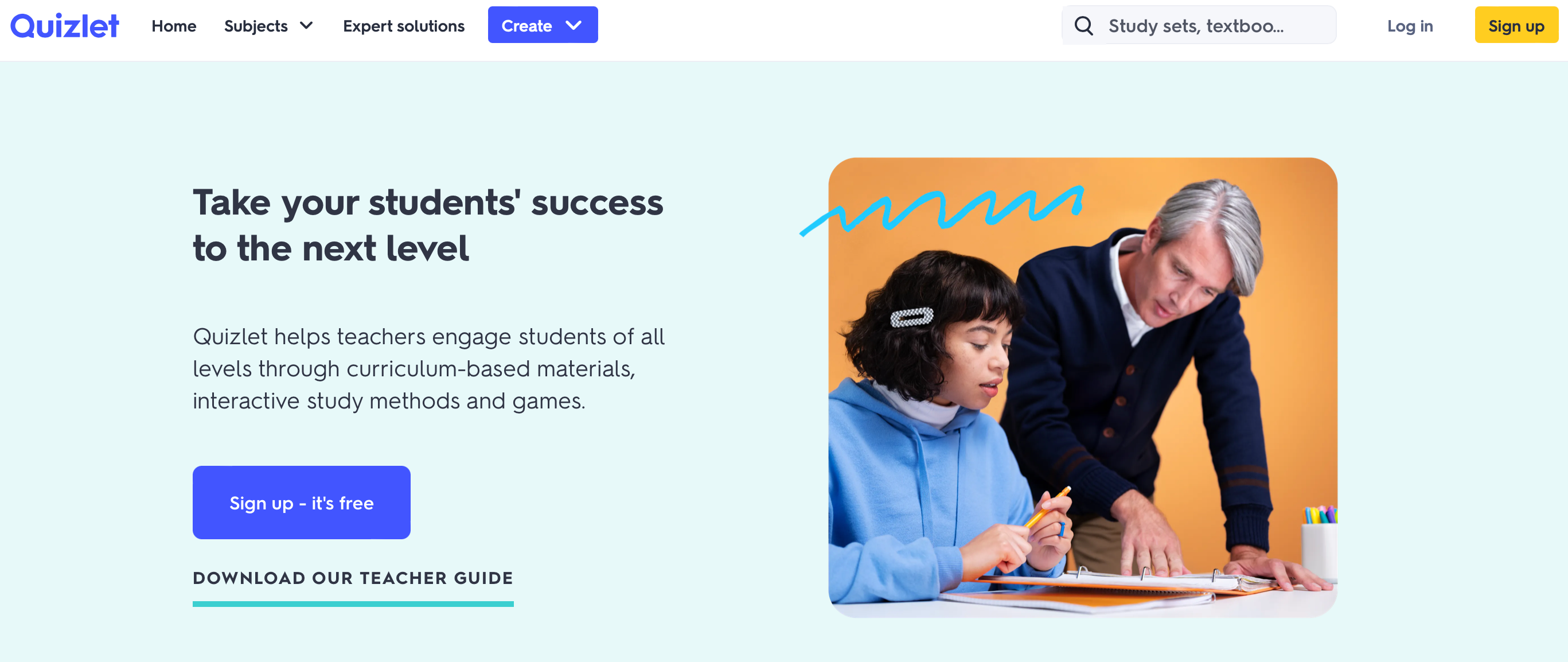 Quizlet has been a classic way to study online for years. Today, it's developed into an effective tool for teachers to monitor student learning in online classes. With a focus on lesson review, fun Quizlet games and easy-to-follow guides can help motivate students to study after class.
Quizlet has over 500 study tools already made, so chances are, you'll be able to find something to match your class topic. If you need to make your own, the process is straightforward and user-friendly for teachers to create and students to use.
Not everyone learns the same way, which is why Quizlet offers different styles of quizzes for different learners. You can choose matching, flashcards, or traditional tests. A new addition to Quizlet is that you can take the action into your online class with competitive games.
Price: $1 to $1.99 a month
How to Use Quizlet:
Choose a preexisting study set to send your students
Create your own quizzes or flashcards
Send the link to your students or bring it into your online class
The Best Resources for Productivity and Organization
Being an online teacher means you most likely do the bulk of your work from your laptop. There are many perks to this job, but if you're not careful, it can be easy for student records, lesson plans, and schedules to become jumbled after meeting a number of students every day via your screen.
We believe the following are fabulous tools for teachers to manage their students, file each lesson plan accordingly, and minimize any stress from disorganization.
Best for keeping student records.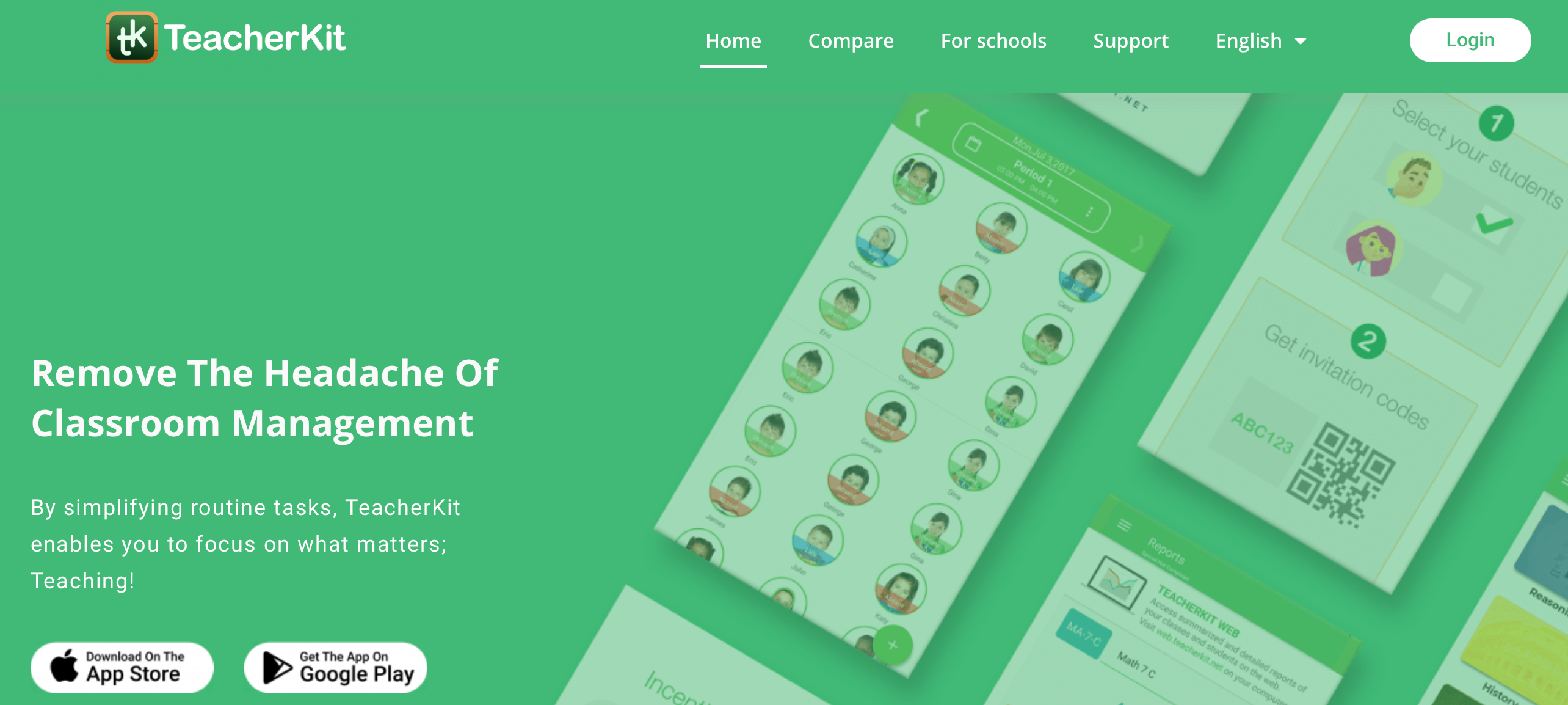 Adorable graphics aren't just for students. TeackerKit uses lovely visuals and easy-to-navigate organizational tools for teachers to keep their records tidy. You can add in photos of the students, convert reports to PDF formats to share, and access email from the palm of your hand.
With the TeacherKit app, you'll have the power to save attendance sheets, notes about student grades or behavior, and even handle communication with parents. In fact, TeackerKit makes a separate app for both parents and students to use for updates about class.
Price: free to $4 a month
How to Use Teackerkit:
Add in your class details (students, assignments, etc.)
Update the attendance, gradebook, or behavior records
Access the files conveniently, wherever, whenever
Best for managing your workflow and structuring your lessons.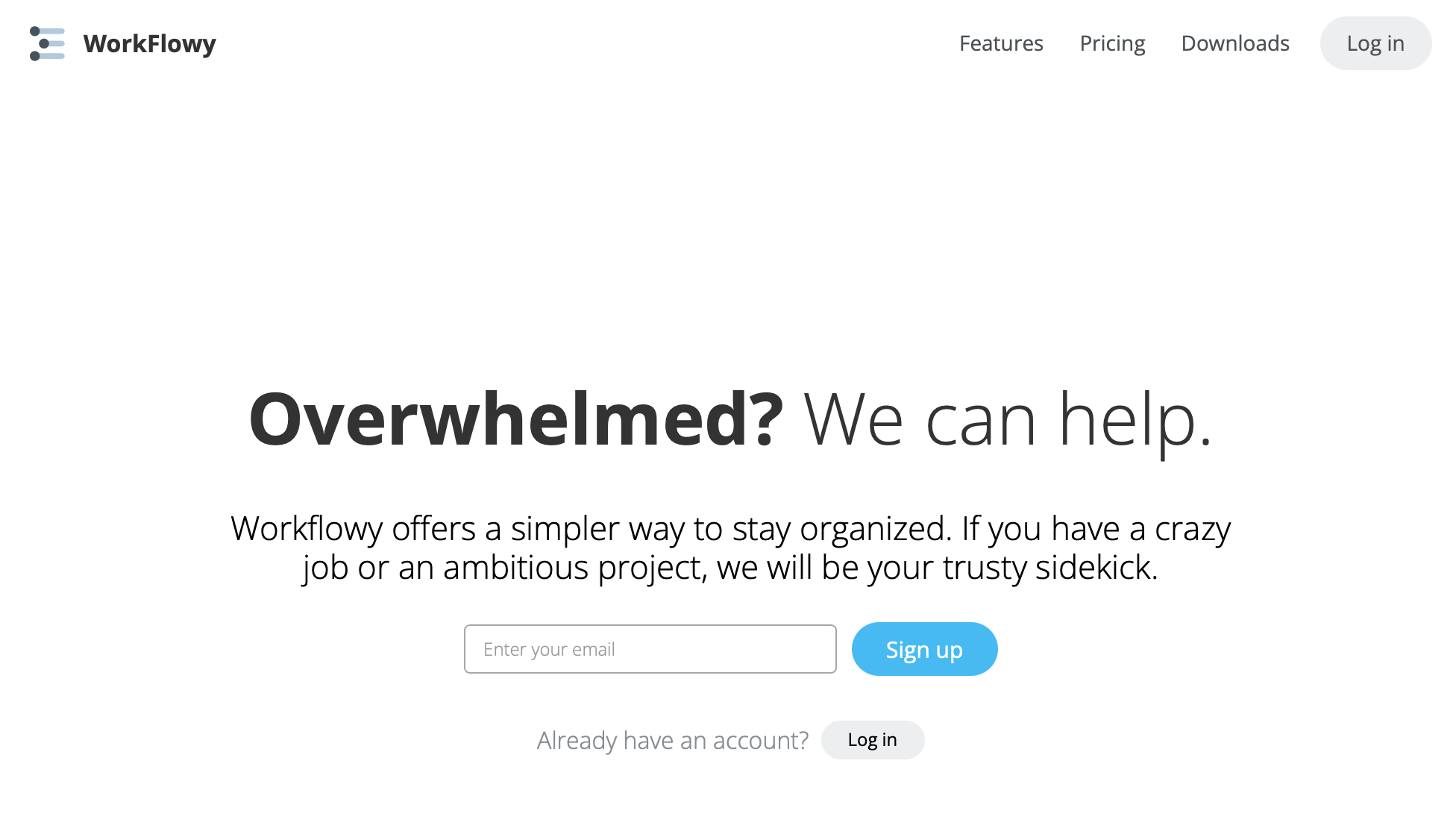 Workflowy is a tool to organize more than just your student rosters. This app can be very helpful from helping you plan classes to scheduling out your day for efficiency. Customize what you do with Workflowy based on your needs.
As you're researching to plan a class, use the note-taking feature to add your thoughts and images you find. Simultaneously, add the time you'll work on planning the class, and the date of the class into the in-app schedule. When the time comes to plan the class, do it all within Workflowy's Drafting and Outlining section.
You're a teacher, but you also have a life outside of the (virtual) classroom. Balance your personal life events with work events in the same calendar so that you never double-book yourself.
Price: $4.99 a month
How to Use Workflowy:
Take notes about anything from students to class curriculum
Create outlines for lesson plans
Manage your tasks in the scheduling section of the app
Teach On, Online Teachers!
Remote learning is taking the world by storm. From ESL teaching to general tutoring, teachers and students alike love the convenience and effectiveness of online classes.
With this trend of virtual online lessons has come a myriad of online teaching tools. You should take advantage of these to foster the best teaching experience for you and create the best learning environment for your students. Not only do they make your life a whole lot easier, they also help your students to get the most out of their online learning.
So, don't miss out on all of the incredible resources available on the web, many of which are free of charge! Look carefully and you're bound to find the perfect tool to help make the online teaching process more enjoyable for both you and your students. You might even decide to create your own teacher website.
Quite simply, you can get huge benefits from incorporating online teaching tools into your classroom.
Online Teaching Tools FAQs
What is the best tool for online teaching?
Since without a classroom, there is no class, the best tool for online teaching might be one of the virtual classrooms like Google Classroom or Vedamo. But, more specifically, the best tool for online teaching will vary depending on your teaching needs. If you struggle to stay organized, then Workflowy may be very effective. If you're prioritizing student engagement, Prezi could be the best.
Who can use these tools?
Well, any type of teacher who would find these tools helpful should use them. Many of the online teaching tools outlined in this article are great resources for both remote or traditional teaching and tutoring. However, the tools could be most helpful for teachers looking for ways to maximize the learning results and get students involved through a computer screen.
Latest posts by James Prior
(see all)