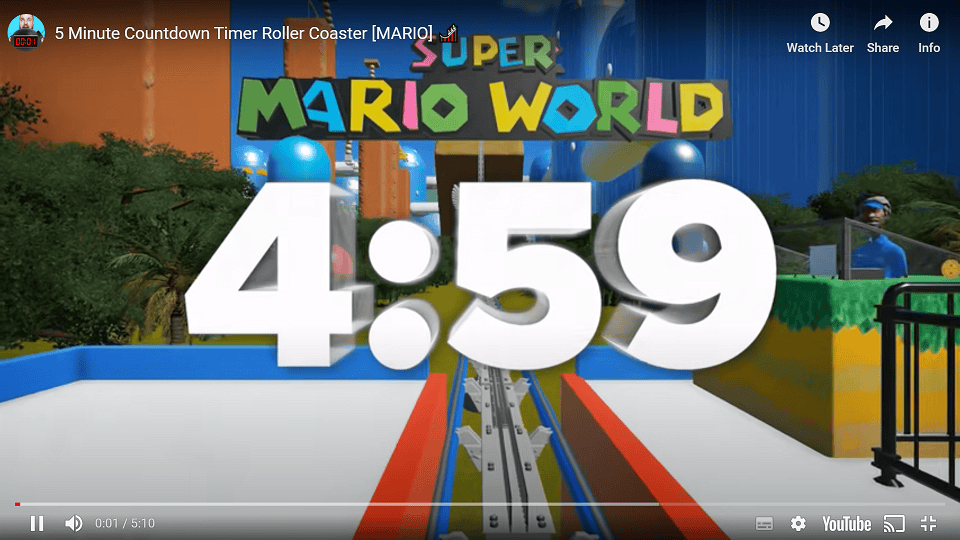 Online timers are a valuable resource in educational settings, aiding in the efficient management of students' time and activities. They can be utilized to maintain focus during work periods, smoothen transitions between tasks, or even provide students with brief but enjoyable breaks.
In this list, we've compiled a selection of 47 online timers that you can use in the classroom and beyond. Some offer a basic timing function, some bring an element of fun, while others serve to excite and energize.
So, whether you want to use timers for maintaining focus during lessons, structuring activities, or setting achievable goals, these online timers can help you enhance your classroom.
1 Minute Online Timers
Kids Ice Cream Truck & Rainbow
Perfect for young children, this timer counts down to ice cream time!
Firework Timer
Use it on the 4th of July or any other day, this firework timer stays silent but then goes off with a bang when the time reaches zero.
2 Minute Online Timers
Confetti Bomb
Ready for a confetti explosion? This is exactly what happens after the fuse has burnt down for 2 minutes.
Volcano Timer
If you're playing the floor is lava game this could be a great timer! Follow the magma up for 2 minutes until the volcano explodes.
Under the Sea
Looking for a timer with a nice tune and cartoon sea creatures? Look no further!
3 Minute Online Timers
Beach Themed Timer With Wave Sound
Lay back, relax, and listen to the waves for 3 minutes. When time's up the seagulls will let you know.
3 Minute Timer for Kids
Go on a journey for three minutes and see what the different characters are doing. This timer can also double up as a quiz and vocabulary builder where you can ask your students what they saw at the end.
4 Minute Online Timers
4 Minute Timer
Rumor has it that this is Homer Simpson's favorite online timer. Watch donuts fall from the sky for 4 minutes accompanied by a nice little tune.
5 Minute Online Timers
Baby Yoda
Race against the clock, you must!
Super Mario World Roller Coaster
Everyone loves Mario, especially children! Take an exciting 5 minute ride through Mario World on this roller coaster.
Minions Timer
Join the Minions as they count down 5 minutes. With some music and singing Minions, this is certainly one to get the class lively.
Puppy Timer
Like cute puppies? You'll like this timer.
Kitten Timer
Like cute kittens? You'll like this timer.
5 minute Timer for Kids
From pictures of real cats to a cartoon cat painting a picture. See what masterpiece "Pawcasso" has created when the 5 minute countdown timer ends.
5 Minute Timer
Use this upbeat countdown as a stream countdown, before starting a presentation, to keep the timing of your morning routine, or for various classroom activities.
Workout Timer
Ready to get pumped? You should be with the get pumped countdown! Use this lively timer to energize your class.
Color Swirl
A simple online timer with no music, just colored numbers.
Fall or Thanksgiving Timer
Are you a fan of autumn? Get cozy with these fall images scrolling across the screen.
Halloween Timer
Counting down to something spooky! Halloween music plays for 5 minutes until you are greeted by some menacing laughing pumpkins.
Dancing Pirates
With something that looks like it is straight out of Roblox, you can watch these pirates dance around for 5 minutes on a desert island.
Roller Coaster
Get whizzed away on a roller coaster. The ride ends after 5 minutes!
10 Minute Online Timers
10 Minute Roller Coaster
Do you want to ride the roller coaster for longer? Here's a 10 minute roller coaster timer.
Barking Dog
This furry fella keeps an eye on your class for 10 minutes and will let them know when time is up with a loud bark.
Banana Bomb
Don't let it slip! One of the jazzier bananas that I've seen or heard. Watch to see what happens when the time is up!
Burger Bomb
From bananas to burgers. Time gets slowly eaten away until the burger explodes into tiny pieces.
Pizza Bomb
Don't let the Teenage Mutant Ninja Turtles watch this one, they wouldn't want to see their beloved pizza go splat. That's exactly what happens at the end of this 10 minute timer.
Thanksgiving Timer
Time to get the turkey out of the oven? Hear it gobble at the end of this timer.
Get Groovy
Feel that 1960s flower power vibe as time counts down one second at a time. There's no music on this one, which can be useful for some tasks.
Relaxing Paint Bubbles
Relaxing piano music plays as paint bubbles swirl around the screen.
Music Rainbow
A musical tune ensues as rainbow colored balls cascade from the sky for 10 minutes.
15 Minute Online Timers
Rainbow Timer
Watch as the rainbow colors appear, one color at a time, and then disappear again. If your students are learning the colors you can also have them shout out the colors they see. Although it's probably best not to spend 15 minutes on this!
Unicorn Rainbow
Is anyone else getting My Little Pony Vibes? See this sparkly countdown with a unicorn.
Aquarium
Watch the sea creatures swim by accompanied by wistful piano music.
Spring Timer
Spring into spring with the bumblebees and fairies.
Lego Bricks
Colorful Lego bricks fall down the screen as the timer counts down.
Make Like a Tree and Leave
Watch the animated leaves disappear from the trees for 15 minutes before the owl hoots.
Trick or Treat
You might want to save this one for Halloween. Trick-or-treaters move across the screen accompanied by some creepy Halloween style music.
Trooping Turkeys
Watch the turkeys make their way across the screen for 15 minutes to some rock style music.
Winter Snowman
See a snowman appear before your very eyes with this winter themed timer.
20 Minute Online Timers
Walking Duck
Hit the road quack and don't you come back… Watch as the duck keeps waddling along for 20 minutes with some familiar sounding music.
30 Minute Online Timers
30 Minute Timer
A simple 30 minute timer with no music and a colorful background.
Calm Music
Looking for some soothing music for your class? Listen to the waves and the birds for half an hour.
Electric Timer
Want high energy dance tracks with a 30 minute countdown? Here you go! This can be great to wake up your class or if you looking for a countdown to your live stream.
Customizable Online Timers
Google Timer
If you don't want to spend ages searching for a timer, just type in "timer" on Google and one will appear at the top of the search results.
Timer.net
You can use this simple stopwatch from Timer.net to automatically set intervals of 1 minute, 3 minutes, 5 minutes, 10 minutes, 15 minutes, 30 minutes, 1 hour, or set a customized time yourself.
Bigtimer.net
Looking for a bigger timer with numbers that stretch across the screen? Check out Bigtimer.net.
E.ggTimer
E.ggTimer is a simple online timer that you can use in the same way as Bigtimer. However, there is also an option to employ the Pomodoro technique. Great if you want to get a bit of work done!
Time's Up
That's it for this list of online timers. I hope they help in your classrooms and beyond!
Latest posts by James Prior
(see all)