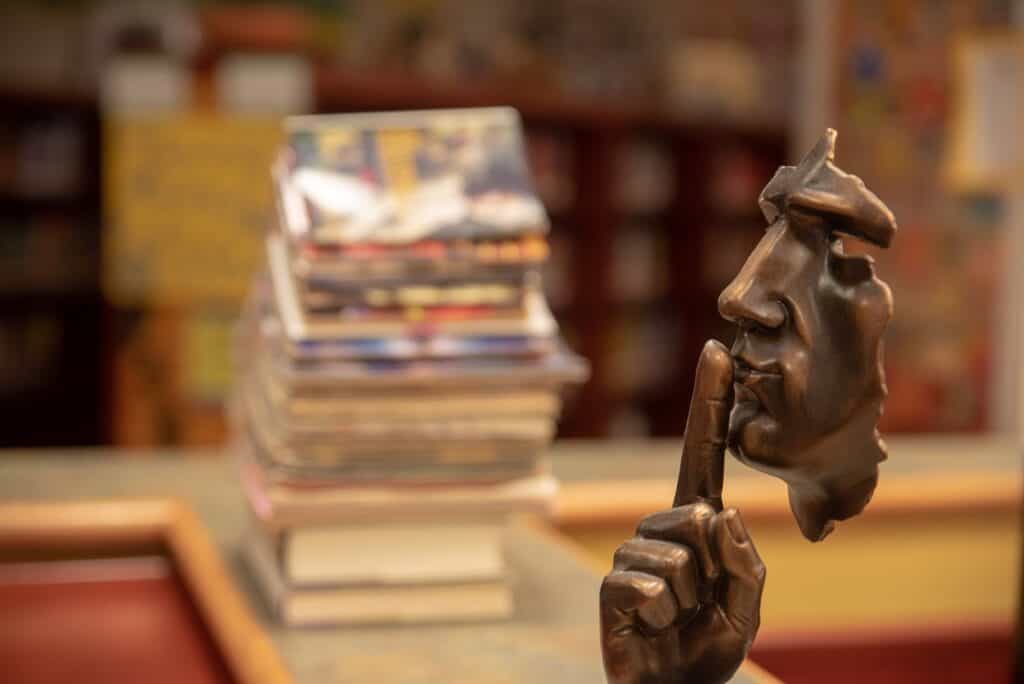 Words are the building blocks of language, conveying meaning and facilitating communication. However, they don't always make it easy for us! Lurking within the English language are words with silent letters, adding a layer of complexity to our spelling and pronunciation. From the subtle "b" in "comb" to the clandestine "k" in "knee," these silent letters can easily catch out those learning the language.
In this article, we explain what silent letters are and share a list of words with silent letters to help you avoid any spelling or pronunciation mistakes.
What are silent letters?
Silent letters are letters that are present in a word but are not pronounced when speaking. You won't hear them when someone says the word, although they may affect the pronunciation in subtle ways.
Silent letters can appear at the beginning, middle, or end of words and can vary depending on regional accents and dialects. If you want to become a fluent English speaker, it's important to be aware of this.
Examples of silent letters in English words include the "b" in "comb," the "k" in "knee," the "h" in "honest," the "g" in "gnome," and the "s" in "island." These letters are written but not pronounced when speaking the word. In other words, in English the written form of a word does not always correspond directly to its pronunciation. But why is this?
Why are there silent letters in English words?
Silent letters in English exist for various reasons, including historical, etymological, and phonetic factors. Here are a few reasons why silent letters may be present in words:
Historical and Etymological Reasons: English words have evolved over time from different sources and languages. Silent letters may reflect earlier spellings or pronunciations that have changed over the years. As the English language borrowed words from other languages, the original spelling or pronunciation may have been retained, even if the pronunciation changed in English.
Preserving Spelling Patterns: Silent letters sometimes help maintain consistent spelling patterns. They can indicate certain patterns, origins, or connections between related words. While they may not be pronounced, they provide clues about the word's history or relationship with other words.
Different Pronunciations: Silent letters can influence the pronunciation of surrounding letters or affect the stress patterns within a word. They can indicate specific pronunciation rules or differentiate between homophones (words with the same pronunciation but different meanings).
Standardization and Tradition: Over time, certain words have acquired silent letters due to standardization or tradition. These silent letters have become part of the accepted spelling and are retained for consistency, even if their pronunciation has changed or is no longer reflected in the word.
Do silent letters make English harder to learn?
The presence of silent letters can make English spelling more complex and challenging, especially for non-native speakers and those learning the language. Unlike some languages, English spelling does not always have a one-to-one correspondence with pronunciation. Consequently, English can be harder to learn and master in this sense when compared to other languages such as Spanish.
Nevertheless, while silent letters may seem puzzling, understanding them can help improve spelling accuracy and provide insight into the historical development and origins of words in the English language. Plus it's often just a case of committing them to memory and you'll be good to go. So, it's definitely worth the effort to learn them.
To help you along the way, take a look at this list of words with silent letters.
Words with silent letters
Here is a list of words with silent letters, running in alphabetical order:
Words With Silent B
The letter B is often silent when it is at the end of a word and has an M before it (-mb). 
Aplomb
Bomb
Climb
Comb
Crumb
Debt
Doubt
Dumb
Lamb
Limb
Numb
Plumb
Subtle
Succumb
Thumb
Tomb
Womb
Words With Silent C
The letter C is often silent when it comes after an S (-sc).
Abscess
Ascend / ascent
Conscience
Conscious
Crescent
Descend
Disciple
Evanesce
Fascinate
Fluorescent
Muscle
Obscene
Resuscitate
Scenario
Scene
Scissors
Words With Silent D
The letter D is often silent when it is in the middle of a word, either after an N or before a G (-dg-, -nd-).
Bridge
Edge
Handkerchief
Handsome
Handful
Grandson
Ledger
Sandwich
Wednesday
Words With Silent E
Examples of words with silent E are arguably more prevalent in British English (BrE). In American English (AmE), spelling can be different and the silent E's are not in some words. For example:
Judgement (BrE) / judgment (AmE)
Programme (BrE) / program (AmE)
Words With Silent G
The letter G is usually silent when it is placed before N, which tends to occur at the beginning or the end of the word. It can also be silent when it comes before H (gh).
Align
Assign
Benign
Champagne
Cologne
Consign
Design
Feign
Foreign
Gnarl
Gnash
Gnaw
Gnome
Gnomic
High
Light
Resign
Sign
Words With Silent H
The letter H is always silent when it appears after certain consonants (GH, WH, RH). It's sometimes silent when it comes after C (ch).
Anchor
Archeology (in BrE: archaeology)
Architect / architecture
Archive
Borough
Chaos
Character / characteristic
Charisma
Chemical / chemistry / chemist
Choreograph
Chorus
Christmas / Christian
Echo
Heir
Herbs (only in AmE)
Hour
Honest / honor
Ghost
Psychology
Rhino
Schedule (only in AmE)
Scheme
School
Tech / technology / techie
Thai / Thailand
Thigh
Thorough
Vehicle
Weigh
What / when / where / why / which
White
While
Words With Silent K
The letter K is silent when it appears at the beginning of a word followed by N (Kn-).
Knack
Knave
Knead
Knee
Kneel
Knell
Knickers
Knife
Knight
Knit
Knob
Knock
Knoll
Knot
Know / knew / known
Knowledge
Knuckle
Words With Silent L
The letter L can be silent in the combination ALF, ALM, and OULD.
Almond
Balm
Behalf
Calf
Chalk
Could
Folk
Half
Palm
Salmon
Should
Stalk
Talk
Walk
Would
Yolk
Words With Silent N
The letter N is frequently silent when the letter M precedes it at the end of a word (mn).
Autumn
Column
Condemn
Damn
Hymn
Solemn
Words With Silent P
The letter P can be silent at the beginning of a word followed by S (Ps-), and also in a couple of other instances.
Coup
Cupboard
Psychology
Pneumonia
Pseudo
Psychiatrist
Psychiatry
Psychotherapy
Psychotic
Receipt
Words With Silent T
Apostle
Bristle
Bustle
Castle
Fasten
Glisten
Hustle
Listen
Moisten
Often
Words With Silent U
The letter U is often silent when it comes before the letter I (-ui-).
Baguette
Biscuit
Build
Building
Built
Circuit
Disguise
Guess
Guest
Guide
Guild
Guilt
Guilty
Guise
Guitar
Rogue
Silhouette
Words With Silent W
When the letter W is placed before the letter R (Wr) it's nearly always silent.
Awry
Playwright
Sword
Wrack
Wrangle
Wrap
Wrapper
Wrath
Wreak
Wreath
Wreck
Wrestle
Wriggle
Wring
Wrinkle
Wrist
Writ
Write / wrote / written
Wrong
Conclusion: Silence is golden?
For English learners, understanding and mastering words with silent letters is a valuable skill that can greatly enhance language proficiency.
While words with silent letters may seem puzzling at first, by revising and remembering them you can not only improve your spelling accuracy but also gain insights into the influences that have shaped English vocabulary. So, keep practicing and don't stay silent!