In this article, we've put together a list of 69 of the best quotes about education to inspire and motivate you. From Aristotle to Mandela, these quotes reflect upon teaching and learning and the impact it can have on the world. So, if you're an educator, or even if you're not, read on to be reminded why education is so important.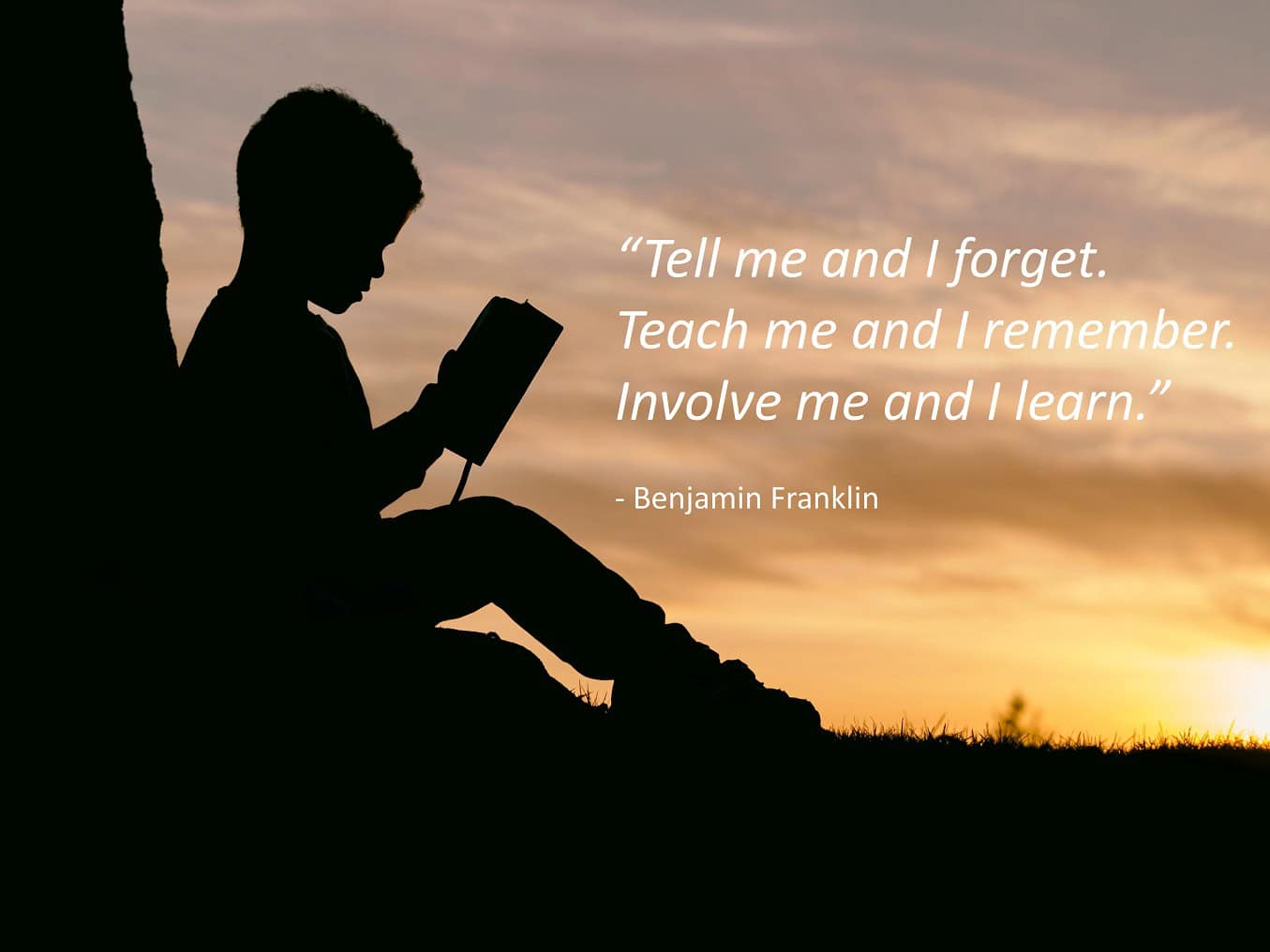 Being an educator is a highly rewarding job, one where you play a pivotal role in shaping the intellectual landscape of future generations. It's about inspiring minds, fostering a love for learning, and preparing individuals for their future. It's a role that requires passion, dedication, and an understanding that education is a dynamic and ever-evolving lifelong journey – a journey that shapes not only the minds of students but the future of our world, and that journey starts with you.
As Nelson Mandela once said; "Education is the most powerful weapon which you can use to change the world."
So, let's get inspired and start educating. Here are 69 of the best quotes about education to help you do just that!
Famous Quotes About Education
"A person who won't read has no advantage over a person who can't read." – Mark Twain
"A good education is a foundation for a better future." – Elizabeth Warren
"A teacher affects eternity; he can never tell where his influence stops." – Henry Brooks Adams
"All I want is an education, and I am afraid of no one." – Malala Yousafzai
"All of the top achievers I know are life-long learners. Looking for new skills, insights, and ideas. If they're not learning, they're not growing and not moving toward excellence." – Denis Waitley
"An investment in knowledge pays the best interest." – Benjamin Franklin
"Anyone who has never made a mistake has never tried anything new."– Albert Einstein
"Anyone who stops learning is old, whether at twenty or eighty. Anyone who keeps learning stays young." – Henry Ford
"Better than a thousand days of diligent study is one day with a great teacher." – Japanese proverb
"By learning you will teach; by teaching you will learn." – Latin proverb
"Change is the end result of all true learning." – Leo Buscaglia
"Children have to be educated, but they have also to be left to educate themselves." – Ernest Dimnet
"Children must be taught how to think, not what to think." – Margaret Mead
"Don't let what you cannot do interfere with what you can do." – John R. Wooden
"Education is not preparation for life; education is life itself." –John Dewey
"Education is the ability to listen to almost anything without losing your temper or your self-confidence." – Robert Frost
"Education is the key to unlocking the world, a passport to freedom." – Oprah Winfrey
"Education is the kindling of a flame, not the filling of a vessel."– Socrates
"Education is the most powerful weapon which you can use to change the world." – Nelson Mandela
"Education is the movement from darkness to light." – Allan Bloom
"Education is the passport to the future, for tomorrow belongs to those who prepare for it today." – Malcolm X
"Education is the purpose of teaching one to think intensively and to think critically. Intelligence plus character—that is the goal of true education." – Martin Luther King Jr.
"Education is what survives when what has been learned has been forgotten." – B.F Skinner
"Education must not simply teach work, it must teach Life." – W.E.B Du Bois
"Education then, beyond all other devices of human origin, is the great equalizer of the conditions of men, the balance-wheel of the social machinery." – Horace Mann
"Education's purpose is to replace an empty mind with an open one." – Malcolm Forbes
"Everything is a learning process: Any time you fall over, it's just teaching you to stand up the next time." – Joel Edgerton
"Everyone who remembers his own education remembers teachers, not methods and techniques. The teacher is the heart of the educational system." – Sidney Hook
"Everyone you will ever meet knows something you don't." – Bill Nye
"Give a man a fish and you feed him for a day; teach a man to fish and you feed him for a lifetime"– Maimonides
"I believe that education is all about being excited about something. Seeing passion and enthusiasm helps push an educational message." – Steve Irwin
"I did then what I knew how to do. Now that I know better, I do better." – Maya Angelou
"I hear, and I forget. I see, and I remember. I do, and I understand." – Chinese Proverb
"It had long since come to my attention that people of accomplishment rarely sat back and let things happen to them. They went out and made things happen." – Elinor Smith
"It is impossible for a man to learn what he thinks he already knows." – Epictetus
"It is the mark of an educated mind to be able to entertain a thought without accepting it." – Aristotle
"Keep away from people who try to belittle your ambitions. Small people always do that, but the really great make you feel that you, too, can become great."– Mark Twain
"Knowledge will bring you the opportunity to make a difference." – Claire Fagin
"Learning is not attained by chance; it must be sought for with ardour and diligence."– Abigail Adams
"Learning never exhausts the mind." – Leonardo da Vinci
"Learning without thought is a labor lost, thought without learning is perilous." – Confucius
"Live as if you were to die tomorrow. Learn as if you were to live forever." – Mahatma Gandhi
"Never be afraid to try something new. Remember amateurs built the ark, but professionals built the Titanic." – Unknown
"Nine-tenths of education is encouragement."– Anatole France
"Nothing we ever imagined is beyond our powers, only beyond our present self-knowledge" – Theodore Roszak
"One child, one teacher, one book, one pen can change the world." – Malala Yousafzai
"One must have strategies to execute dreams." – Azim Premji
"Only the educated are free." – Epictetus
"People learn something every day, and a lot of times it's that what they learned the day before was wrong." – Bill Vaughan
"Success comes in cans, failure in cants." – Unknown
"Teachers are the one and only people who save nations." – Mustafa Kemal Atatürk
"Tell me and I forget. Teach me and I remember. Involve me and I learn." – Benjamin Franklin
"The art of teaching is the art of assisting discovery." – Mark Van Doren
"The beautiful thing about learning is that no one can take it away from you." – B.B King
"The best way to predict your future is to create it."– Abraham Lincoln
"The direction in which education starts a man will determine his future life." – Plato
"The function of education is to teach one to think intensively and to think critically. Intelligence plus character—that is the goal of true education." – Martin Luther King Jr.
"The goal of education is the advancement of knowledge and the dissemination of truth." – John F. Kennedy
"The great aim of education is not knowledge but action." – Herbert Spencer
"The great difficulty in education is to get experience out of ideas." – George Santayana
"The highest result of education is tolerance." – Helen Keller
"The mind is not a vessel to be filled but a fire to be ignited." – Plutarch
"The more I want to get something done, the less I call it work." – Aristotle
"The more that you read, the more things you will know, the more that you learn, the more places you'll go."– Dr. Seuss
"The only real failure in life is one not learned from." – Anthony J. D'Angelo
"The only dreams impossible to reach are the ones you never pursue." – Michael Deckman
"The only person who is educated is the one who has learned how to learn … and change." – Carl Rogers
"The roots of education are bitter, but the fruit is sweet." – Aristotle
"The whole purpose of education is to turn mirrors into windows." – Sydney J. Harris
Inspired by these quotes about education and want to become a better teacher? Check out the different teaching qualities that make a good teacher.
Latest posts by James Prior
(see all)