The demand for English teachers in China is incredibly high. Students of all ages want to learn English and there are consequently a vast number of platforms where you can teach English online to Chinese students.
Some of these platforms provide a curriculum and materials for you. Some even have a system in place for grading and providing feedback to your students. Other platforms simply help you find your own students online and teach them one-on-one.
In this guide, we'll look at 22 of the best companies for teaching English online to Chinese students, and outline what you can expect from each company.
So, if you want to make some cash from the comfort of your own home as an English teacher for Chinese students, read on!
Important note: In July 2021 the Chinese Ministry of Education placed a ban on for-profit tutoring by Chinese companies. This included maths, science, history, and English taught by foreign-based tutors to students in the country. As part of this, foreign-based tutors outside of China cannot currently teach English classes to students in China. This has affected a number of the companies on this list. However, some are piloting education programs outside of China for Chinese students and the situation is continuing to evolve.
Furthermore, not all of these companies are Chinese based and many of them also cater to students from other countries as well. It's therefore, best to visit the company websites directly to see if they are hiring. You can always teach other nationalities as well!
24 Companies For Teaching English Online to Chinese Students
VIPKid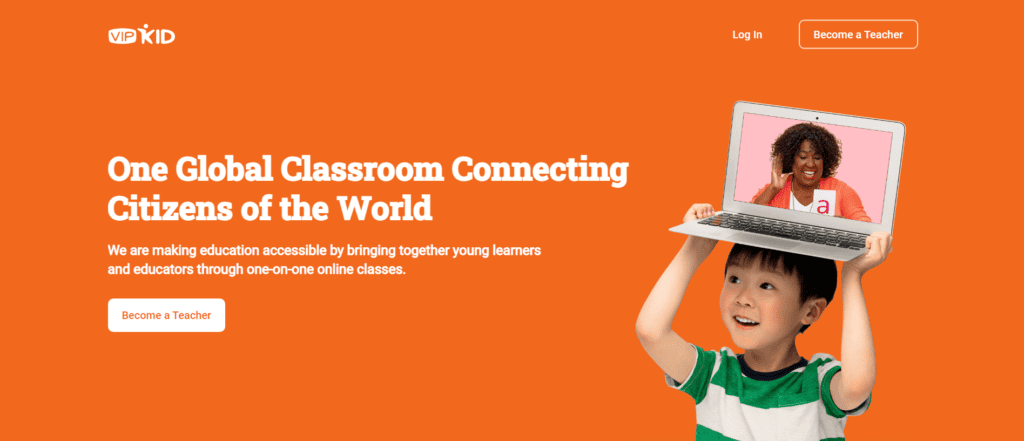 VIPKid is a great online platform for English teachers to find work and for students to learn from qualified instructors. It has incredible resources for teachers, reasonable pay rates, extremely flexible scheduling, and high reports of job satisfaction among its employees. Plus, with almost 1 million students using VIPKid, there is no shortage of job opportunities.
VIPKid states that they prefer hiring those with teaching, mentoring, or coaching experience, which is part of the reason why their pay scale is so good. You can rely on support and feedback from the company throughout your time there. They also handle curriculum planning and lesson planning so that you can focus on delivering a fun and engaging lesson.
In terms of lessons, they offer a variety of 25-minute long classes to help students learn English as a second language. VIPKid teachers and students both love the one-on-one-style classes as you can really build up a relationship.
Our Rating: 10/10
Requirements: bachelor's degree
Payment: $14 t0 $22/ an hour
Skooli
Skooli is a great choice for those who want to tutor older students in high school or college. They offer a range of subjects, including English, maths, business, and science. So, if you have knowledge in a specific topic area, Skooli may be an interesting way to teach from home.
For English tutors at Skooli, the focus is on improving your student's conversation skills and grammar.
You can set your own availability and teach as few or as many classes as your schedule allows. If you find that you have some extra time in the day to teach English, just sign on to your Skooli account, and turn on the green circle next to your profile. This lets students know that you're available for instant sessions.
The students watch your self-introduction video and decide whether or not they want to book a session with you.
Most students are based in China, but you may find yourself tutoring international students as well.
Our Rating: 7/10.
Requirements: bachelor's degree, pass a criminal background check.
Payment: flat hourly rate depending on qualifications (typically $25/ an hour).
BOXFiSH
BOXFiSH is known for using cutting-edge technology and engaging games in its lessons. Thanks to their well organized class materials, you don't need to prepare any of your own teaching materials. You just need to preview what you'll be covering in the class and decide how to present the class content.
Primary, middle, and high school Chinese students can choose between two different styles of online English lessons. The 1-on-1 classes are 25 minutes long and cover an array of discussion themes, vocabulary, and grammar. The On-Demand classes are only five minutes each and usually entail a phone call to discuss review topics.
In addition, BOXFiSH doesn't require that you work from a computer, as their specialized app and systems will work from smartphones and tablets. This makes it a great option for those who are often jet-setting or on the go.
BOXFiSH is therefore both very convenient and easy to use for teachers. It's also reassuring to know that the Teaching Affairs Team is available 24/7 should any issues arise.
Our Rating: 7/10
Requirements: a bachelor's degree, TEFL, over a year of experience
Payment: up to $22/ an hour (On-Demand Classes are $2/each, 1 on 1 Classes are $11/each)
EF Education First
EF Education First has garnered a reputation as one of the most popular places to teach English online. It provides a fabulous opportunity for new teachers looking to begin their teaching journey, as you don't need a teaching license or any previous experience.
EF also offers incredible scheduling flexibility and diverse online class styles. Whether you prefer teaching English in a group-style class, or privately tutoring adults or to Chinese kids, EF has an option to fit your needs.
The EF Academic team provides virtual teaching material for you to use, which creates a smooth online English teaching experience. However, if you plan to cover special topics in a class, you'll have to make those materials yourself.
EF has lessons all day, every day, giving you true freedom to create your perfect schedule.
Our Rating: 8/10
Requirements: a bachelor's degree, 40-hour TEFL, and must be a resident of the USA
Payment: based on qualifications (from $12 – $25/ an hour)
Cambly
Cambly makes teaching adults or children online as easy as logging onto your account and waiting for a student to select your class. After you set up a good introduction video for yourself, students from around the globe can instantly match with you and begin a class. This certainly takes the stress out of scheduling.
You can get started with 15, 30, or 60-minute long lessons depending on what the student requests. Cambly offers classes at any time of day, so it's a good option if you want to take your schedule into your own hands.
Furthermore, you don't need a college degree or prior ESL teaching experience to qualify to be an online English teacher with Cambly. It's perfect for those looking to get started and gain teaching experience.
Cambly gets a 6/10. Although you don't need prior ESL teaching experience or a degree, the pay is lower than the average. This could count as a pro or a con depending on your situation and qualifications.
Our Rating: 6/10
Requirements: be a native English speaker
Payment: $10.20/ an hour for adults and $12/ an hour for children
LikeShuo
LikeShuo is taking the online teaching world by storm. LikeShuo is a branch of the popular Meten brand of English training centers in China. It gives teachers a lot of freedom in customizing their teaching experience. Whether you want to teach English online to Chinese students of a young age or you'd rather teach adults, both are possibilities with LikeShuo.
The class dynamics vary from one-on-one, one on four, and even a lecture-style setting with 15 students in a virtual room.
Each class is 45 minutes long, and you won't have to worry about lesson planning. All of the materials are provided to you, so you'll just need to guide the students through them. However, you will be expected to commit 30 hours a week to teach for LikeShuo. This makes it one of the more demanding online teaching platforms.
LikeShuo offer competitive pay for the job requirements, and they give teachers some great resources. We also appreciate that they offer special teaching roles for Chinese citizens with fluent English. Qualified online teachers will find steady work through LikeShuo.
Our Rating: 9/10
Requirements: bachelor's degree, TEFL
Payment: $16 to $25/ an hour, depending on experience
PalFish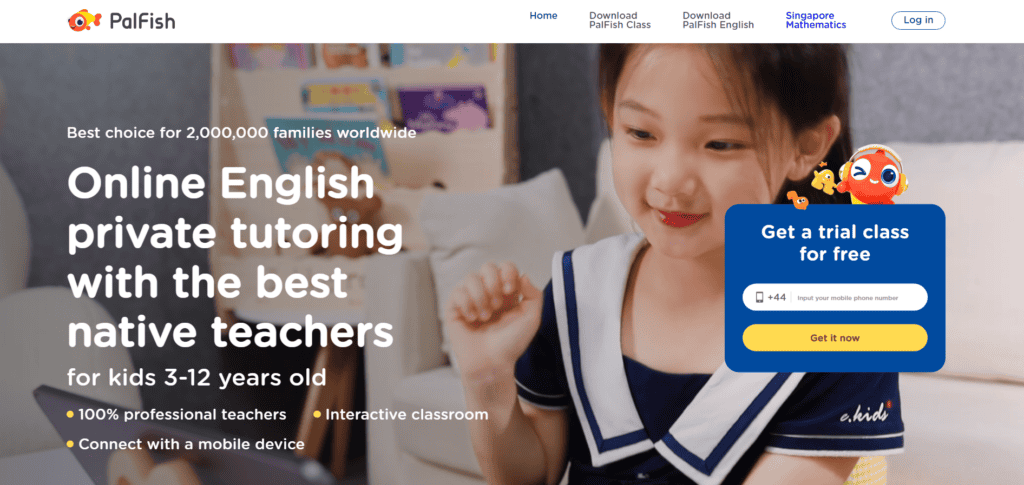 PalFish is an online school with a twist. Instead of working from a computer, teachers work directly from the PalFish app on their phones. Teachers must commit to 3.5 hours a week during peak teaching times.
If you have an interest in teaching children, you'll be glad to hear that students are ages three to 12. There's also an option called Freetalk where adult learners come to Palfish mostly for conversational practice.
What's interesting is that even though Palfish offer set rates for their Official Kids Course, they give teachers the ability to set their own rates for the adult Freetalk classes. PalFish take a 20% cut of your Freetalk earnings, and teachers are treated more like freelancers than employees.
PalFish is a fantastic choice if you don't have a bachelor's degree. However, if you do, the pay could be considered low. You can top this up if you're able to get more Freetalk work.
The option to teach from your phone makes it an ideal remote work option, which is great news for travelers looking to make some extra cash.
Our Rating: 7/10
Requirements: TEFL certificate
Payment: $8 to $11/ an hour, plus your Freetalk pay
Qkids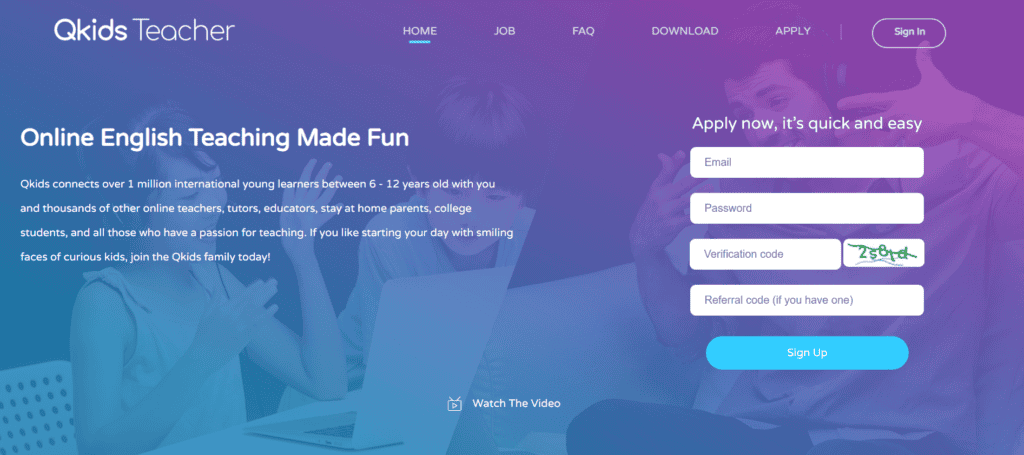 Qkids has garnered a reputation as one of the best platforms to teach English online to Chinese students. They're known for creating a great environment for teachers and students alike. Qkids is extremely flexible when it comes to scheduling. Each week you'll decide on your most up-to-date availability.
Lessons are 30 minutes long, and the class sizes could range from one to four students. The curriculum is premade for teachers, so you won't have to worry about planning your own lessons. But, you'll always be expected to read over the lesson plans and materials and be prepared with any props you feel might be suitable.
We think Qkids is a reputable and fun company to work for. They seem to look after their teachers, and the workload is reasonable for the pay.
Qkids is the perfect chance for newly qualified teachers to gain some online teaching experience.
Our Rating: 9/10
Requirements: Bachelor's degree, TEFL certificate, Eligible to work in Canada or the USA
Payment: $16 – $20/ an hour
Verbling

Verbling puts you in the driver's seat of your virtual classroom. You set your own schedule, your own rates, and design your own curriculum. Essentially, Verbling hosts your teacher profile so that you can attract students, and you handle it from there.
Students from around the globe come to Verbling to learn an array of languages, with Chinese students making up a huge portion of them.
The style and format of your class are up to you to decide, but keep in mind that you'll retain students and get better ratings by teaching fun and effective lessons. Although a degree isn't required, prior teaching experience is.
Verbling's unique business model offers teachers freedom over their courses, pay, and schedules. While it's a very independent way to teach online without any micromanaging from the company, it may not have the support or structure some teachers need.
Our Rating: 7/10
Requirements: experience teaching your target language group
Payment: you set your own rates ($19/hour average)
iTutorGroup

iTutorGroup is regarded as one of the best platforms to teach English online to Chinese students.
Compared to other ESL jobs with set teaching hours, iTutorGroup lets teachers schedule classes anytime. This is provided that they meet the requirements of six peak teaching hours a week.
Classes can vary from one student all the way up to six, and you can choose to teach children or adults. The curriculum and lesson plans are prepared for you so that you can spend your energy on delivering the classes well.
iTutorGroup provides phenomenal support for their teachers. They deliver consistent professional training, and their Teacher Support Team is ready to help around the clock.
The pay scale at iTutorGroup varies depending on how much you teach and how long you've been with the company. The more lessons you teach and the longer your tenure, the higher your bonuses are. This makes iTutorGroup a great option for an online English teacher who wants to be rewarded for their efforts.
Our Rating: 9/10
Requirements: Bachelor's degree, TEFL certification or similar degree
Payment: $5 – $18/ an hour (varies by location)
HelloKid

HelloKid believes in fixed student-teacher pairs for the best learning results. This is nice if you care a lot about connecting with your students and seeing them progress.
In the classroom, HelloKid uses AI technology on its platform along with live video chats with teachers. All lesson content is provided to you. Students follow the HelloKid curriculum, and teachers just need to familiarize themselves with it before delivering the class.
To this end, they have a great virtual workplace environment. Local Chinese staff are also available via DingTalk to help with any issues.
HelloKid's minimum teaching requirement each week is 12 hours. This should fall between 6 pm to 9 pm Beijing time in order to teach Chinese students online at a time that works for them.
There is a one-year contract, so be prepared for at least 12 months of commitment. Teachers can apply for pay raises after they finish the probation period.
If want to teach English online to Chinese students aged three to sixteen, you should check out HelloKid.
Our Rating: 8/10
Requirements: Teaching certification like TEFL
Payment: $8 – $22/ an hour
HAWO American Academy
HAWO is the sister company of the famous 51 Talk tutoring company. Whereas 51 Talk offers one-on-one classes, HAWO has discussion-based group classes with students from kindergarten through high school.
Students are put into groups of four based on their ages. They then begin learning English online, with cultural topics also infused into the class.
Teachers who work at HAWO should be ready to spend at least 10 hours a week teaching English. The class times are set from 6 pm to 9 pm Beijing time, which means less control over your hours. But, there is something to be said for the consistency of the weekly classes.
HAWO is a solid 9/10. It has a strong curriculum in place and good resources for teachers. Despite the hours being a bit rigid, it's still a wonderful choice if you want to teach English online from home.
Our Rating: 9/10
Requirements: Bachelor's degree, past tutoring experience
Payment: $18/ an hour
Whales English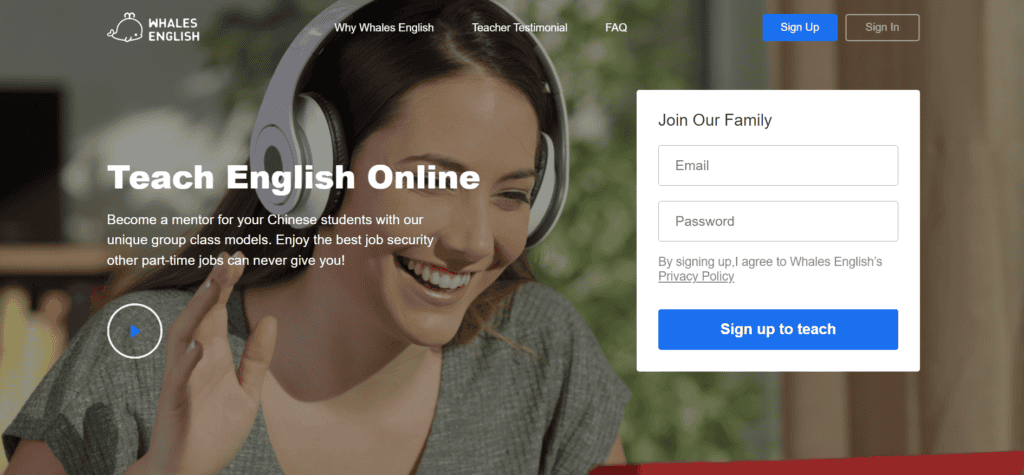 Whales English is one of the most impressive platforms for teaching English online to Chinese students. They work with world-renowned companies like National Geographic Learning and the Oxford University Press to create high-quality materials and classes.
Whales English requires a 12-month-long contract with mandatory weekly classes from 7 pm to 9 pm Beijing time each week. Your schedule will be fixed, but you can choose the days you want to work.
There are two to six kids in each class. This helps teachers get to know their students as they stick with the same groups during the course. Like many other institutions, Whales English provides the curriculum, plans, and materials. However, for some classes, teachers may want to think of their own props to use to best engage students.
Working for Whales English is a fantastic opportunity to teach younger students, have a reliable schedule, and earn a good income. The only slight downside of the company is that the schedule isn't as flexible as other schools.
Our Rating: 9/10
Requirements: Bachelor's degree, teaching certificate, one year of teaching experience
Payment: $18 to $27/ per 50 each minute class
Ginseng English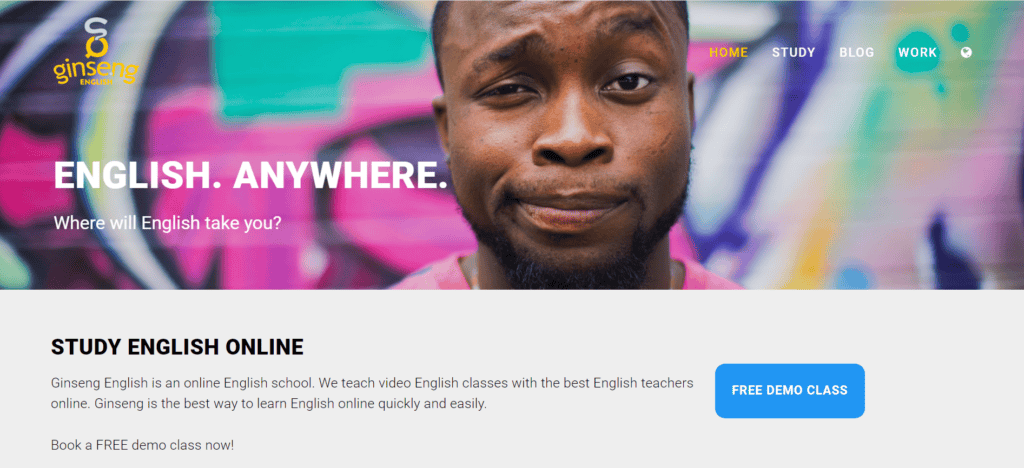 Ginseng English connects adult learners with highly qualified teachers to learn English. English teachers make lesson plans based on the Ginseng curriculum. They are also expected to grade coursework and give feedback to students after each class. As you can see, Ginseng has more duties than many other schools.
Officially, Ginseng English doesn't disclose their salary. But they do state that it's double what other companies offer. They make it clear that they are willing to invest in the best teachers, no matter where the teacher is from. The higher pay makes sense because their workload and qualifications are also higher than other online schools.
This could be a great opportunity to teach adults if you have perfect English and a master's degree, even if you're not a native speaker. However, it could feel like a large amount of work for a part-time job. The level of pay is also unclear.
Our Rating: 7/10
Requirements: Master's degree preferred
Payment: unknown
Lingoda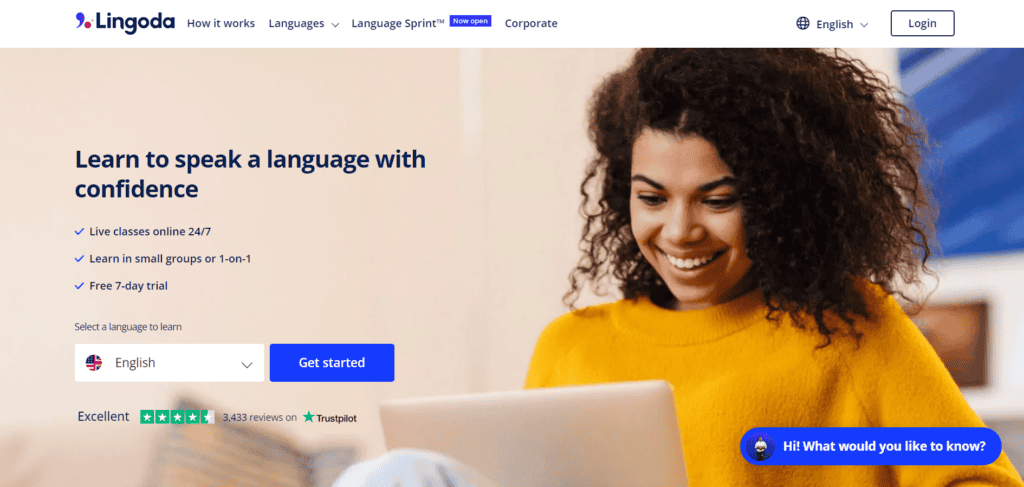 Lingoda is one of the world's leading adult language tutoring services. Teachers can choose between one-on-one or group tutoring sessions for adults.
Lingoda gives teachers the ability to choose which classes they want to teach, then plan their lessons around that. With classes available all day and night, you can teach anytime you decide based on what is best for your schedule. They also don't require a college degree.
There are no minimum weekly hours teaching requirements, so you can feel free to take time off when you need, or work as much as you'd like.
Lingoda is a great online language school to work for, especially if you don't have a college degree. You'll have countless resources and materials created by Lingoda at your disposal or lessons. And, if you get stuck, the Teacher Relations Team is a great help whenever you face an issue while teaching for them.
Payment is on the lower side, which is disappointing, but this is probably due to the fact that you don't need a degree. That being said, the freedom of choosing when and how often you teach is a definite pro if you have a hectic schedule.
Our Rating: 7/10
Requirements: C2 language ability, language teaching certificate, experience
Payment: $8 to $13/ an hour
Outschool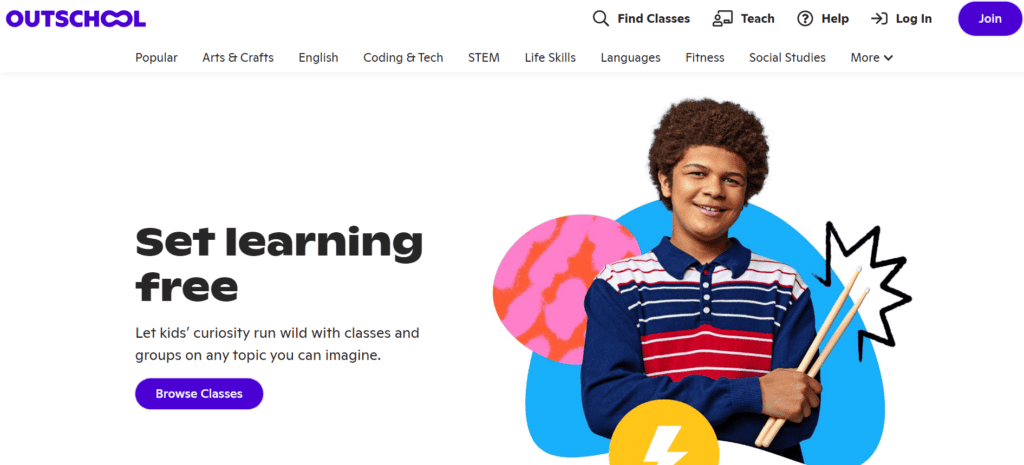 Outschool combines specialized topics and English classes online. Teachers can hone in on their hobbies or skills like art, dancing, math, reading, and anything else that students up to the age of 18 would want to learn.
You'll be in charge of creating and planning the course you teach, and Outschool will list your class on their site for students to find and sign up for. In this sense, Outschool is one of the most customizable teaching experiences you'll find among online schools. You can design your own courses, how many students can attend, the duration of the class, and when you teach.
Outschool's requirements are relatively low, but you've got to be willing to put in a lot of time to curate and plan your courses. Outschool also takes a high commission/service fee from your earnings, at 30%. At this rate you might be better off creating your own online English teaching course if you can reach an audience!
Our Rating: 6/10
Requirements: pass a criminal background check
Payment: set your own rates
Preply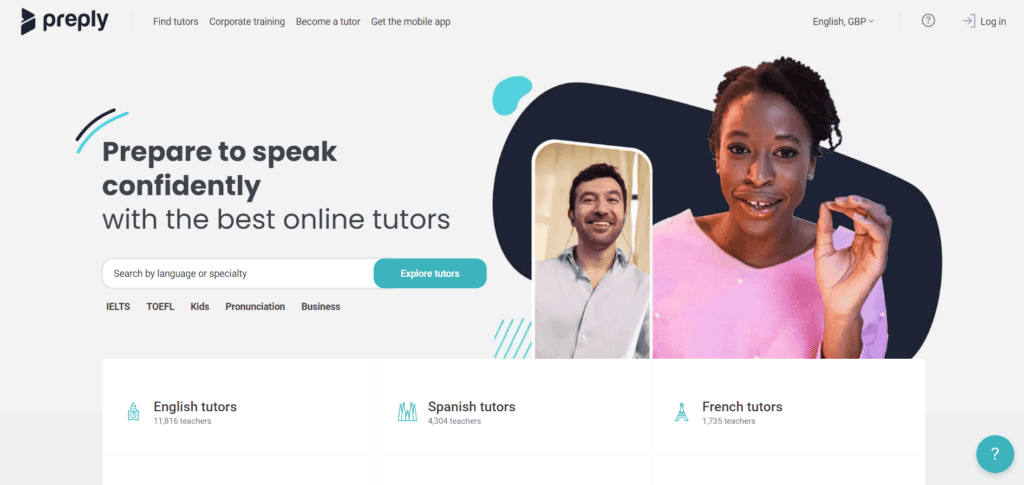 Preply gives you control over, well, almost everything. You pick your hours, choose from their teaching topics, and set your rates.
Your salary will vary depending on your rates, and Preply suggests starting them at a lower amount to attract your first students. They also deduct a whopping 33% fee from what you make. Although this eventually reduces to 18% the more lessons you teach. So, you should be prepared to make more with Preply the longer you teach. This incentivizes teachers to stay with the company.
The Preply team hosts regular training sessions and offers opportunities for teachers to grow and develop professionally.
Preply fosters a strong community among its teachers and encourages them to give each other support and advice. Don't worry, you can also start a live chat with a Preply team member for help, too.
Preply has pretty good ratings from teachers, and the flexibility is great. However, the astronomically high commission fee does leaves a lot to be desired. Perhaps the best way to look at this is that they don't have many requirements to get started.
Our Rating: 7/10
Requirements: just be excited about teaching!
Payment: set your own rates (an average of $15 to $25/ hour)
Excedo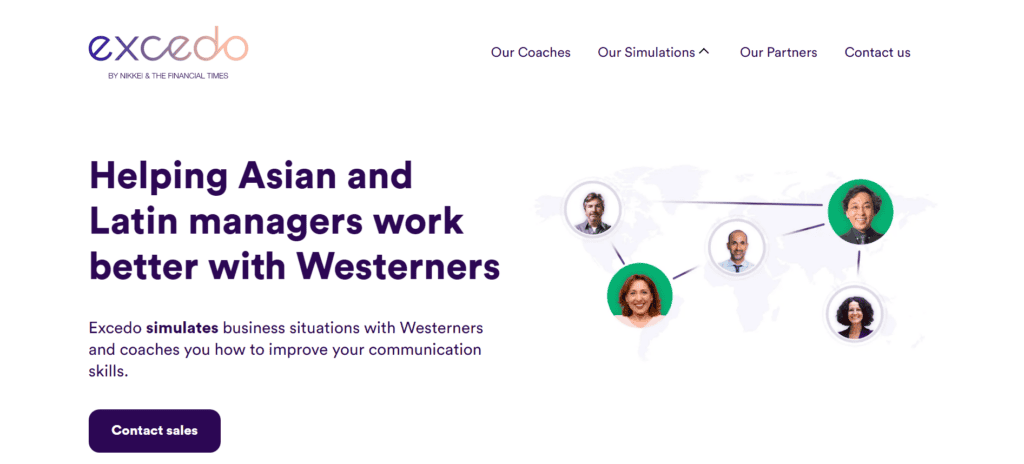 Through Excedo, professionals from Asia and Latin America can master their business English skills and learn how to conduct business with Westerners.
Excedo teachers are therefore expected to use their knowledge about business and cross-culture communication to run simulations. So, it's definitely not going to look like a traditional online class learning grammar and vocabulary.
Class content is provided, and you're tasked with bringing the curriculum to life through demonstrations and roleplays in English.
The requirements for this job are lengthy, as the students are managers seeking very specific guidance for business English and beyond. To be qualified, you need a bachelor's degree, and ten or more years of experience in business, with two years of this being in a different culture.
We understand this type of online teaching job isn't for everyone, and the requirements are quite limiting. But, if you fit the bill it's a nice opportunity to use your business skills to teach English online.
Our Rating: 6/10
Requirements: bachelor's degree, 10+ years of experience in business
Payment: $2,200/ a month and up
Italki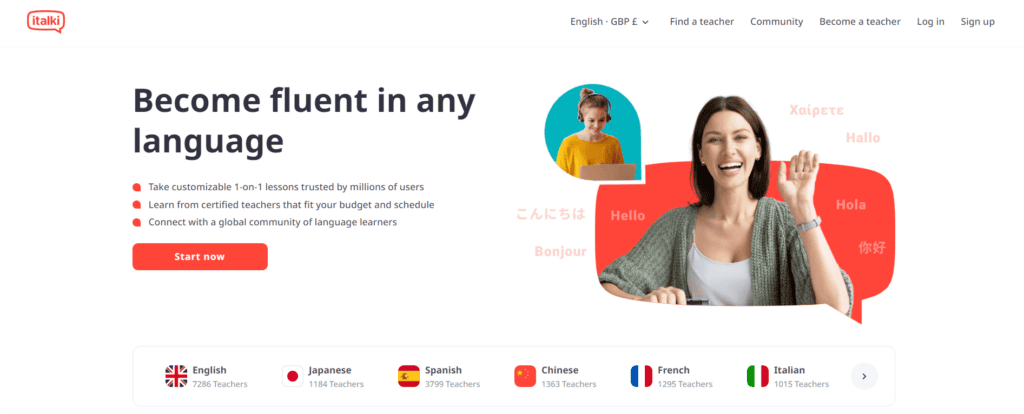 Italki is one of the largest companies for teaching English online. Students of all ages from around the world (the majority of whom are adults) flock to Italki to find a teacher that fits their needs.
You just need to set up your lessons and make a shiny profile that attracts students. A bit like on Preply and Outschool
Italki hires two different types of teachers, Community Tutors, and Professional Teachers. The Community Tutors earn less, and focus on casual speaking. Whereas the Professional Teachers generally earn more and must have a teaching certification and more experience. You'll plan your class around whichever style you're hired to teach.
It's refreshing to see that Italki charges a 15% commission rate for each class, which is much more reasonable than other online schools of this type. They also get lots of praise from employees about working at the company.
As far as online schools where you set your own rates go, Italki is a clear winner.
Our Rating: 8/10
Requirements: be a native speaker or be fluent in English
Payment: set your own rate (average of $10 to $16/ an hour)
Magic Ears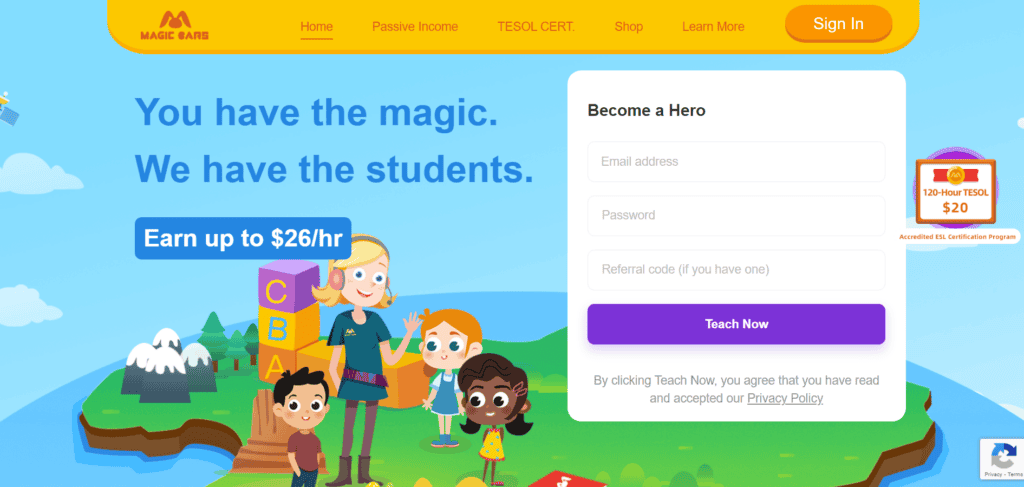 Magic Ears has one of the best reputations for teaching Chinese students online. If you enjoy working with young learners, you'll love the four to twelve-year-old age groups at Magic Ears. Just use the interactive platform and pre-set curriculum, prepare any extra materials, and bring your personality to get students excited for class.
Magic Ears does have set class times of around 5 pm to 9 pm (Beijing time) every night and 9 am to 9 pm (Beijing time) on weekends, so the scheduling isn't as free as other online schools.
There are different levels of payments depending on your qualifications, but Magic Ears also offers incentives for bonuses.
Magic Ears have very well-developed curriculum and programs, good support for teachers and decent pay. So, if you're passionate about teaching children, Magic Ears could be just the online school for you.
Our Rating: 9/10
Requirements: bachelor's degree, teaching certificate
Payment: $12 to $26/ an hour
Allschool

Allschool is a brand new Singapore-based company that matches both children in China and from around the world with awesome teachers.
Like Italki, Preply, and Outschool, Allschool bases its business model on letting teachers create their own classes for a variety of topics. If you have a passion or interest, you can likely make it into a class to teach to students online at Allschool.
You set your own price, and Allschool take a 15% cut of what you make. This isn't exactly ideal, but it's better than the fees from most other companies.
Allschool students are aged between 3 and 18 years old, and when you make your class you can choose the ages you want to teach.
Because it's so new, Allschool might not have as many users as other platforms, which could mean waiting longer for more students to sign up. On the flip side, this also could mean less competition from other teachers. If you're willing to put in the work to craft your own course and you want to teach kids, consider giving Allschool a shot.
Our Rating: 7/10
Requirements: experience teaching
Payment: set your own price
Lime English
Lime English offers online English lessons to students all across China. The main focus of classes is reading and writing, which is a bit different from the typical conversation-based online classes.
You can choose to privately tutor one student or work with groups of two to four, but the class times are usually constrained to peak hours between 7 pm and 10 pm Beijing time. Teachers are required to correct homework assignments, provide feedback for students, and plan classes each week.
Lime English gets 6/10 because, although their pay is acceptable, there are better choices if you have a degree. Lime English teachers have left a mixed bag of reviews online, and it would be better they had more resources for teachers.
Our Rating: 6/10
Requirements: bachelor's degree
Payment: $20 to $25/ an hour
Is Teaching English Online Right for You?
There has never been a better time to teach online than. . . right now! As the demand from students to learn English online continues to grow, so does the job market for teachers. But, how do you know if this is the right job for you?
If you meet the qualifications, have extra time, want to work remotely, and want to make extra cash, then yes! It's right for you.
However, there are some hurdles that you need to be prepared for, just like with any job. You'll need very high-energy output during classes if you're teaching young learners. Especially if you plan to teach Chinese students online.
You should also be ready to spend time outside of the classroom planning and making teaching materials. While a lot of the workload is making the class engaging and fun on camera, the other part is creating the lesson plans and brushing up on materials. You may also need to assess students, and of course keep track of their progress.
Teaching ESL online can be hard work, but if you're a qualified EFL or ESL teacher it comes with many benefits and there are a number of reasons why it could be right for you.
You're Qualified to Teach English Online to Chinese Students if:
You're a Fluent or Native English Speaker
Native English speakers automatically tick this box. Especially if you're from the United States, The United Kingdom, Australia, New Zealand, South Africa (usually), Canada, or Ireland.
Having said that, some online English teaching companies prefer certain accents, like a neutral American accent or a Queen's English British accent, but this isn't the norm.
Don't worry if you're not a native speaker. If you have an excellent command of English there are also plenty of opportunities. However, you will generally need to be able to speak flawlessly without a strong accent.
Plus, if you haven' done so already, you should consider getting your TEFL certificate. Most schools that don't require you to be a native English speaker will instead ask that you have a Bachelor's degree and that you've completed a 120-hour TEFL course.
You Have a Bachelor's Degree
Many, if not most, online teaching companies require you to have a Bachelor's degree. Although the degree can usually be in any topic, even if it's totally unrelated to English or teaching.
You're TEFL certified
If you don't already have a TEFL certificate, think about taking a TEFL course. You should look for a 120 hour TEFL course at minimum as many schools require it. There are plenty of online TEFL courses to choose from or you could do your TEFL course abroad.
Obtaining your TEFL certification will give you a solid foundation for teaching English online. You'll have more confidence in your teaching (even if it's in a virtual classroom) and it will benefit you in the long run. Being TEFL certified will help you both get more students, and earn more money.
You Have a Reliable Internet Connection and the Necessary Tech
Online teaching is, well, online. This means you'll need to guarantee a stable and fast internet connection for your classes. It's recommended to have at least 400 kbps high-speed internet available to you.
You'll also need some gadgets like a high-quality webcam (your laptop may even have this built-in), and a headset with a speaker/microphone. Even though most laptops have speaker and microphone capabilities, they can sometimes distort or muffle sounds, so you may need to plug in your own standalone microphone for clarity.
In a class based around conversation, it's important that you and your students can hear each other and communicate smoothly.
A Quiet Teaching Space
Yes, online English teachers can certainly work from anywhere with a good internet connection. But, it's also crucial that your environment is a quiet space where you and your students can focus.
The area you're in doesn't have to look like the set of Sesame Street, but it does have to be conducive to learning. This means bright lights so they can see you while you speak, no interruptions (from roommates, for example), and some engaging decorations if possible.
Some teachers put up a poster of the ABCs, a colorful or seasonal backdrop, and so on. While these aren't absolutely necessary, they can create a welcoming classroom atmosphere for you and your students. Do the best you can manage!
It's worth noting that although a decorated background isn't mandatory, you will often be expected to have a few playful props and materials for the class.
You Don't Mind the Teaching Hours
Before you start, you should know that although you'll usually have flexible working hours, there are certain peak teaching hours you should be available for.
Some companies have a smaller window of class times, while others offer many more time slots for students and teachers to have classes.
Weekday hours are generally going to be (very) early mornings. Weekend hours usually start in the evening and continue through the night into the early hours of the next morning. Of course, you don't have to teach at 03:00 am if it doesn't suit you, but the option is there.
How many hours you teach depends on the company you work for and your own schedule. You'll need to refer to each specific company to see what their standards are.
Teaching English Online to Chinese Students: Final Thoughts
Teaching online is a fantastic way to earn extra money without the obligation of commuting or working from an office each day. While the duties and expectations of the job vary depending on the age group you're teaching, it's a fulfilling job that lets you meet people across the world.
The requirements to teach English online are usually similar across online English teaching jobs, but keep in mind that some do have higher standards for who they hire. This typically also means a higher paycheck.
Each online tutoring platform offers different levels of support and compensation. You'll have to weigh these up for yourself when choosing which to work for.
Overall, we really like VIPKid and Likeshuo for their great reputations in the online ESL community. They offer fair rates of pay and guidance is available for their teachers.
After choosing a company that suits you, go into your online classes excited to meet your students and help them learn English. After all, teaching English online is a great experience that will give you the freedom to work from wherever you please, make your own schedule, give you new skills, and help you grow.
Good luck, and happy teaching!
Teaching English Online to Chinese Students FAQs
Do you need to speak Chinese to teach English online to Chinese stud
No, you don't. It's actually preferred to only No, you don't. It's actually preferred to only communicate in English to give the students full English immersion.
Do I need prior teaching experience to be an English teacher online to Chinese students?
At many companies, you can start teaching Chinese students online without any experience as long as you meet the other requirements, such as having earned your TEFL and bachelor's degree. However, some companies do require previous teaching experience.
Can I travel around while I teach?
Sure! Plenty of people choose this job so that they can work remotely and travel. But be sure to always have a stable internet connection, and have your classroom props and toolkit with you wherever you go. It is a job, after all.
Do I need to buy anything for teaching English online?
No, but it helps to have some classroom tools for ESL games to engage the students. Using puppets, balls, large dice, flashcards, and generally bright colors around you really helps improve the quality of class for your students. You'll also need to have teaching materials prepared for each class. Students and their parents notice when the teacher puts in this effort as learning results are improved and the child enjoys class more. This means more business for you!
Latest posts by James Prior
(see all)