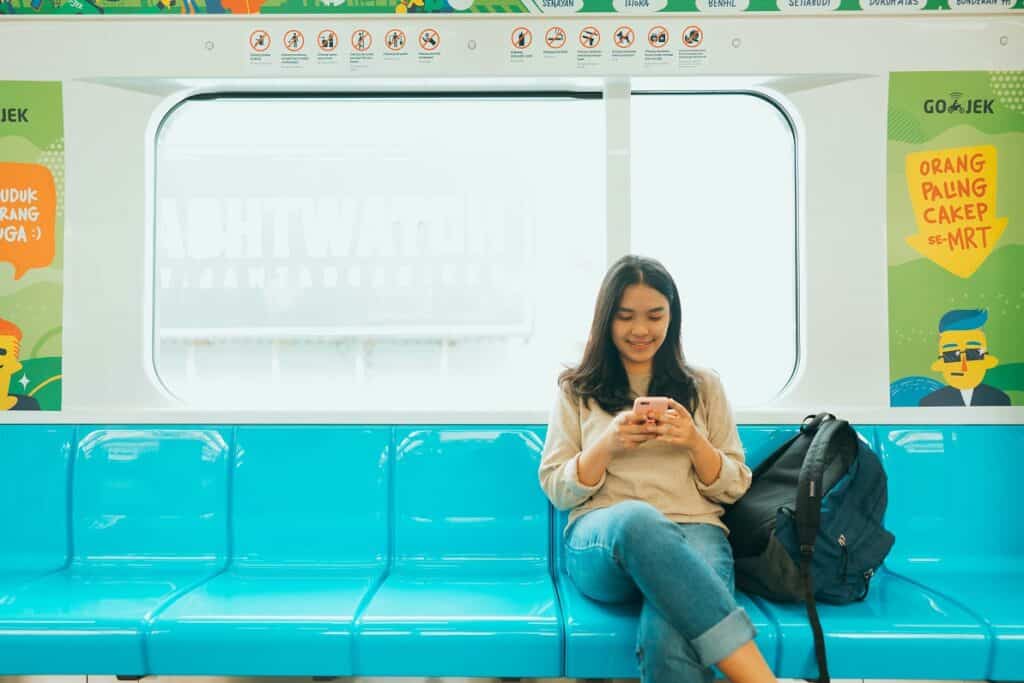 Let's face it when it comes to learning a language we need all the help we can get. This is no different when learning English. Fortunately, we live in the age of the language app, and there are many English learning apps that help to make learning English fun, interactive, and easily accessible. All from the palm of your hand.
In this article, we'll take a look at 10 of the best English learning apps and recommend when they should be used. So, have your phones at the ready and read on!
The Best English Learning Apps
Whether you're just starting out or looking to take your English skills to the next level, there's an app out there for you.
Imagine being able to understand and participate in every English conversation you come across. This could be ordering at a restaurant to watching a movie without subtitles. Learning apps can help you do that.
And, while it can be hard to learn English entirely on your phone, you can still make great progress towards becoming a fluent English speaker with English learning apps. So, put on your learning cap and download that learning app.
Get ready to improve your English in no time with these 9 English learning apps:
Duolingo
Duolingo is known for making language learning feel like a game, with its colorful and interactive lessons. It's great for beginners who are just starting their English learning journey and focuses on learning English words and grammar. It can also be useful for more advanced students to test their knowledge. Its main features include interactive lessons, progress tracking, and the ability to compete with friends to see who can earn more points. Just make sure you don't lose your daily streak! Duolingo lessons typically take around 5 minutes each.
When to use it
The best thing about Duolingo is that it can be used at any time when it's convenient for you. You should try to make it part of your daily practice routine. That way you can spend a few minutes every day to improve your English language skills.
It's a great tool for students who are studying English, as it can supplement classroom learning and provide additional practice. Additionally, it can be useful for those who want to brush up on their language skills before traveling or moving to another country.
Overall, Duolingo is ideal whether you're looking to start learning English or just want to maintain your current language skills.
Memrise
Memrise makes learning a new language as fun as playing a game! Its main features include interactive lessons, quizzes, and games to help users practice their vocabulary and grammar skills. As the name suggests, it helps you learn new words and phrases in a fun way that makes it easy to remember them. You can even compete with friends and see who can earn more points. This adds a bit of friendly competition to the learning process. It's almost like having a word game, except you're learning a language!
Memrise is perfect whether you're just starting out or looking to take your English language skills to the next level.
When to use it
You can use Memrise whenever you have a spare moment. It is designed as a vocabulary-learning app so you can dip in and out when you like. Over time it should help boost your vocabulary.
SplashLearn
Primarily celebrated for its interactive and engaging approach to English learning, this app stands out with its vibrant, game-based learning environment, making it particularly appealing to younger learners. This app boasts an impressive library of over 4500 engaging reading and writing games, alongside a wealth of printable worksheets, making it a comprehensive resource for foundational English skills.
One of its standout features is the progress tracking system, which allows parents and educators to monitor the learner's progress, providing insights into their strengths and areas for improvement. SplashLearn's unique algorithm adapts to each child's learning pace, ensuring personalized and effective learning experiences. From mastering phonics to building a robust vocabulary, SplashLearn ensures that each aspect of language learning is covered in a playful yet educational manner.
When to Use It: Ideal for use both in the classroom and at home, SplashLearn is perfect for supplementing traditional learning methods. It's especially beneficial for young learners who are just starting their English language journey. The app can be used for short, daily sessions to keep learning fun and consistent. It's also a great choice for interactive homework assignments or as a playful educational tool during leisure time.
Rosetta Stone
If you want to learn English comprehensively, Rosetta Stone could be the app for you. It divides its courses into units and you're meant to study for 30 minutes a day for up to 6 weeks.
Rosetta Stone features include interactive lessons, activities to help users practice their reading, writing, and speaking skills, and speech recognition technology. This even gives you tips on your accent!
There is also a chat room where you can talk with other English learners. Plus, if you subscribe you get four 25-minute sessions with a language tutor each month. These are done over video chat with up to four other people in the class.
When to use it
Use Rosetta stone if you're serious about learning English. It requires daily commitment and isn't something just to pass the time. This is reflected in the subscription cost, which is on the higher end for English learning apps. However, you should consider it as your main method of learning English and if you put sufficient effort into it you won't be disappointed. Just try to get some speaking practice in addition to your Rosetta Stone studies to complement what you learn.
Babbel
Babbel has courses for English learners of all levels and is available on desktop and mobile. It offers interactive lessons that focus on practical, everyday conversations, making it perfect for those who want to improve their speaking skills. Lessons are about 20 minutes long and focus on speaking, grammar, and memorizing vocabulary. Babbel's main features include personalized lesson plans, progress tracking, and the ability to practice your listening and speaking skills with native speakers through live classes.
When to use it
Babbel is a good halfway house between fun, Duolingo type English learning apps and a more traditional learning style. It provides great practice for grammar rules and is a good complementary tool for speaking practice.
FluentU
FluentU offers a unique approach to learning English by using real-world videos for its lessons. Videos include movie clips, music videos, and the news. It has even been called the "YouTube for language learners".
You can watch videos as many times as you like and can turn subtitles on in your own language if you need some help understanding. The app also has interactive captions, quizzes, and flashcards to test you on what you understood, which helps users improve their listening and comprehension skills.
When to use it
FluentU can be used in your spare time and is great for intermediate English learners and above. It is also much better than just watching a video on YouTube. This is because it actually tests knowledge and comprehension skills after you have watched something.
Hello English
Hello English is based in India and is one of Asia's largest English learning platforms. The app focuses on the four key skills of reading, writing, listening, and speaking. You are assigned daily lessons to complete based on your level, and it encourages you to study (a bit like Duolingo). By completing the daily lessons you unlock more lessons, which can be a great incentive if you're motivated to learn. It also includes a forum along with interactive lessons, quizzes, and games to help users practice their grammar, vocabulary, and speaking skills.
In addition to this, Hello English offers its users the chance to connect with English tutors to ask any questions they may have related to their learning. This is a unique feature, which can be highly beneficial. It can cost between $1 – $140 to speak to an English tutor via video chat.
When to use it
If you want to have some daily English practice, Hello English can be a good option. It's also useful if you want to have a quick chat with an English tutor to clarify your understanding on something.
LingoDeer
LingoDeer is a comprehensive app designed to take its users from absolute beginners to intermediate level. Like many of the other apps, it offers interactive lessons with games, puzzles, and videos. However, with LingoDeer there is an emphasis on learning and understanding new words in context. This sets it apart from some of the other English learning apps as it aims to make vocabulary and grammar easier to understand via a more in-depth learning program.
The first unit of the English course is free, but after that, you'll need to subscribe. This gives you a great opportunity to see if you like LingoDeer and want to continue to pursue learning through it.
When to use it
Try LingoDeer out if you're looking for something slightly different that is a bit more rigorous than your average English learning app. Once you improve it will be time to start seeking out conversation practice outside of the app.
Busuu
Busuu is a language-learning app that helps you learn words, phrases, and tips on the go. Lessons are 10 minutes long and use flashcards with recorded dialogue to teach you vocabulary. You can then practice saying the phrases back using the app's speech recognition tool.
If you pay to be a premium member you can tailor the content to your learning goals and you get access to more advanced grammar lessons. You can even set your own study plan and have the app remind you when it's time to sit down and learn something! There's also a forum for finding language exchange partners.
When to use it
Busuu is designed to help you improve your speaking and vocabulary. It's great for use on the go and if you become a premium member you can use it to create a more substantial learning experience. However, you should still treat it as supplementary learning if your goal is to be a fluent English speaker. If you want to achieve this you'll benefit from some proper lessons and other forms of practice.
Grammarly
Not a traditional language learning app, but well worthy of a mention. Grammarly automatically corrects your spelling and grammar mistakes in a piece of writing. It also displays what was wrong alongside its corrections. This can be incredibly helpful if you're practicing writing and is ideal for English learners looking to take their writing to the next level.
When to use it
Grammarly is suitable for English students of intermediate level and above who are writing full sentences and paragraphs. However, it's important not to get lazy and end up relying upon Grammarly for corrections. You need to learn the language so it should be used to gain an understanding of any grammar issues, rather than as an automatic fix.
Which English learning apps should you use?
There are many English learning apps available and they offer a variety of features such as interactive lessons, quizzes, and games. These can all help you learn and practice English.
Depending upon English level and personal preferences, some users may prefer a more visual and interactive approach while others may prefer a more traditional text-based approach. It's therefore important to consider your learning style and preferences when choosing an app. Choose what works best for you or your students. You can always give an app a try and move onto another one if it's not suitable.
Appy with that?
There you have it, 10 English learning apps that are guaranteed to make your English learning journey more fun and interactive. They all offer different features and approaches to learning English, and you should choose one that fits best with your learning style and level. As you progress, you can try out different apps and see which one works best for you.
So, what are you waiting for? Download one of these apps today and start improving your English!
Latest posts by James Prior
(see all)